UCLA Basketball: Why the Bruins Lost to Cal and Fell to 0-2 in the Pac-12
January 1, 2012
Jeff Gross/Getty Images
Here we go again, Bruins fans. Welcome back to the roller-coaster—the unsettling surge to the bottom of the track. 
If we've learned anything at all this season, it's that the Bruins run on momentum. Without that momentum, they are nearly hopeless. 
Maybe it's just a confidence issue, but whatever it may be it's extremely detrimental to their progress this season. 
The Bruins have now fallen to 0-2 in Pac-12 conference play after losing to California 85-69 at Haas Pavilion Saturday afternoon. 
Does this have a familiar story line? Hype met by disappointment. An 0-2 start yet again. And yet there's still that feeling that this team could be successful. 
They're right on the brink, but will they ever become a consistently victorious team? Will the intensity stick around for more than a few games at a time? Will the Bruins ever believe in themselves enough to overcome defeat?
We'll never be certain of the mental aspect of the game, but we can take a look at what went wrong on the court Saturday against their conference foes. 
| | | | | | | | | |
| --- | --- | --- | --- | --- | --- | --- | --- | --- |
|   | FG% | 3PFG% | REB | AST | TO | STL | BLK | PF |
| California | 65.3 | 46.2 | 24 | 28 | 9 | 3 | 3 | 11 |
| UCLA | 46.4 | 63.6 | 22 | 16 | 13 | 5 | 1 | 15 |
The most indicative figure in those stats is Cal's field goal percentage, as UCLA's defense was just not there.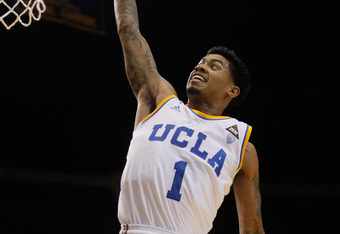 Jeff Gross/Getty Images
The Golden Bears are shooting 47.1 percent on the year and average 70.8 points per game. Saturday afternoon, the Bruins allowed Cal to score 85 points with a 65.3 field goal percentage.
That seems a little bizarre for a team that's running a zone and prides itself upon defense. But the zone only works if players hold their ground and shift accordingly. 
The zone crumbles with an unfit Joshua Smith in the middle who can't move quickly enough to keep up with the zone. 
UCLA's downfalls are a combination of factors, but if Smith were at a higher fitness level the dynamics of the team would be altered significantly.
The Bruins would be able to play through him and get more minutes out of him, not only because of his fitness level but also because he would pick up less fouls if he were in better shape. 
Smith picked up three fouls against the Golden Bears, playing 20 minutes with six points. The Bruins need more consistent production from their 6'10" center. 
In addition to sloppy defense, the Bruins had poor performances from their guards other than Tyler Lamb, who scored a career-high 26 points, going 5-of-7 from beyond the arc. 
Lazeric Jones and Jerime Anderson had an off-game, combining for a mere six points and turning the ball over six times. 
With a three-guard offense the Bruins need more consistent production from their guards and need to have more than one guard show up in games. 
Jones' performance was uncharacteristic, as he has been a consistent source of offense for the Bruins in their previous eight games and put up 26 points against Stanford in the Pac-12 opener. 
Anderson, on the other hand, has been under-performing for quite some time now. He scored a sole one point against California and has been mediocre even when he's at his best. 
Either Ben Howland needs to switch up the three-guard offense and put Travis and David Wear in with Joshua Smith, or he should have Anderson coming off the bench and give freshman Norman Powell a chance in the starting lineup. 
Powell has an unmatched intensity that he brings to the court and has played well off the bench this season. His explosiveness and fresh energy could help the Bruins plenty, as it seems as though they are very dependent upon momentum. 
A Look Forward:
The Bruins are now 7-7 and 0-2 in the Pac-12. They will play Arizona (10-4) on Thursday, Jan. 5 at home in their next Pac-12 competition.
The Wildcats beat Arizona State in their conference opener and have lost their four games to tough opponents. UCLA will have their work cut out for them versus the Wildcats, as they look for their first Pac-12 win.