UFC 141 Results: Are Brock Lesnar and Kimbo Slice Cut from the Same Cloth?
December 31, 2011
Jon Kopaloff/Getty Images
It was a tough night for Brock Lesnar.
Not only was he decimated by Alistair Overeem in just the first round while headlining UFC 141 on Friday, but the beat-down prompted the former UFC heavyweight champion to announce his retirement from the sport of mixed martial arts completely.
Looking back on Lesnar's career, one can not help but compare him to another hyped up heavyweight who's time in the UFC was quite short—Kimbo Slice.
Like Lesnar, Slice did not have a traditional fighting background, gaining fame through his infamous street fighting videos on YouTube.  He was a one-trick pony whose only skill was his devastating hands.
When Slice made the transition into MMA, he found initial success, going 3-0 to start his career. But as he quickly learned, being well-rounded is key to having long term success.
After being beaten in his own game by getting knocked out by Seth Petruzelli in 2008, Slice joined the cast of The Ultimate Fighter.  There, his biggest weaknesses were exposed, specifically his lack of any ground game, and Slice was quickly dispatched of by Roy Nelson.
Sure, Slice was able to defeat Houston Alexander during the show's finale event, but his following loss to Matt Mitrione at UFC 113 sealed his fate as a fighter just not suited for the UFC.
Lesnar's career has many comparisons to Slice's, but radically different in other aspects.
While Lesnar did come from professional wrestling, he was a former NCAA Division I wrestling champion as well.  He was not just a part of sports entertainment, but a legitimately trained wrestle.  And as fans know, wrestling is one of the most integral parts to having a well-rounded MMA game.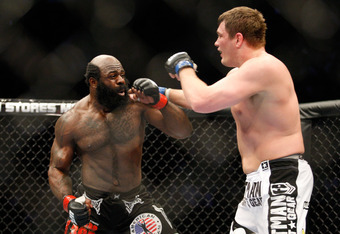 Richard Wolowicz/Getty Images
His success in wrestling was a big help going into the UFC and was a factor in his title run.  His wrestling combined with his massive size made Lesnar into a real threat in the heavyweight division.
However, like Slice, Lesnar never really developed the rest of his game and, as his last two fights can attest to, he paid for it.
Lesnar may never have had all the tools necessary to keep the belt, but he certainly had more experience and better skills than Slice.
And unlike Slice, Lesnar's legacy will go down as more than just a flash in the pan as he will be remembered as one of the baddest men ever to fight in the UFC.