Chicago Bulls: Win over LA Clippers Shows Bulls Clicking on All Cylinders
December 31, 2011
After a few sloppy basketball games, Derrick Rose and the Chicago Bulls definitely stepped up their moxie by handily downing the Los Angeles Clippers, 114-101.
Everything was so much better.
The Bulls didn't allow themselves to continually stay in a big hole as they did against the Golden State Warriors. The Clippers bolted to a 9-0 lead in the first, but the Bulls stampeded back and took a 29-28 lead at the first quarter's end with stellar play from shooting guard Rip Hamilton and Rose.
Since that point, the Bulls never trailed by more than three points and led most of the way.
Passing and ball protection was finally getting a bit smoother. The Bulls had 52 turnovers the first three games and hurt themselves frequently on fast breaks and in transition.
Against the Clippers, the Bulls just had 12 turnovers and 29 assists on 39 made baskets. 
The fluid passing made the Bulls more of a run-and-gun team, as Hamilton and Joakim Noah were able to be offensive forces.
Rose was able to kick it out to Hamilton for easy baseline jumps while Hamilton was also able to cut through the paint for close buckets on his way to a solid 16 points. 
Hamilton seems to also play well with Noah. In the second quarter, Hamilton cut from the left wing and then had a killer bounce pass to Noah between the Clippers' Trey Thompkins and Blake Griffin for an easy slam.
Noah did a good job scoring 19 points be creating separation from Griffin and center DeAndre Jordan.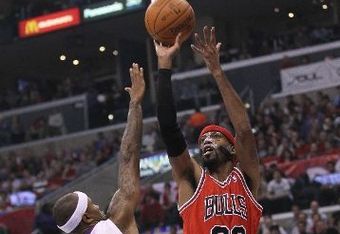 Rose, the NBA's reigning MVP, has a monster night after struggling the past two games against the Golden State Warriors and Sacramento Kings. D-Rose clearly showed he was better than the Clippers' Chris Paul Friday night in passing, scoring and defense.
No. 1 had 29 points on 8-of-14 shooting and 16 assists. D-Rose created space from Paul through his dribble and using Noah and Carlos Boozer's screens.
Rose was on fire all night, saving some nifty moves in the paint. He was fouled on an acrobatic layup that he made and later converted a reverse layup.
D-Rose was leagues ahead of Paul all night, containing CP3 to 15 points and 14 assists.
In the fourth, Rose regained his killer instinct, burying back-to-back threes to squash any comeback hopes the Clippers may have had.
Defensively, the Bulls put forth a solid effort that was lacking in their initial three games.
Rebounding was where it was last season, as the Bulls out-muscled the Clippers 45-31 on the boards, the year's largest margin. Noah, Rose and Luol Deng each nabbed eight rebounds for the balls.
The Bulls were able to contain Paul and Mo Williams to 28 points. The significance of that stat is Chicago has been unable to slow down athletic guards this week.
The Los Angeles Lakers' Kobe Bryant tallied 28 points and six assists and almost lost.  The Warriors' Stephen Curry and Monta Ellis combined for 47 points and 17 assists to beat the Bulls.
The Sacramento Kings' Marcus Thornton, Jimmer Fredette and Tyreke Evans collected 53 points to nearly beat Chicago.
Rose prevented Paul from getting into a shooting rhythm and Hamilton stymied Williams and Clippers shooting guard Randy Foye. For the Bulls to shut down opponents, the opposing guards have to be contained.
Other than letting Griffin go off for 34 points, the Bulls had a great night.
With the Bulls returning to the United Center and clicking on all cylinders, the team will continually improve while obtaining more victories.
Bob Bajek is a Featured Columnist for the Chicago Bulls. He is also a freelance reporter, and can be followed on Patch.com and Twitter.