UFC 141 Results: Why Alistair Overeem Is Junior Dos Santos' Worst Nightmare
December 31, 2011
It took Alistair Overeem one round to beat Brock Lesnar and move himself forward to an immediate title shot.
Now, after having taken out the UFC's most well-known heavyweight, Overeem has to face their most dangerous.
Overeem is a great striker, and it was no surprise that when he was able to get away from Lesnar's wrestling and kept the fight standing, he won.  However, he's now going to face the best boxer in the UFC.
Other than Anderson Silva, who is a martial arts genius, dos Santos is the best counter-striker in the UFC right now.  He's able to time his opponents and use any openings that they give him to not only make them pay, but usually end the fight at the same time.
A fight between the two is going to be a pressure cooker where either man might find the momentary flaw in his opponent and exploit it.  It's going to make for an exciting fight.
Not much is known about Junior dos Santos other than his boxing because he hasn't needed anything else to defeat his opponents.  He's supposedly a great Brazilian jiu-jitsu fighter, but no one has seen it.
Now dos Santos is set to face a striker who's not only a kickboxing champion, but the more complete standup fighter.  Overeem not only knows how to kick and punch, he knows how to knee and elbow and has used the combination of those moves to not only take out his past opponents, but Lesnar as well.
It will be interesting to see how dos Santos does in targeting Overeem's chin while the Dutch striker sends low kicks to his legs.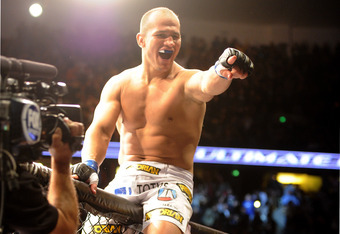 Jason Merritt/Getty Images
It could very well throw dos Santos from his game plan and ruin his ability to box effectively.  When dos Santos is distracted, Overeem could then mix up his striking into strafing combinations and finish the champion off.
Everything in MMA says that the more styles that a fighter has at their disposal helps them to succeed. If that's the case, then Overeem shouldn't have any trouble in mixing it up and mixing up dos Santos with misdirection and feints.
When the two face off, it will still be an MMA fight, but it will also be a kickboxing specialist against a boxing specialist.
And as many MMA fans have always pointed out, this isn't boxing.
And Overeem will prove that when he goes against dos Santos for the title.