They Said It: Arizona State's Todd Graham and Other Pac-12 Notables
December 30, 2011
Jonathan Daniel/Getty Images
How closely do we listen to the coaches, commentators and others that speak in college athletics? Many times what they say is really interesting, while other times it can make you just scratch your head and wonder. Here are a few examples.
Really? Really??
"Given the development of seven on seven football in the area of Big 12 schools, they deliver more highly developed QBs and receivers than other parts of the country."
Rece Davis said this during the broadcast of Texas's victory over Cal in the Holiday Bowl. It is a head scratcher for a couple of reasons.
First, seven on seven football is not something that takes place just in Big 12 areas. It is a big deal in the deep South, West Coast and the rest of the country.
Second, it also seems that defensive backs in the Big 12 would be developing better skills when it comes to defending the pass given they make up part of the other seven on the field.
Maybe the forward pass is so successful in the Big 12 because their pass defenses are just not that good. Look at the top secondary prospects for the NFL this year.
Notice that you will not find many names from schools playing in the Big 12. With a few exceptions, you will also not find many top tier candidates on the defensive line or at linebacker either. 
Maybe, just maybe, the normally solid Rece Davis spoke without really stopping to consider the totality of what he was saying. Hey, it was a live broadcast and even the best can get it wrong over the course of a game
Living the Dream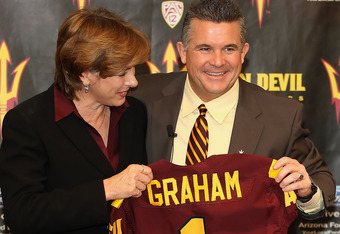 Christian Petersen/Getty Images
"This is a dream come true for me."
That was Todd Graham's statement from his press conference at Arizona State when he was introduced as the schools head coach. Recently.
Congratulations coach. Not many people manage to achieve their dreams. What is really great for Graham has been his ability to live his out more than once.
Just like when Graham was hired by Rice and at his press conference said, "I've dreamed of this day since I was in the seventh grade, and I get those memories of turning on the TV and watching Rice play Texas, and being so tied up in all the SWC games."
It must have been shortly after being hired by Rice that he started having new visions at night..
During a telephone interview when he was hired to coach the Golden Hurricanes he said, "That was my dream, I wanted to be head coach at Tulsa. We have a heart for Tulsa."
Too bad for Pitt it was something besides a dream job for Graham. He never said it was, and maybe that should have tipped Panther fans he was going to leave even quicker than he normally does.
Two things: Arizona State fans better hope he does not sleep much. It seems bed time is when Graham likes to go job hunting. Second, if there is any karma, he will have nightmares when he does turn in for the night after dumping his Pitt team via text.
The Greatest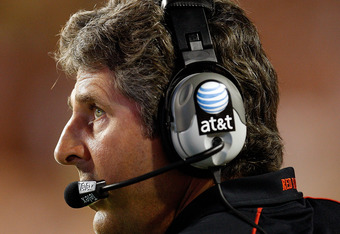 Ronald Martinez/Getty Images
The problems with Washington State football may not be just in the athletic department. Here is what school president Elson S. Floyd said during the press conference announcing Mike Leach as the Cougars' next head man.
"I asked athletic director Bill Moos to select the best head football coach in the country and I am convinced that he has done exactly that,"
Does Floyd really believe that statement or is that just PR speak for the masses?
If he really does believe that Leach and his 84-43 record is the best out there he needs to spend a little more time on Saturday watching other schools play.
I guess he has never seen a Nick Saban-coached team play. Maybe Gary Patterson and TCU are off his radar. Possibly Bob Stoops and Oklahoma are never mentioned in the local papers.
He must not ever watch CBS to see how well Les Miles has LSU playing. There is the potential that, oh, nevermind. There are plenty of names that would go ahead of Leach on the list of nation's best college football coach.
By the way, hope he knows that Leach sued his former employer if he ever has to pull the plug on "America's Coach."
Be careful sir.
By the way, it is not ever wise to insult the intelligence of the people who support your athletic program by making an absurd statement…even for PR purposes.
A Touch of Honesty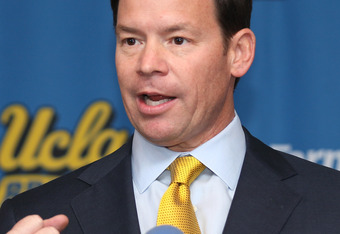 Stephen Dunn/Getty Images
Give Jim Mora credit for honesty when he made this comment at his UCLA press conference when introduced as the Bruins head coach.
"Our objective here is simple. And that is to make Bruin fans proud of their football team. It has been a tough decade for UCLA football. This is a program that has always represented academic and athletic excellence. And I look forward to the challenge of returning this football team to prominence." 
Way to go coach for calling it like it is. Way to go, also, for putting an end to the Bruin practice of "going over the wall." That is a first step to reverse the course of the past decade. Now, will the school give the coach facilities that are adequate to attract top talent?
Good for USC…and College Football
Matt Barkley made headlines with his announcement that he would be returning for his senior season as quarterback for USC.
His comments are the kind that should make every college football fan smile and feel there is still something special about young men playing for their chosen institute of higher learning. Here is a portion of what he said:
"I am prepared to play quarterback in the NFL, it is my dream to play quarterback in the NFL, and I intend to make that dream a reality. But I also know that I came to USC to compete and have a rare journey as a USC football player, earn a degree from this exceptional university and forge lifelong bonds with the Trojan family."
USC head coach Lane Kiffin has made plenty of comments that could make anyone wonder how full of himself he might be. But what he said upon hearing the news of Barkley's return was simple and powerful at the same time.
"Wow."
Keep listening to what people in the world of college football say and drop a line if you hear something particularly interesting.
All quotes from coaches and school administration are taken directly from media releases by the respective university. Quotes attributed to Rece Davis were directly from the broadcast of the game.