Arsenal Transfer Rumours: Should They Target Alexandre Pato or Lukas Podolski?
December 30, 2011
Joern Pollex/Getty Images
Robin van Persie has single-handedly carried Arsenal and embattled manager Arsene Wenger from the depths of the relegation zone in August and September to top-four contention as the English Premier League gets set to enter 2012. 
But can van Persie's torrid form keep up and carry the Gunners into Champions League contention all the way through May? 
If that past is any indication, the answer is a resounding "no." 
The Dutchman has a checkered past with injuries and has been surprisingly healthy for most of 2011. Still, Arsenal supporters' blood pressure goes through the roof whenever van Persie hits the deck. 
While Marouane Chamakh remains as Arsenal's most reliable backup to van Persie—and the word "reliable" is used very loosely—will take part in the upcoming African Cup of Nations along with prolific winger Gervinho.
Wenger will be looking to shore up the Gunners attack if they hope to climb back into one of those coveted top-four spots.
The two names Arsenal have been most heavily linked to are Brazilian oft-used AC Milan frontman Alexandre Pato and Polish-born German international Lukas Pudolski, who has sizzled at Bundesliga side Köln.
So who makes the most sense to deputize van Persie?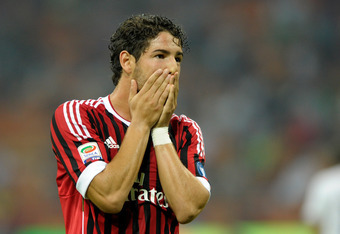 Claudio Villa/Getty Images
Arsenal have already locked up legend Thierry Henry for a two-month loan spell, but Arsenal still need a longer-term solution since Henry will return to New York in March, and Wenger Chamakh's productivity has crashed and burned since he started his Arsenal tenure with a bang.
Pato is younger (22) than Podolski (26), but Podolski would likely come at a cheaper price (rumoured to be £15 million to the £23 million it would take to uproot Pato from Milan.
While Pato may be the superior long-term solution—especially if van Persie doesn't ink a new contract—but Pato's form is somewhat unknown, as he's struggled to find time on the pitch at the San Siro.
Podolski, on the other hand, is a proven goal-scorer. While he may lack the natural ability of Pato, he's never lacked the penchant to finish in front of the net.
Arsenal have long been criticized for being "too cute" on their attack and occasionally trying to "pass" the ball into the goal. Van Persie has both the creativity and finishing ability to be an all-encompassing goal-scoring threat, but simply a finisher may be the best support for the fragile Dutchman.
With all kinds of speed and creativity on the wings with Theo Walcott and Gervinho, Podolski would see no shortage of opportunities to finish.
Add his resumé in top-flight competition with the German international team—Euro 2004 and 2008 and World Cups in 2006 and 2010—and his experience would be a more-than-welcome addition to a relatively young Arsenal squad.
Podolski's German teammate and Arsenal centre back Per Mertesacker also voiced his approval for a run at the frontman.    
He is a powerful, great player, especially for the national team. He has scored a lot of goals, is a good striker with a very good finish. His left foot is unbelievable and I am a fan of his.

The Premier League is a little different to the Bundesliga but you get used to everything. 
Wenger's decision is an easy one: Save the funds—get Podolski.