Chick-Fil-a Bowl: Will Auburn Coaching Searches Overshadow the Game?
December 30, 2011
Kevin C. Cox/Getty Images
The rewards for the Auburn Tigers' 7-5 record is a trip to the Chik-fil-A Peach Bowl in Atlanta, Ga, a great bowl to participate in for fans and players alike.
Auburn faces an improved Virginia Cavaliers team from the ACC that relies on a zone-blocking running attack to set up the run. They use multiple looks and formations to create mismatches they can expose and take advantage of.
The Cavs defense is ranked 30th in nation and runs a 4-3 alignment, which could give Auburn an opportunity to run weak side traps and options with quarterback Kiehl Frazier for some big plays.
But are the Auburn fans really interested in the game?
Most of the buzz has been about who the next coordinators will be. Will Auburn stick to the spread, or will they go back to a pro-style offense? Is Stoops really staying at Florida State, or was that just a smoke screen until after the bowl games to make his move to Auburn?
For the most part, the Auburn faithful are interested in game on Dec. 31. Auburn fans, or most of them anyway, always do a good job of keeping Auburn first. No coach or player is bigger than Auburn. But once the clock hits double zeros, win or lose, the thoughts will turn to the coaching situation.
Blake Anderson has been mentioned as a front runner for the job. Coach Anderson was the offensive coordinator at Southern Mississippi and runs an up-tempo, no-huddle offense that Coach Chizik seems to want to run. Southern was 13th in the nation in rushing offense, 47th in passing and sixth with 39.6 points per game.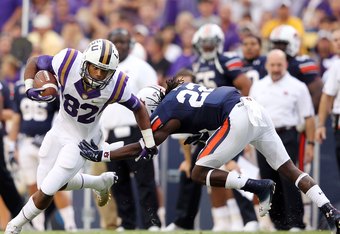 Jamie Squire/Getty Images
Much like Malzhan, his offense is called a spread offense, but he puts running the ball first, which would be a great fit for the personal Auburn has.
The defensive coach is more of a mystery.
Mark Stoops is still considered a front runner even though reports say he's staying in Tallahassee. With a defense ranked third against the run, 27th against the pass and 19th in interceptions, it's no wonder Auburn fans are holding on in hopes he does come to the plains.
After Stoops, it's anyone's guess who Auburn will go after. I'm sure Coach Chizik has a plan and will do what's right with the position to give his young defense a better chance next season.
Auburn fans are looking for a big victory on Dec. 31 against the Cavaliers, but are looking for even a bigger win with the coaches Chizik decides to bring in.