Kings Exposed the Bulls Deficiencies, Will Other Teams Follow Suit?
December 30, 2011
Ezra Shaw/Getty Images
Derrick Rose came out aggressively in the Bulls' 108-98 win versus the Kings Thursday night. 
He forced his will from the start of the game, eventually ending the the first half with 11 points and five assists.  For some, Rose's numbers will not suggest that he was more aggressive, since they are similar to his stats from the Lakers game.  
Let's take a moment to change terms.  It is not about Derrick Rose being aggressive but more about him being active.
The active Rose helped sparked the Bulls' first-quarter charge which ended in a 30-24 Bulls lead. 
The biggest problem that I see with this team going forward was evident versus the Kings.  Although the game never truly seemed in doubt, the Bulls must learn how to finish teams off. 
Good teams build big deficits, great teams sustain them. 
There is no way that a team such as the Miami Heat doesn't blow out the improving Sacramento Kings.  That's not to say that the Heat are a great team, but they do possess two great players who can close out a game.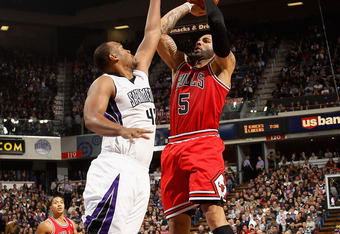 Ezra Shaw/Getty Images
Isn't that a huge issue for the Bulls as currently constructed?  It was their deficiency in the Eastern Conference Finals last season going against the Heat and it is their deficiency now. 
One of two solutions is to further establish Carlos Boozer. 
He can be a handful if his confidence is high and he is implemented in the flow of the offense.  If anyone disagrees then maybe the 16 points and 15 rebounds he had can change your mind. 
Boozer was clutch in the third quarter, scoring a few key baskets from the post.  He was active around the glass all night, even playing some solid defense. 
It's time to inject some more life in Boozer now, early and often.  In the long term it will give the Bulls a trusted weapon that the opposing teams must game-plan for.
The second solution is a trade.  I will get more into this option before the Bulls' home opener on Sunday.
The other problem is help-side defense.  
Joakim Noah has been caught out of position time and time again.  It has been the primary reason for his foul trouble.  Also, teams with fast guards have been able to get by Rose and Richard Hamilton only to find the lane free to enter. 
My advice would be to alter the rotations on defense using more communication.  It's up to Boozer to help out Noah here and I definitely envision improvement going forward.  
You can attribute much of the Bulls' problems due to their starting out of the gate with four consecutive road games. 
Now that normalcy has been restored, will better teams follow the Kings blueprint?