NFL Playoff Predictions: QB Andy Dalton Will Lead Bengals to Playoff Victory
December 30, 2011
Joe Robbins/Getty Images
The Cincinnati Bengals are in a great position to win a game in the playoffs.
Take a moment to let that sink in.
A team that started the season dead last in ESPN's power rankings is now one game away from securing the sixth seed in the AFC playoffs.
Considering Bengals head coach Marvin Lewis has a 10-7 record against the Ravens and has beaten Baltimore two consecutive times at home, I like their chances to win and get in.
All of the credit goes to Andy Dalton.
The critics used everything from the team he played for in college to the color of his hair as excuses for him to fail in the NFL. Those concerns dropped him to the Bengals at No. 35 in April's draft.
All that he's done with a lockout-shortened offseason is throw for 3,166 yards, 20 TDs and only 13 INTs. His accuracy is right at the 60-percent mark. His pocket presence is off the chart for a 23-year-old. His poise in late-game situations is something Tony Romo wish he had.
In short, Dalton has been the savior of the Bengals franchise and has his team in a position to make the postseason for just the third time since 1990.
Assuming that the Bengals win, (yes, that's saying a lot but history is on the Bengals side), they will be rewarded with a trip to face No. 3 seeded Houston.
The Texans are in the playoffs for the first time in the history of their franchise but will be entering the postseason with absolutely no momentum whatsoever. The magic of T.J. Yates has vanished, and consecutive losses to the Panthers and Colts give little reason to believe they will be a factor in the playoffs.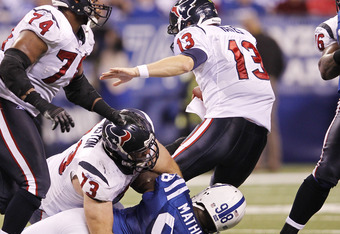 Joe Robbins/Getty Images
Sure, Yates led the Texans to an improbable 20-19 comeback in Week 14 over the Bengals, but now the league has tape on the fifth-round rookie and his numbers in the last two games (344 yards, two INTs) have the look of a fifth-round draft pick with four career NFL starts.
Dalton isn't a rookie anymore at this point in the season. In fact, he hasn't played like one in months. The Red Rifle has shown poise beyond his years this season, and you can expect his best effort in a homecoming of sorts in his native state of Texas.
Raise your hand if you thought a Bengals team with a rookie QB would be playing in the AFC divisional round.
I don't see any hands raised.