NFL Offensive Rookie of the Year: Andy Dalton a Lock with Win Against Ravens
December 30, 2011
Jason Miller/Getty Images
Andy Dalton is having an outstanding rookie season under center for the Cincinnati Bengals. If Dalton and the Bengals defeat the Baltimore Ravens Sunday and secure a playoff berth, Dalton should be the surefire Offensive Rookie of the Year.
Many will argue that Cam Newton of the Carolina Panthers is a more deserving candidate. The same folks will argue that OROTY is an individual award, but that hasn't always been the case in history.
OROTY winners in the postseason
In recent years several rookie quarterbacks have won the award while making the playoffs. These quarterback include Ben Roethlisberger (2004) and Matt Ryan (2008). Dalton has thrown more touchdowns than both quarterbacks in their respective seasons. He's also thrown for more yards than Roethlisberger and about as many as Ryan in their rookie campaigns.
To say that OROTY is an individualistic award is not always true. Rookie quarterbacks surrounded by above average teams have won the award before, just as rookies with bad teams have as well.
Dalton's supporting cast is overhyped, Newton's is underrated
Dalton has a strong team around him, but make no mistake—the team isn't as strong as it appears. The Bengals have feasted on an easy schedule.
Many will claim Dalton is playing with an elite defense, but as many Bengals fans know, that isn't necessarily the case. There is a reason Dalton already has four career fourth quarter comeback winning drives (In comparison to Newton's one). The Bengals defense has a habit of giving up the big play, especially in the first half of football games which means Dalton has to make up for the defense.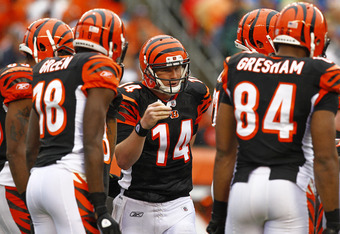 Tyler Barrick/Getty Images
On the offensive side Dalton has a variety of weapons, but not as good as the weapons Newton is working with. Dalton of course has A.J. Green who is the primary target. Green has 1,031 yards and seven touchdowns. The primary target on Carolina is Steve Smith who has 1,308 yards and six scores.
Outside of Smith Newton has five other targets with 400 or more receiving yards. Dalton has two other targets besides Green with 400 or more. Jermaine Gresham has six touchdowns to Greg Olsen's five. Jerome Simpson has four touchdowns compared to Brandon LaFell's three and Jeremy Shockey's four.
Add in the fact Newton is playing with two elite running backs in DeAngelo Williams and Jonathan Stewart. The duo has a combined 1,465 yards on 281 attempts and 10 touchdowns.
Newton has had an easier path than Dalton
Despite having an easy overall schedule Dalton has been tasked with going against strong passing defenses all season. Dalton has had to play six games in his division with overall great ranked passing defenses: Pittsburgh (1st), Cleveland (2nd), and Baltimore (4th). Newton has had the luxury of playing against his division's weak passing defenses: Atlanta (19th), Tampa Bay (24th), and New Orleans (29th).
Dalton has played no games this season against a bottom 10 ranked pass defense. Newton has played seven games against a bottom 10 ranked pass defense.
 The Rushing Dynamic
It would be ignorant in this analysis to ignore Newton's impressive rushing statistics. With 674 yards and 14 touchdowns on the ground, Newton became the record holder for rushing touchdowns by a quarterback. Newton is four touchdowns shy of breaking Eric Dickerson's rookie rushing touchdown record.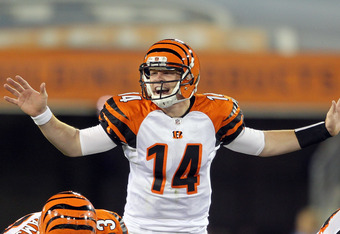 Andy Lyons/Getty Images
It's undeniable that Newton has a special ability that adds another dynamic to the Carolina offense. Unfortunately for Newton, that hasn't translated into wins.
Controlling the hype machine
The media hype machine led by ESPN was in full force before Newton was selected first overall in the 2011 NFL Draft. Now the hype machine is off the charts because of the records Newton is breaking.
The problem is, Newton is struggling as a first overall pick. A first overall selection in the draft is supposed to come in and win games immediately, or the player wouldn't be picked first overall. Newton has the potential to be that, but not now. He has brought a new culture to Carolina, but not a winning culture, yet.
Dalton on the other hand came into the league in the second round of the draft and wasn't expected to have much of an impact. After all, a second round pick isn't supposed to arrive at one of the worst franchises in all of sports coming off of a 12 loss season and win nine games in the toughest division in football.
But Dalton did. In fact, three quarterbacks that were selected before Dalton in the draft are starting in the league now—Newton, Minnesota's Christian Ponder and Jacksonville's Blaine Gabbert. The three quarterbacks have a combined 11 wins—Dalton has nine.
Franchise saviors
It's hard to argue which rookie quarterback should win OROTY. The way the media is painting it, the award has already been won by Newton. It will be an interesting race to the finish and even more interesting to see what the voters place an emphasis on—individual accolades or winning in a team sport.
There's no denying that Dalton and Newton have entered the league and changed their respective cities and franchises for years to come. Both arrived in the league and have accomplished impressive feats without the luxury of a full offseason due to the lockout.
Regardless of who wins the award one thing is for sure—both are equally deserving. If Dalton and the Bengals win Sunday and make the postseason that should go a long way toward solidifying Dalton as the OROTY.