Florida Gators Football: A Look Ahead at the Possible 2012 Starters on Defense
December 30, 2011
Chris Graythen/Getty Images
Earlier this week, we took a gander at who could be the starters on offense for the John Brantley-less Florida Gators in 2012.
Today, we'll peek ahead at what the Jaye Howard-less defense might look like.
And so you know, this unit should be among the nation's five or 10 best. There is a lot of talent coming back, and if the Florida State game (95 yards of total offense for the Seminoles) was any indication, UF could be on its way to returning to powerhouse status.
Buck (DE/OLB hybrid)
Ronald Powell will be back for his junior season and should remain the starter here. A California native, Powell has a nice blend of power and speed, and many close to the program believe he could have a breakout 2012 season.
Powell's top backup for Monday's TaxSlayer.com Gator Bowl against Ohio State is listed as starting Sam linebacker Lerentee McCray, who will be a fifth-year senior next season.
Florida needs to find depth here, and some candidates include junior-to-be Kedric Johnson, junior-to-be Darrin Kitchens and third-year sophomore-to-be Gideon Ajagbe. All three of those players would have to make a position switch, but each fits in the general height/weight range to play Buck.
Commitment Antonio Morrison also could get a look.
Defensive tackle
Howard is a really talented guy, and has been perhaps UF's best every-down player in 2011. However, the Gators have skilled athletes returning.
Provided he recovers from a season-ending torn left ACL he suffered against Florida State, junior-to-be Dominique Easley will be one starter at defensive tackle.
Classmate Sharrif Floyd very well could be the other starter, but UF also has played him a great deal at end, so he likely will play where he is needed most.
Both are potentially All-SEC caliber players.
Senior-to-be Omar Hunter has not lived up to former coach Urban Meyer's perhaps unfair billing as the "Tim Tebow" of his recruiting class, but he made strides this season and had some very productive outings.
Leon Orr, a 6'5", 310-pounder who can do a standing back flip, improved this year and will be counted on to contribute more as a third-year sophomore.
The UF coaching staff has done tremendous work in recruiting, already having four-star junior college standout Damien Jacobs signed to a national letter of intent. Fellow JUCO Visesio "Junior" Salt, also an offensive guard, could follow suit shortly.
The Gators have commitments from Class of 2012 heavily recruited prospects Jafar Mann, Quinteze Williams, and Dante Phillips (also a potential offensive lineman).
Defensive end
Floyd definitely could be in the mix here, but that likely will have more to do with who his most ready teammates are next year and not necessarily himself.
The tallest player on the team, 6'7" Gainesville native Earl Okine no doubt hopes his final year on campus will be his best. Okine has been productive this year in limited repetitions, but it is difficult to project how he would perform over a full four quarters.
Johnson also will be in line for playing time, and McCray has shown he is versatile enough to play Buck, end and Sam. Easley also has an incredibly quick first step and probably could make for a productive end if needed.
At the moment, Florida has no defensive end commitments, but don't expect that to be the case come National Signing Day.
The Gators are in the running for undecided coveted end prospects Jordan Jenkins, Darius Hamilton, Tyriq McCord, Teko Powell and Jonathan Bullard, among others.
Sam
McCray is No. 1 on the depth chart here heading into the Gator Bowl. Kitchens is listed as the top backup.
Ajagbe also could get a look.
When he arrives on campus, Morrison could play if he proves ready. Fellow outside linebacker commitment Jeremi Powell weighs just 200 pounds, so he may need to put on more weight before lining up against SEC offensive players.
Mike
One of the most underrated Gators, Jon Bostic has been an anchor as a two-year starter. The 6'1" 243-pounder will be back for his senior season. 
Bostic's top backup entering the bowl game is Michael Taylor, who will be a third-year sophomore in 2012. Somewhat unheralded out of high school, Taylor has proven better than many recruiting analysts believed he would be.
Starting Will Jelani Jenkins has and also could again play in the middle, if needed.
Will
In a conference loaded with great linebackers, Jenkins probably was three or four dropped interceptions away from having his name in the discussion for All-SEC consideration in 2011.
He has a real nose for the ball, and should be one of the SEC's best next year, when he is a fourth-year junior.
Rugged 245-pounder Graham Stewart, listed as the top prospect in Connecticut for the Class of 2011, is the top backup listed for the bowl game.
Morrison, and possibly Powell, could get a look here once they get to Gainesville.
Safety
The Gators are pretty loaded here.
Matt Elam and Josh Evans are scheduled to be the starters against Ohio State, and both will return next season.
Pop Saunders has proven to be a real playmaker late in his freshman year, and the coaching staff expects big things out of the Deltona, Fla., product in 2012. He is expected to start at nickelback in the Gator Bowl.
True freshman Jabari Gorman is listed as Elam's top backup against the Buckeyes. Gorman has contributed on both defense and special teams this year.
Athletic 2011 signee Valdez Showers could be in the running for playing time next year.
Florida also has two four-star (according to ESPN) safety commitments: Rhaheim Ledbetter and Marcus Maye. The Gators also would love to land five-star Landon Collins and/or four-stars Trae Elston and Deon Bush.
Cornerback
Much like at safety, UF has quality young talent at cornerback.
Marcus Roberson proved to be one of the most ready-to-contribute players UF signed last February, starting eight games before having his season end with an injury.
Others who give the Gators hope for the future include junior-to-be Jaylen Watkins, who is scheduled to start against Ohio State, and his top backup, true freshman Louchiez Purifoy.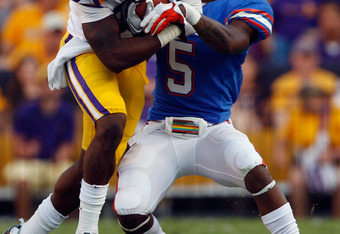 Chris Graythen/Getty Images
Cody Riggs, a junior-to-be, made a few starts in 2011 and plays a major role in the secondary.
Seemingly snakebitten Jeremy Brown started opposite Janoris Jenkins in 2010 and was set to start again this year, but missed his third full season with an injury. Brown hopes to come back for his redshirt junior year in 2012 but may have to undergo surgery to repair the knee injury that sidelined him this year.
Florida has commitments from two cornerbacks: Brian Poole and Willie Bailey. And the Gators would love to land Tracy Howard (the majority of the UF staff sat with his family as his Miramar team played in the state title game a few weeks ago).
The Gators also are in the running for 2012 prospects Amos Leggett and Deion Bonner.
Punter
Kyle Christy will return for his sophomore season.
After taking over for David Lerner midway through the 2011 campaign, Christy continued to improve and should solidify the position for three more years.