Mississippi State Football: Analyzing the Bulldogs' 2012 SEC Schedule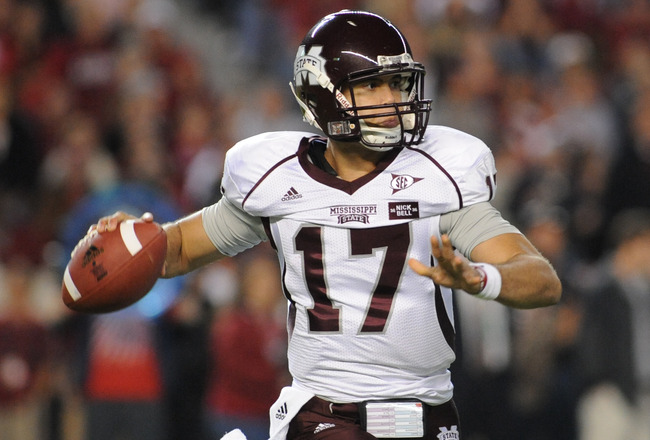 Al Messerschmidt/Getty Images
Mississippi State started out 2011 ranked in the Top 20 and looking to make some big upsets in the year following a solid 9-3 season. Instead, things didn't exactly go according to the plans of Dan Mullen and company.
Finishing fifth in the toughest division in the nation at 6-6, the Bulldogs are partially proud of their bowl berth while also being disappointed it wasn't a better one. Taking down Wake Forest in the Music City Bowl on the day before New Year's Eve, MSU concluded their season on a high note.
Just a few days ago, the new SEC schedule came out with recently added members Texas A&M and Missouri joining the mix. The Aggies are joining up in the Bulldogs' division while the Tigers are moving into the East.
MSU has arguably the toughest schedule in the entire conference. Take a look for yourself:
Sept. 8: vs. AUBURN

Oct. 6: at Kentucky

Oct. 13: vs. TENNESSEE

Oct. 27: at Alabama

Nov. 3: vs. TEXAS A&M

Nov. 10: at LSU

Nov. 17: vs. ARKANSAS

Nov. 24: at Ole Miss
We take a look at each game up close and how the Bulldogs will finish come the end of the 2012 season.
Auburn at Home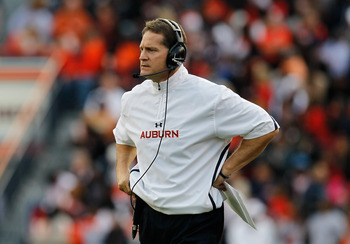 Kevin C. Cox/Getty Images
Facing the Tigers away this past year, Mississippi State was unable to pull off a win over Auburn. In the closing seconds, QB Chris Relf fell a yard short of the end zone, disappointingly not tying the game and forcing an overtime.
For the Bulldogs' first conference game, they get to try and exact revenge on Auburn in Starkville. Expect QB Tyler Russell and the offense to explode in this early game, dismantling a declining Tiger program.
Still a close game but this time falling in favor of Mississippi State, they start the conference play out in the right manner.
Conference Record: 1-0
Away at Kentucky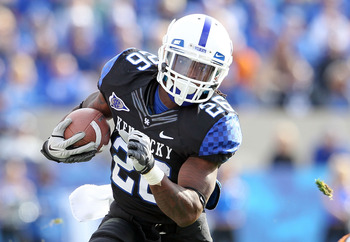 Andy Lyons/Getty Images
MSU has a strange locked rival in Kentucky. Having to face them every season, the Wildcats provide an easy conference win almost every year.
One of the two wins the Bulldogs had in the SEC this past season, Kentucky should once again fall to this talented Mississippi State squad. This far into the year, things aren't looking too bad.
Conference Record: 2-0
Tennessee at Home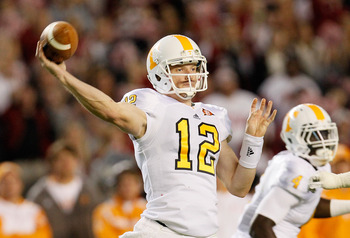 Kevin C. Cox/Getty Images
The Volunteers aren't going to be any kind of pushover next season. Finishing last in the SEC East this past year, Tennessee is certainly in rebuild mode under a young head coach.
After losing Lane Kiffin to USC in a huge scandal, UT has a lot of anger they need to release. Expect upsets to start coming out of this young squad from Knoxville. Visiting the Bulldogs will not be one of those upsets.
The Volunteers are a tough team and will compete next season in the East division, but taking down MSU in Starkville is far from likely. Another solid SEC win, the Bulldogs are rolling.
Conference Record: 3-0
Away at Alabama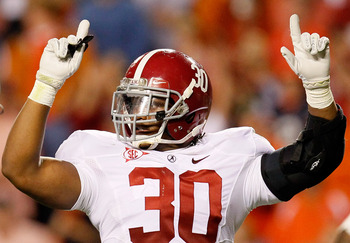 Kevin C. Cox/Getty Images
This is when things start to get tough. Taking on the Crimson Tide in Bryant-Denny will be possibly Mississippi State's toughest game all season. A win is almost out of the question.
This past year, the Bulldogs gave Nick Saban and the Tide a run for their money for three quarters when they visited Starkville, but Alabama still managed to pull off solid win by taking MSU down 24-7 with over half of their points coming in the final quarter.
MSU returning the favor to the Tide could possibly be the upset of the year in college football, especially since the Tide are coming off a season in which they competed for the Crystal Ball. Unfortunately, their visit across the state line won't merit any miracles.
Conference Record: 3-1
Texas A&M at Home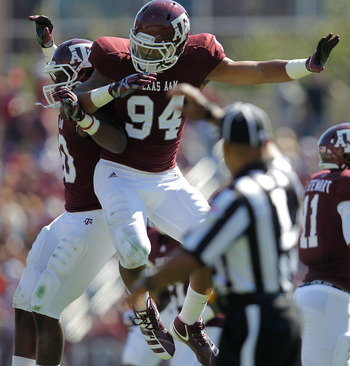 Sarah Glenn/Getty Images
One of the new members in the conference, the Aggies had a similar year to the Bulldogs. Starting off the season ranked in the Top 10, A&M finished at 6-6 and in a mediocre bowl. The Aggies fired their head coach and are preparing for the blunt impact of the SEC West.
Visiting MSU mid-season will be huge for both teams. For Texas A&M, a win against the Bulldogs would be a solid SEC West victory, something that doesn't come too easily. For Mississippi State, a win over the Aggies would be key to competing later in the year for a big bowl and some much needed conference respect.
Honestly, this clash could go either way for these two similar universities. Considering the Bulldogs' home-field advantage, they take it in one of those games fans won't forget anytime soon.
Conference Record: 4-1
Away at LSU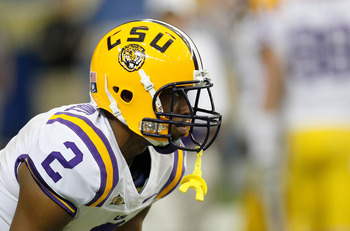 Kevin C. Cox/Getty Images
College football's only undefeated squad, LSU won't be getting any easier next season. Competing for the National Title to finish the year off, the Tigers will maintain a strong portion of their team as well as bringing in some huge recruits.
Already having faced off against 'Bama at home, Mississippi State will have to visit Death Valley. Considered one of the toughest venues in college football as well as being the host stadium for possibly the best team in the sport, this is almost a guaranteed defeat.
Conference Record: 4-2
Arkansas at Home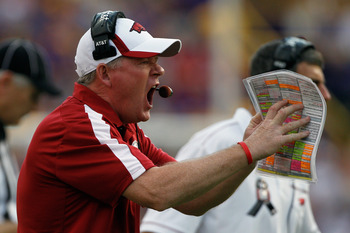 Chris Graythen/Getty Images
This is when people will begin to see what the Bulldogs are made of. With a couple of big wins over some weaker SEC East squads as well as middle-of-the-pack West teams, MSU has their shot to prove themselves in this matchup against the Hogs.
Visiting Arkansas this past year in what turned into a blowout, the Razorbacks will travel down to Starkville in late 2012 for their game against MSU. Sporting a superstar senior QB in Tyler Wilson, Arkansas will be looking for another easy SEC West win.
The Bulldogs will come out fighting for their season. Taking down one of the big three in their division would push them into a much more "elite" status in the conference, something they've desired for decades now. Considering both LSU and 'Bama will be away next year, the Hogs coming to visit is the ideal moment for a signature win. I believe they pull it off with some style.
Conference Record: 5-2
Away at Ole Miss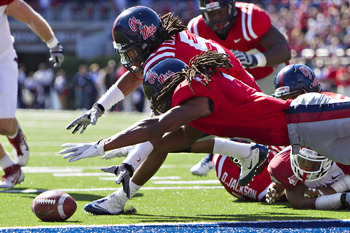 Wesley Hitt/Getty Images
Ole Miss has been a thorn in Mississippi State's side for decades now. The two have been competing over their state for as long as I can remember and will continue to do so for a long time after I'm gone.
Dan Mullen, however, seems to have the Rebels' number. Spouting off three consecutive wins under their new head coach, MSU has taken over the storied rivalry. As Ole Miss has finally understood it must rebuild, they fired Houston Nutt and have brought in Hugh Freeze from Arkansas State. The coaching change in Oxford shouldn't make much of a difference in the Egg Bowl next season, however.
MSU pulls off their fourth consecutive victory over their long-time rivals in their season conclusion.
Conference Record: 6-2
Conclusion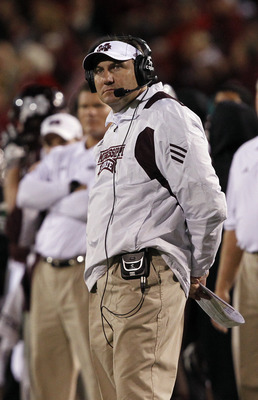 Butch Dill/Getty Images
Looking at a possible ten-win regular season for next year, Dan Mullen and company have the opportunity to really mix things up in the SEC West.
Establishing one's program as conference threat is no easy task, especially in the SEC, but Mullen has managed to do it just a few years. A big season in 2012 is the next step towards becoming an SEC power, just as Mississippi State planned when they hired the offensive coordinator out of Florida.
Considering they play both Alabama and LSU away, they easily have one of the toughest schedules in the nation, but a little luck and some great play by the Bulldogs' experienced players will put MSU on a whole new level in the conference.
Watch out for this squad to make some huge strides next season. Mississippi State is a force to be reckoned with that no one is paying any attention to. In my opinion, the unknown is the best place to reside because no one can ever see you coming.
They might as well be invisible, but that could be their greatest advantage.
Keep Reading

Mississippi State Football: Like this team?