Winter Classic 2012: Flyers Need to Start Sergei Bobrovsky vs. Rangers
December 29, 2011
Al Bello/Getty Images
The Philadelphia Flyers have a pretty big game coming up on Monday.
In case you're just now joining us, it's Philadelphia's turn to host the Winter Classic, which will take place at Citizens Bank Park. That would be sweet enough, but the matchup with the New York Rangers makes it even sweeter. 
The only trouble for the Flyers is that the Rangers have already beaten them twice. The second loss on Dec. 23 was particularly brutal, as the Rangers topped the Flyers, 4-2, to take over the lead in the Atlantic Division.
Ilya Bryzgalov was in net for that one, and it wasn't pretty. When the Flyers play the Rangers at the home of the Phillies on Monday, Peter Laviolette could easily decide to go with Sergei Bobrovsky in net instead.
That could depend entirely on how Bobrovsky performs on Thursday night against the Pittsburgh Penguins. Tim Panacchio of CSNPhilly.com summarized the situation as such on Wednesday: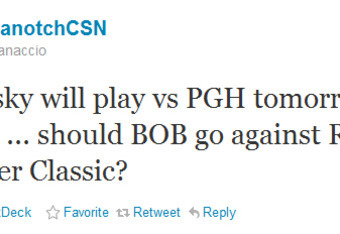 I'll do Panacchio one better: Laviolette should start Bobrovsky in net no matter what.
With all due respect to Bryzgalov, he just hasn't played well this season. His save percentage is at .890, and his goals against average is at 3.01. Those are pretty atrocious figures, especially for a guy making as much money as Bryzgalov is making. 
It doesn't help that Bryzgalov has been slumping lately, allowing 16 goals in his last four games, all losses.
Meanwhile, the game that Bobrovsky started on Dec. 21 against the Dallas Stars resulted in a win. He allowed just one goal and made 31 saves. It was a performance that made him look like the wily veteran, and Bryzgalov like the kid.
Starting Bobrovsky against the Rangers in the Winter Classic would be a roll of the dice, to be sure. But then again, so would starting Bryzgalov. He's the guy with the experience and the big contract, but he's also the guy who has been killing the Flyers for a good portion of the season. You can blame subpar defense for that, but only to an extent.
If Bobrovsky produces another win on Thursday night, Laviolette would be sticking with the hot hand if he were to start him against the Rangers. Even if he loses, it's in Laviolette's interest to find out for sure if Bobrovsky is more than just a relief option that he can use when Bryzgalov needs a breather.
If Bobrovsky plays well against the Rangers, thus proving that he is a legitimate every-day option, the Flyers will have every excuse to start sending more and more starts his way, which would ideally result in more and more sorely-needed points.
If Bobrovsky doesn't play well, Laviolette will know that he doesn't deserve more time in net than Bryzgalov.
If nothing else, that would be pretty definitive proof that further experimentation is not needed.