Why Antonio Rodrigo Nogueira Should Call It Quits and Retire from MMA
December 30, 2011
Antonio Rodrigo Nogueira is a fighter fans don't want to see retire.  Many know it's time for him to hang up the gloves, but he has been around for so long and conducted himself respectfully during that time.
He has become a fan favorite and—like many others, including Chuck Liddell and Wanderlei Silva—fans don't want to see him walk off into the sunset.
The problem is that even though Nogueira's surgery to his arm was successful. it still adds another scar to his ever-growing list.  He is starting to accumulate damage from his fights that he wouldn't have in the past.  Mix that with the fact he is growing older, and it doesn't look good for Nogueira.
A great counterpoint to calling for Nogueira's retirement is that he just knocked out young heavyweight Brendan Schaub in his second-to-last fight.  Nogueira obviously still has something left to give in the cage.
However, this writer has always been a proponent of letting fighters leave when they still have something to show, not after they have burned out.  It may feel unfair to fans who want to see them step into the cage a few more times, but after what they give the fans it seems only right.
And as for Nogueira's recent record it is true he beat Schaub while winning Knockout of the Night, but he also hasn't won many other fights before that.
His current record in his last five fights shows he is 2-3, but one of those wins was against Randy Couture, who was already getting ready to retire and didn't seem to have his heart into fighting anymore.  That isn't to say Couture was lazy for their fight, just that he was a little removed from it and that he was at the tail end of his career.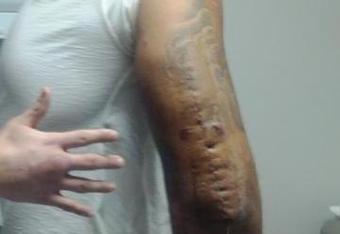 The fight went the distance.
In between those three fights he has been knocked out twice and, in his last fight, submitted.  Before then it had never happened before.  The submission in his last fight broke his arm so badly he needed surgery. That means a new injury to heal from and, at 35 years old, time off he can't afford.  
Those losses, along with their brutality, should tell fans and journalists alike that Nogueira is starting to slow down.
It doesn't mean he couldn't still compete in MMA or even that he would lose every fight.  It just seems he is done at the highest level, and for a man who was once a top fighter in PRIDE and the UFC to be asked to continue when he can't be on that level anymore is a little cruel.
Nogueira still lost a fight to a top fighter in MMA.  He could try to go out on a win, but it usually doesn't end that way for most guys who try to do it.
When he does retire he will have fighters to train and perhaps some commentary he could do in Brazil.  The future looks bright for Nogueira should he leave the cage.
All he needs to do to claim it is let go of the past.