Joffrey Lupul to Lead Toronto Maple Leafs to 2012 Success
January 4, 2012
Joel Auerbach/Getty Images
It's a bird...it's a plane...
It's...Joffrey Lupul?!?
Credit is given where credit is due, and perhaps no other member of Toronto Maple Leafs deserves it more than No. 19.
INTEGRAL PART OF THE MAPLE LEAFS
Arguably Brian Burke's most important acquisition as general manager of the Maple Leafs, to say Lupul has found his game in Toronto may be the understatement century—or at least the 2011-12 NHL season.
He has become an absolutely vital component of this young Leafs team and a huge reason why they've had success this season.
This Made in Canada upstart has shown consistency, goes strong to the net, battles hard on the boards, and is able to open up the ice and find those holes to further spark that undeniable chemistry he has forged with fellow linemate Phil Kessel.
RED HERRING DUCKS DEAL
Some considered Lupul to be somewhat of a salary dump for the Anaheim Ducks when Burke acquired him along with Jake Gardiner in exchange for veteran defender Francois Beauchemin—with Gardiner widely regarded as the real target.
This could very well have been true in both cases, but in no way does it diminish Lupul's accomplishments in Toronto thus far.
It may instead shine a divine light on Burke's genius for concocting such a transaction and taking a chance on a guy who has had some bad luck over the course of his NHL career.
COST-CONSCIOUS ALL-STAR  
After taking a quick glance at the cream of the NHL's top scorers, Lupul is definitely among very good company in sharing the spotlight with the likes of Claude Giroux, Henrik and Daniel Sedin, Steven Stamkos and Evgeni Malkin (not to mention his partner in crime, Phil "The Thrill").
As of Jan. 3, 2012, Lupul sits only two points back of the NHL scoring lead.
And perhaps no one is more surprised by this success than Lupul himself.
What makes this Cinderella story all the more endearing is that, with his conservative $4.25 million cap hit, the more he plays, the bigger a steal Lupul becomes for Toronto.
Not only is Lupul a bargain, to say the least, he comprises half of the two-headed monster that is the Kessel/Lupul one-two punch. Their line now seems to have all the horsepower of a V8 with the fuel economy of a six-banger.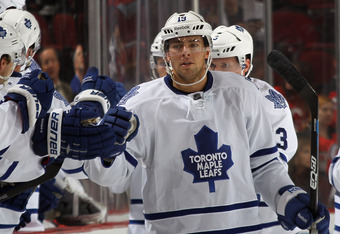 Bruce Bennett/Getty Images
Comparing them to the other top offensive duo in the NHL—the Sedin brothers—their total combined cap hit is $9.65 million, as opposed to the Swedish twins' $12.2 mill.
A BRIGHTER FUTURE
For the Maple Leafs, there have undoubtedly been some very dark days the last few seasons.
Fortunately, for the fans, there now appears to be more to cheer about, and some evidence to suggest their darkest days are indeed behind them. 
If this is in fact the case, it will most certainly be thanks in large part to the very resilient Joffrey Lupul, who has proven to be one of the strongest competitors in the NHL, and brightest spots on the Maple Leafs' steadily improving roster.