Notre Dame Football: Champs Sports Bowl Win Would Be Defining for Brian Kelly
December 29, 2011
Jonathan Daniel/Getty Images
Notre Dame Fighting Irish head football coach Brian Kelly deserves a lot of credit for pulling this season together.
While many would argue that it could have been a lot better, let's not kid ourselves.
It could have been a lot worse. Emphasis on a lot.
It's easy to look at the 8-4 record as a disappointment, and believe you me with the lofty expectations the Irish came into the season with that should at least be acknowledged.
When all is said and done though, the Champs Sports Bowl isn't half bad, and it should be welcomed.
It's a memory that many Irish fans want to forget, but let's not dismiss the fact that this team started off the season with two horrible losses, which all but sealed their national fate.
Coming into the home and season opener ranked No. 15 in the nation, there couldn't have been a more demoralizing defeat than taking a 23-20 loss to the hands to South Florida and Skip Holtz.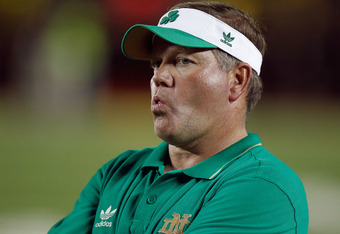 Gregory Shamus/Getty Images
Many felt the Irish should have just packed it in right then and there, but if not then, the breakdown against Michigan at the Big House certainly did the trick.
This was a team that barely survived the weight of its expectations at the beginning of the season.
The Irish started 0-2, yet still find themselves in the Champs Sports Bowl.
Kelly deserves a lot of credit for that.
He kept his team together and rallied the very next week to beat a very good Michigan State team 31-13.
The Irish followed that up by winning seven of their last nine, with the two losses coming to USC and Stanford. 
It may be hard to stomach, but there is very little shame in losing to both of those teams.
Consider the fact that Kelly's also had to manage quarterback controversies all year (Dayne Crist versus Tommy Rees and now Rees versus Andrew Hendrix) and that should really put this whole thing into perspective.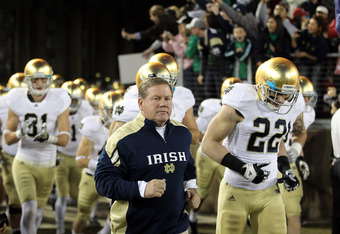 Ezra Shaw/Getty Images
This season could have been a lot worse, but somehow Kelly was able to salvage it and get his team into a pretty decent bowl.
Mind you, the story is not done yet as I'm sure Florida State is not just going to roll over, but don't underestimate how much this game means to Kelly.
He's got what looks to be a great recruiting class coming in next year, and a nationally televised win to take his team to 9-4 would be quite the defining moment.
The expectations for this season were high, so many will tell you that this was a disappointing year.
Consider the 0-2 debacle and consider the circumstances. Now consider the fact that the team has a chance to win the Champs Sports Bowl.
Kelly deserves a lot of credit for pulling this thing together.