Matt Garza to the Boston Red Sox Could Happen...Soon
December 29, 2011
Brian Kersey/Getty Images
According to MLBTradeRumors.com, the Matt Garza trade talks are increasing in intensity, citing David Kaplan of Comcast Sportsnet Chicago, Jim Bowden of ESPN and Jon Heyman of CBS Sports.
Three key players are in the mix.  It is believed that the Red Sox, Yankees and Blue Jays are all trying to acquire Garza from the Chicago Cubs to help bolster their respective starting rotations for 2012.
One of those teams has a slight edge: the Boston Red Sox.
Now, when I say slight, I do mean slight.  Compensation has never been finalized for Theo Epstein leaving the Boston Red Sox to join the Chicago Cubs as their President of Baseball Operations.  While it is appears to be minimal at this point, it is a matter that needs to be cleared up.
What could transpire in the coming hours and days might actually be a big trade.  The Red Sox need another starting pitcher, the Cubs have been relatively quiet and could look to shake things up a little bit before the start of the season.
This is where trading Garza to the Red Sox could make a lot of sense.  
While Garza's name has been whirling around the trade rumor winds pretty much since the 2011 season ended, and the Red Sox have also had a player who's name has been floating around: Kevin Youkilis.  Back on December 8, I wrote how the Cubs would make for a great trade partner for Youk. That move didn't even whisper the name Garza.  
Now, with the Sox possibly close to acquiring—definitely trying to acquire—Garza, it is a good time to revisit that basic framework of a deal.  Even though Cubs President Theo Epstein is on record as stating that Garza is "exactly the type of pitcher we want to build around" those of us in Boston have learned to read between the lines of Theo's rhetoric.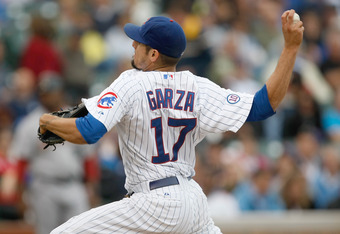 Scott Boehm/Getty Images
In my previous piece, I threw out the idea of trading Youk to Chicago for a player like Jeff Baker and prospects.  Baker has the potential to be a .270/.322/.436 player with a .984 fielding percentage.  He would be serviceable while keeping the seat warm for Will Middlebrooks.
So, to be clear, the pieces that would come to the Red Sox would be Matt Garza and Jeff Baker.  The corner stone of a deal with the Cubs would begin with Kevin Youkilis and would probably require young pitching in the form of Anthony Ranaudo and/or Matt Barnes as well as another prospect, potentially in the form of a fielder.  Perhaps Garin Cecchini, the 20-year-old 3B prospect (who is considered No. 12 overall in the Red Sox farm system.)
It may be a stretch, but in the arms race, it can't hurt to have a leg up on the competition.  Furthermore, it is hard to imagine former Red Sox GM Theo Epstein and current GM Ben Cherington not examining any trade possibilities that could strengthen both teams.