Atlanta Hawks: 5 Early Impressions of the 2011-12 Team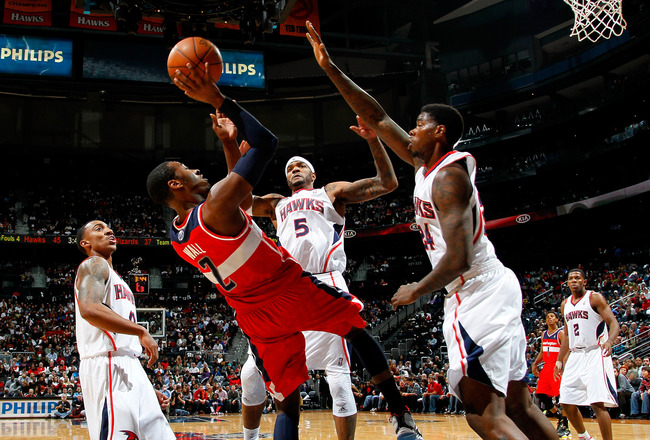 Kevin C. Cox/Getty Images
It was just a year ago that the Atlanta Hawks came sprinting out of the gate, to a 6-0 start, before falling short of the division crown and eventually being knocked out of the NBA playoffs in the second round.
In a condensed season, the 2-0 start they have built could mean the Hawks have "arrived" in the Eastern Conference.
Don't look now, but the Hawks have a full-time starter at point guard, solid bench play and stifling defense that could lead them further than this franchise has ventured into the postseason.
Jeff Teague Is Your Full-Time Starter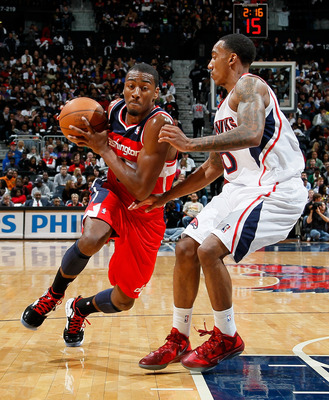 Kevin C. Cox/Getty Images
Jeff Teague picked up right where he left off from the 2011 postseason.
The second-year player out of Wake Forest came into the season with aspirations of taking over the starting position, and it seems doubtful that head coach Larry Drew will have a problem naming Teague the starter after two excellent outings.
In the Hawks' first back-to-back of the year, Teague averaged 50 percent from the field and 57 percent from three-point range, while dishing out four assists per game, two rebounds and one steal.
More than what he is doing on the offensive end is the smothering defense he's been playing against the league's elite point guards.
Teague allowed a combined 30 points and 12 turnovers against Deron Williams of the New Jersey Nets and John Wall of the Washington Wizards.
If Teague continues his stellar play, the Hawks shouldn't have trouble finding themselves in the late rounds of the playoffs.
Vladimir Radmanovich for Sixth Man of the Year?
Kevin C. Cox/Getty Images
In the first game of a back-to-back, veteran swingman Vladimir Radmanovich showed Atlanta Hawks fans exactly what he brings to the table.
Vlad-Rad scored 17 points off the bench in a blowout victory over the New Jersey Nets, while shooting 3-of-5 from three-point land. He also had three rebounds, four steals and five assists in garbage time.
Radmanovich played 27 minutes against the Nets before playing only 14 minutes against the Washington Wizards.
His stat line the next night was not as flashy, with his turning the ball over three times as the Wizards attempted a comeback, and scoring five points along with three rebounds.
Although we are only two games into the season, Vlad-Rad could be a serious contender for Sixth Man of the Year if he can provide vital bench minutes and score in bunches like he did Monday night.
Josh Smith, Stay Away from Three-Point Land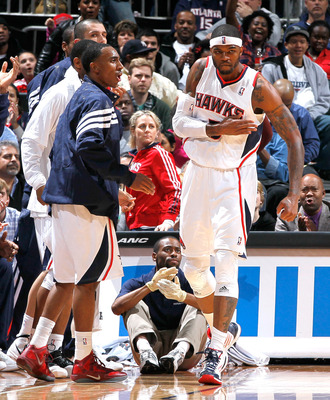 Kevin C. Cox/Getty Images
Josh Smith has gotten off to a hot start for the 2012 Atlanta Hawks, but history shows that as the season grows, Smith gets complacent.
J-Smoove has been a monster on the floor for the Hawks, putting numerals in almost every statistical category.
Smith was in foul trouble in the Hawks' blowout victory over the New Jersey Nets, only playing 17 minutes, but he managed to score five points and get six rebounds, three assists and one block.
Fast forward to the Hawks' home opener Tuesday night, and Smith had his first double-double of the year, scoring 15 points and snagging 10 boards, four assists and two blocks.
The most important stat of all is that Smith has attempted only one three-point shot in each of the past two games.
While Smith attempted few three-point attempts in his first few games of 2011, as the season wore on, he attempted more three-point shots, leading to nightly frustrations from his fans.
Hawks fans will simply ask for Smith to stay inside the arc and away from shooting threes.
Early Reports on Marvin Williams' Health Appear True
Kevin C. Cox/Getty Images
Marvin Williams reportedly had offseason back surgery, something analysts assumed would change the small forward's game.
Williams had evidently struggled with back pain over the past few seasons, a pain that he felt every time he took a jump shot.
With the way Williams is playing, that pain seems to be gone.
He is having one of his best starts ever, averaging the most points (15), assists (2.5) and rebounds (8.5) of his career.
Williams has only one turnover in two games and has scored in double digits in the Hawks' two wins.
If his back holds up, Williams should be a solid contributor for this Atlanta squad.
Defense Wins Championships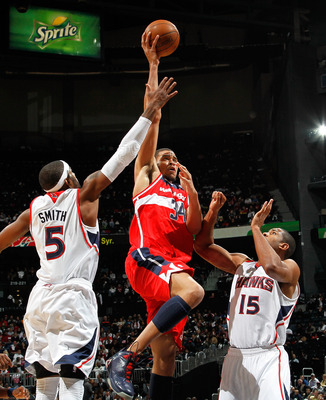 Kevin C. Cox/Getty Images
The Atlanta Hawks aren't, and won't be, winning games by trading buckets or getting in high-scoring affairs. They are doing something Hawks fans might be foreign to.
This Hawks team is playing stifling defense.
In their opening contest, the Hawks held the New Jersey Nets to 31 percent shooting and 21 percent from behind the arc. Atlanta crashed the defensive boards, snagging an overwhelming 34 rebounds.
The next night, against the Washington Wizards, a tired Hawks team held the young up-and-comers to 39 percent from the field and 37 percent from three-point range.
Atlanta allowed only six total offensive boards to Washington, again catching 34 rebounds on the defensive end.
This Hawks team seems to have bought in on what Larry Drew is preaching, which could mean trouble for the rest of the Eastern Conference.
Only time will tell, but Atlanta already looks like a healthy contender against top-tier opponents, who have all struggled mightily.
Keep Reading

Atlanta Hawks: Like this team?