Buffalo Bills vs. New England Patriots: Live Score, Video and Analysis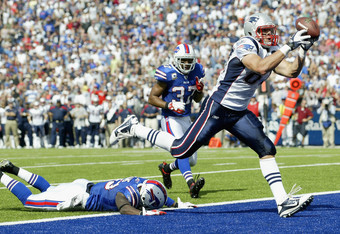 Rick Stewart/Getty Images
Final Score: Bills 21, Patriots 49
The New England Patriots scored 49 unanswered points to clinch home-field advantage throughout the playoffs, in a 49-21 blowout victory over the Buffalo Bills.
After a now-customary slow start, in which the Patriots were repeatedly burned by Ryan Fitzpatrick, a 21-0 deficit at the end of the first quarter was converted into a commanding victory, courtesy of a number of big plays on defense, and the production of the tight ends, Rob Gronkowski (108 yards, two scores) and Aaron Hernandez (138 yards, one score).
New England can consider this game a mission accomplished. No further injuries appear to have been sustained, the running game was effective when needed, and the defense continued its trend of making key plays in tough spots, picking off Ryan Fitzpatrick four times, and generating a couple of sacks for good measure.
Rob Gronkowski finishes the season with an NFL-record 17 touchdown catches (and one rushing score), but he will be thanking Tom Brady for his entry in the record books. Brady's 338 yards ensured that he passed 5,000 for the season, passing Dan Marino's 1984 record, but over 200 yards shy of the new holder, Drew Brees.
With a first round bye in the playoffs, expect the Patriots' defensive coordinator Matt Patricia to work overtime on the coverage of his secondary, who continued to give up huge plays outside the hash marks. Kyle Arrington and Devin McCourty will be in the training facility receiving extra homework next week.
That's all from me folks. Thanks for dropping in and if you're a Patriots fan, enjoy the week off.
Missed Steve Johnson's TD celebration from today's game?
We've got you covered with the video!
Interception!
Never fear. Fitzpatrick tosses up another one on the next play. What are they doing?
Molden takes the opportunity to inflate his stats. Brian Hoyer is in for Tom Brady and immediately finds Gronk. This one is done, folks.
An ugly play all round. A Patriots interception is cancelled by hitting a defenseless receiver. McCourty injures his leg on the play. A 15-yard penalty instead of first and goal for New England. All junk time, but putting 50 on the board would have been spectacular after that first quarter.
Pick six: Touchdown Patriots!
Oh dear. Sterling Moore is having the game of his life, picking off Fitzpatrick for the second time today, taking this one to the house. Again, he breaks on the receiver's route to take a clean catch, going in unopposed.
I guess we've seen both faces of Ryan Fitzpatrick today.
Bills 21, Patriots 49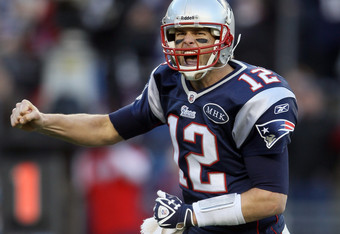 A very methodical Patriots drive killing the clock here. This is something I criticized them for in the Denver game. Good to see they can keep it on the floor and make yards.
Touchdown Patriots!
Another strike to Gronk brings up touchdown number 17. What a season.
Bills 21, Patriots 42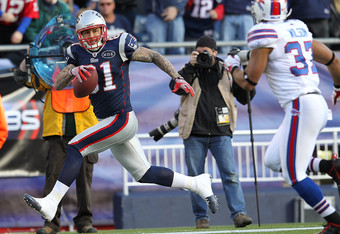 Loving the end-arounds to Hernandez. Please stop using them now though, you're just giving your playoff opponents film to study. Thanks.
Law Firm!
The Patriots needed to establish the run today, and while it's still just a compliment to the aerial attack, it's been able to grind out first downs today. Baby steps.
Touchdown Patriots!
So, that took two plays then. Aaron Hernandez almost makes it rain on a mazy catch and run, followed by a two-yard punch from BenJarvus Green-Ellis, who has the look of a man who just handed the Patriots home field advantage throughout the playoffs. If that's possible.
Bills 21, Patriots 35
Interception! The easiest pick Devin McCourty will ever take. All gifts gladly received at this point though, and a nice return to boot. Brady has a fairly straightforward task here to put the Patriots out of sight in this one.
What do you think is the biggest factor in the Patriots' turnaround today?
Spiller takes the Bills into field goal range. Again, what speed...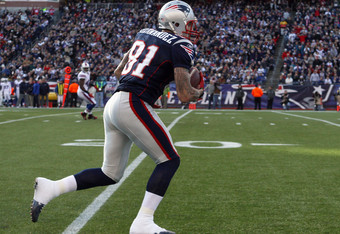 Start of the fourth quarter: New England owns the second and third quarter of games this season. If they could piece together four-quarter performances, we'd be talking about one of the best teams of all time.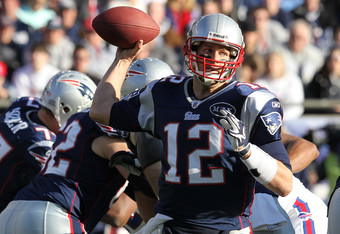 This game is a microcosm of the entire Patriots' season. A slow start, a porous, big-play defense, a Hall of Fame quarterback and a beast receiver and tight end.
Is this blueprint enough for three playoff victories? Time will tell.
Touchdown Patriots!
Rob Gronkowski with his 16th touchdown catch of the season. What a beast. And then the two point conversion on a draw play to Danny Woodhead in the spread formation.
Bills 21, Patriots 28
Big illegal contact call on Gronk takes the Patriots to the 25 yard line. The go-ahead score is coming.
Interception! Sterling Moore breaks on a short zipped pass by Fitzpatrick to come up with a huge pick for the Patriots. I wasn't expecting to see one of those today.
I know I've slammed this Patriots defense, but they've shut out the Bills since the first quarter. Just saying...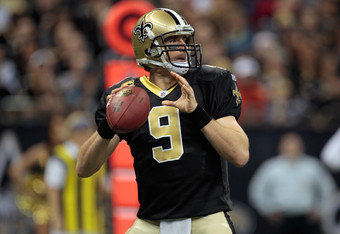 Not sure if you're checking in with the Panthers-Saints game over in Louisiana, but Brady's shot at overtaking Brees is long over. Brees is on 339 yards and counting.
Three plays on the goal line all fall flat for New England, so the chip shot brings it within one. Very disappointing red zone offense by the Patriots.
Bills 21, Patriots 20
Little too much heat on a deep ball to the lesser-spotted Chad Ochocinco. Brady has barely completed a pass over 30 yards this season without relying on YAC from Gronk or Welker.
Speaking of which, how about a 53-yard screen pass to Green-Ellis?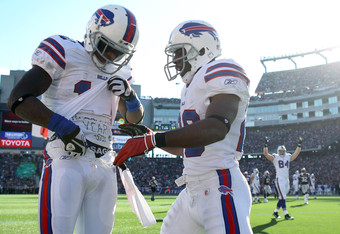 Incomplete on third down, so the Bills punt the ball away. Keeping Stevie Johnson on the sidelines is a strong decision by Chan Gailey, whose wideout continues to draw negativity for his antics, but it will hurt their production in the second half. Can't see him back in a Bills uniform next season.
Spiller in open space is electrifying. The 150-yard prediction from earlier was a little over the top from me, but it's hard not to fall in love with his speed.
The Patriots' offense malfunctions in the Bills' half of the field. Low passes from Brady, and a slip from Welker brings Gostowski out for the field goal.
Bills 21, Patriots 17.
Advantage Buffalo. Just three points generated from the back-to-back possessions that the Patriots love so much either side of the half.
Fumble! Stevan Ridley spills it, out of bounds... A lucky bounce.
Nice end-around to Hernandez to open the second half. An underrated aspect of this matchup was the impact of a Pro Bowl snub on Hernandez. I thought he would respond with a big game, and he is delivering so far.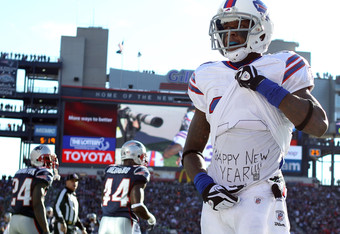 I back the Patriots to win most shoot-outs in the NFL, because they protect the football so well. But right now they are behind in the turnover battle, and in a completely different area code to the Bills' receivers, ruling out any Fitzpatrick picks.
Mark Anderson needs a big second half.
First Half Recap:
This is a shoot-out. The fortunate interception by Barnett aside, neither defense can make an impact play in this one.
Bills key performers: Ryan Fitzpatrick (246 yards, 2 touchdowns), Derek Hagan (71 yards)
Patriots key performers: Aaron Hernandez (four receptions, 81 yards and a score), Stevan Ridley (48 yards on nine carries, 5.3 average).
Patriots continue to start slow: 21 unanswered points in the first quarter is eerily reminiscent of the Baltimore Ravens' Wild Card game at Gillette Stadium in 2009. That doesn't bode well for a fortnight's time, when the competition in Foxborough will be much stiffer than the Dolphins or Bills, who have carved open the Patriots' secondary in the past week.
This article is
What is the duplicate article?
Why is this article offensive?
Where is this article plagiarized from?
Why is this article poorly edited?

New England Patriots: Like this team?