Texas Football: 2012 Could Be Bright in Austin, Starting with Marquise Goodwin
December 29, 2011
Texas may have found their top weapon for the 2012 season Wednesday night in the form of Marquise Goodwin. The junior speedster had three catches for 49 yards and a touchdown and added 33 yards on the ground.
Where has he been hiding all year? It wasn't so much that he was hiding, but rather competing to go to the 2012 Olympics in London and represent the United States in the long jump.
Goodwin is a member of the track and field team at Texas and his original plan was to redshirt this season while he prepared for the Olympics. As a result, he missed all of summer practice. The redshirt idea was later scratched, but he still only caught three passes in the first five games as he adjusted to the offense.
"He didn't go through spring practice. He wasn't there for summer workouts. He didn't go through two-a-days," said head coach Mack Brown. "So to come back and show his passion to play after competing in the long jump in the worlds is just unbelievable."
His production has increased throughout the season too. In the final eight games, Goodwin caught 29 passes for 406 yards and two touchdowns. He also added 151 rushing yards and 108 yards in the kick return game in that same time span.
"Each week he's just gotten better and better" added Brown. "He can change the game with his speed."
Goodwin himself realized his and the team's progress in the passing game.
"We started off as a run-first type of team but progressed throughout the season," he said. "To get a touchdown, I feel blessed just to be here today."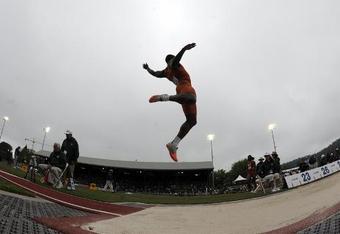 Goodwin should be better-equipped to handle a possible absence from summer camp next season. This season was a perfect storm for Texas—breaking in a new quarterback, running backs and offensive line. With all the commotion, it was hard for Goodwin to adjust on the fly. Next year, all the players will have more experience, including Goodwin.
He has to become the main weapon for Texas. The Horns lacked big-play ability this season, not having a receiver go for over 700 yards. With leading receiver Mike Davis held without a catch, Goodwin stepped up in the Holiday Bowl.
"You gotta have a go-to guy and we have to improve our passing game, and that started tonight," said Brown.
Hopefully for Horns fans, it's a sign of things to come in 2012. With another year for whichever quarterback ends up playing, four starters on the offensive line back and an improved running game to keep defenses off balance, look for Goodwin to have a monster year next season.
That is, if he doesn't get too busy winning the country gold medals in London.
Ryne Hodkowski is a Featured Columnist for Bleacher Report. Unless otherwise noted, all quotes were obtained first-hand