WrestleMania 28: Possible Contestants for the Money in the Bank Match
There has been news that this year's WrestleMania will have a Money in the Bank match. This is a great job by WWE, as the match is so exciting. It really looks like WWE wants to make this the greatest WrestleMania of all time.
This year's Money in the Bank pay-per-view was arguably the best pay-per-view this year. The eight-man ladder match is full of amazing moves, violence and pure excitement.
Nonetheless, the participants in the match have to fit the style. There should always be a good mix of bigger men and high flyers. It certainly adds to the excitement of the match. If the match consists of eight giants, then it will be slow-paced and boring. A good mix would be perfect.
Here are some possible picks for this year's Money the Bank ladder match at WrestleMania.
Alberto Del Rio
A few months ago, I would have told you that Alberto Del Rio wouldn't be in this match. He would be in a main event caliber match for a major title. However, Del Rio's run at the top was in all honesty, terrible. He was booked to look like a coward and his whole destiny gimmick became boring and stale. Now he is suffering from an injury.
I, for one, think this injury can work out positive for Del Rio. The fans can get a break from him as he works to tweak his gimmick. Vince McMahon has already told Alberto that he needs to become more aggressive and the Mexican aristocrat claimed that he would make the change on the most recent episode of Raw.
The new aggressive style for Alberto Del Rio would be perfect for this match. It would add brutality and violence, which is great for the hardcore fans. As shown above, Del Rio can use his finisher with the ladder. Alberto also has experience. Del Rio won this year's Money in the Bank match and competed in a great ladder match against Christian at Extreme Rules. If you can count a TLC match, at the most recent pay-per-view, Del Rio had a great performance. He would be a great choice for this year's match.
Justin Gabriel
Since leaving Nexus, Gabriel has been lost in the shuffle (Unless you count the Corre). He is great in the ring but suffers from lack of mic skills. Still, his wrestling style would be great for this type of match. I'm not saying he should win, but he would shine at the grandest stage of them all. If he was able to hit his patented 450 splash of a ladder, it would be an automatic highlight.
Gabriel is a great worker and should be given more recognition. This match would certainly gain him some popularity and the fans would go crazy for him. Justin is already popular amongst the fans and this would only help. Like I said, Gabriel shouldn't win the match. He doesn't have the mic skills to be a champion. However, give him a few big spots and he would do nothing but help the overall match.
Air Boom (Evan Bourne And/or Kofi Kingston)
Both members of this exciting tag team would be great for this year's match. They both are young, talented, and love to fly. The fan's love them, and with good reason. Though they are tag team champs right now, who knows what will happen before WrestleMania. I would love to see them in a tag team match (Preferably TLC), but I certainly wouldn't mind them in this match.
Kofi could actually win this match. He has achieved it all at the mid-card, and actually received a huge push back in 2009. Though that ended quickly, he could certainly make another run at it with a win at WrestleMania 28.
As exciting as Evan Bourne is, he shouldn't win this match. Like Gabriel, Evan is great in the ring, but does't talk a good game. He should definitely get some big spots and be able to show of his beautiful finishing move, but he just doesn't cut the bill for a world champion. Both men would excel in this match type and really show off their skills.
Primo, Hunico, And/or Epico
Though it may be difficult to put all three of these men in the match, they would definitely work well in this environment. It would also add to the storyline, as they would work together, but in the end, only one can win. I don't think any of these men are anywhere close to world championship material, but they are three of the most exciting, young competitors the business has to offer.
These three men are certainly high flyers, but have yet to be in a ladder match. The triple team finisher shown in the video would be amazing if Hunico was on top of a 16 foot ladder. Hunico and Epico are rookies and Primo has only been around for 2 or 3 years. They could show that they belong in this company with a good showing and become a mainstay for the Money in the Bank ladder matches.
R-Truth
The comic R-Truth looks to be on the virge of a rivalry with The Miz, but I think it will be a one and done. It might even just end up as one man eliminating the other during the Royal Rumble. If this rivalry does end before WrestleMania, which is probable, R-Truth may be stuck with no match. His best opportunity to compete at the grandest stage of them all would be the Money in the Bank match. He is now a main event status wrestler, who could work well in this match. He could even add comedy to the match, with his apparent fear of heights...and spiders (See Video).
As I said earlier, R-Truth is a main event wrestler. He was in a WWE Title match this year. His chances of winning this match would be high and he could end up on his way to winning the WWE Championship. Truth is funny, good on the mic, and can put on a good match. He could end up being Mr. Money in the Bank. The other competitors will get got!
Sheamus
When Sheamus first came to WWE, he was a heel who quickly rose to the top in WWE. He beat John Cena clean in a tables match to win his first WWE Championship and as looking like he would become the top heel on Raw for years to come.
However, after falling to the mid card and getting moved to SmackDown, Sheamus was getting lost in the shuffle. Then came his face turn. Since becoming a good guy, Sheamus has been on a tear. He is doing great in his new role but is suffering from lack of direction. He doesn't have a real rivalry at the moment and at the most recent pay-per-view, faced Jack Swagger in a squash match. Though Sheamus should be in more of a main event type match, he would certainly fit well into the Money in the Bank match.
Sheamus is currently under a gimmick where he is ruthless and has temper issues. Sheamus' aggressive style would certainly work in the match as ladders are legal. He would most likely end up in a spot much like the one with Sin Cara (see video). Sheamus is a good competitor and would be a great choice for this year's ladder match.
Wade Barrett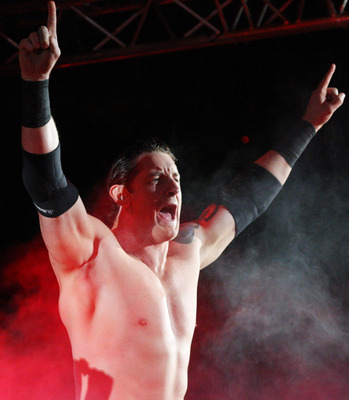 Gallo Images/Getty Images
Wade Barrett's career has turned out a lot like Sheamus'. He started out in WWE as the leader of the Nexus and immediately made an impact. He too looked like he was going to be the top heel on Raw, but fell into obscurity, moving to smack down. He tried to recreate Nexus with the Corrre, but failed miserably. Barrett's career was on a downward spiral and it didn't seem like he was ever gonna be able to reach the main event status he once had. However, recently Barrett has been on fire. He pinned Randy Orton at Surivor Series and looks to be in a heated rivalry with the Viper.
Barrett is a main event talent and may be in a more main event caliber match. However, the former bare-knuckle brawler could very well end up in the 8-man ladder match. He came very close to winning the match last year and could use that as part of the buildup. Wade is a great competitor and the future of the business. He also could be the future Mr. Money in the Bank.
Christian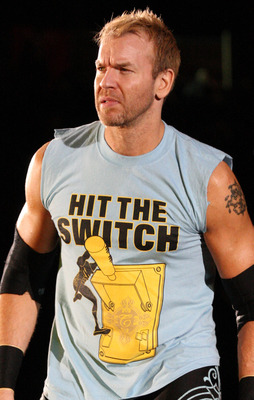 Gallo Images/Getty Images
Possibly on of the best wrestlers when it comes to ladder matches, Christian would be a great pick for the Money in the Bank match at WrestleMania. He is talented enough and this year has been given the push he has deserved for years. Christian is a veteran of the ladder match. While teaming up with Edge, he put on some of the greatest TLC matches of all time. He certainly has the experience and the talent to pull off a great performance at WrestleMania 28.
As I said earlier, Christian has received as push to the main event this year. Unfortunately he has been sidelined by an injury and has been out for a little over a month. Without a rivalry when he returns, Christian could find himself without direction. The Money in the Bank match would be the perfect opportunity to shine. He is a veteran and knows how to perform in this type of match. He could very well end up, Mr. Money in the Bank!
Brodus Clay
About a month ago, Brodus Clay looked to be the next big thing. Clay's debut was repeatedly postponed, and after getting into some trouble with his twitter account, it seemed like Clay may never debut. However, Johnny Ace once again promised us that Brodus will debut next Monday. Hopefully, he is telling the truth. Brodus' debut was hyped up, and WWE needs to follow through. If Clay does in fact debut, it seems like he will receive a huge push. I don't see him immediately entering the title scene, but possibly in a few months he could be a contender. One way to reach the WWE Championship would be winning Money in the Bank.
Clay is a big guy who is pretty agile. He would definitely add some size and make to match more violent and interesting. He could easily toss around guys like Evan Bourne and Justin Gabriel. Even if Brodus lost, he would be able to show off his skills and agility for such a large man. I think Brodus would be a good choice as Mr. Money in the Bank and could certainly use the briefcase as his way into the main event scene.
Honorable Mentions
Gallo Images/Getty Images
Each man mentioned below would be good for this match, but wouldn't be my top choice.
Curt Hawkins/Tyler Reks
David Otunga
Alex Riley
Heath Slater
Ezekiel Jackson
Jinder Mahal
Mason Ryan
Michael McGillicutty
Santino Marella
Ted Dibiase
Sin Cara
Conclusion
I'll end this slideshow with a shout out to the apex predator, Randy Orton This RKO off to Chris Jericho was picture perfect. It shows exactly what type of moves can be pulled off at Money in Bank. Hopefully we see moves like this at WrestleMania 28.
Who do you think should be part of the Money in the Bank match at WrestleMania? Please comment with thoughts, reactions and criticism.
Keep Reading