Alabama Football 2012 Schedule: Some Advice for the Team and the Fans
Harry How/Getty Images

Alabama has a schedule ahead of them in 2012 that sets them apart from most other teams in college football. The good news is that no one will be screaming about a "weak" schedule at the end of the year.
A few discrepancies exist, though none as bad as the 2010 season. For those of you who don't remember that situation, Alabama played against six SEC teams coming off bye weeks while the Tide only had one.
More good news for 'Bama fans is that Saban will probably be bringing the No. 1 recruiting class to the Capstone again in 2012. The "bad" news is that we lose a lot of talent to the NFL and graduation.
I don't think the effect of losing the 2011 talent will be as painful as losing the 2009 talent, though, as there are plenty of players on the 2012 team that have a ring from 2009 and remember the losses from 2010.
I have some basic advice for the team and the fans to take into each game.
Begin Slideshow

»
Gregory Shamus/Getty Images

This game will be played at Cowboys Stadium in Texas. It will be nationally televised. If 'Bama wins, they will enjoy some of the hype that LSU had all through 2011.
It won't be as much hype, as Michigan will not likely enter the season at No. 4, but it will still be good for the Tide.
Team Advice: The "experts" will be talking about how your defense doesn't stand a chance against the Wolverines' offense because it's too young...just like LSU was going to option you to death in New Orleans. Prepare your minds accordingly.
Fan Advice: Alabama's defense will have a few players that have never seen "real" playing time. Expect Michigan to put some points on the board early. Bring your patience, it will likely be required in this game.
Chris Graythen/Getty Images

This is one of those opponents that people would rather have off 'Bama's schedule. They say that these type teams are weak and don't provide solid arguments for a national champion.
Scheduling is not an issue at this particular juncture, in my opinion. You can call it bias, but five of the last six national champions were SEC teams over non-SEC teams.
Simply put, I'm not sorry that the SEC can get away with a couple of payout opponents. The time may come where every opponent may need to have a nationally-recognizable name.
Alabama plays in the toughest conference in the country; it needs the rest more than some of the other conferences.
Team Advice: Every player you line up against is playing college football. They are elite, even if they are in a "lesser" conference. Do not let your guard down; they would take advantage of that.
Fan Advice: The Tide have a huge schedule ahead of them. Don't be surprised if you see some backups in early for the experience.
Wesley Hitt/Getty Images

Having only lost to LSU and 'Bama in 2011, Arkansas will be trying to get to Atlanta this year. Facing the Tide so early in the season will be a help to them, but I hope it's not enough.
Arkansas returns their team mostly intact from 2011, a year in which they saw the BCS No. 3 spot before the end of the regular season. (Some of you may remember LSU, Alabama and Arkansas in the top three.)
This is 'Bama's conference opener, and the outcome will set the tone for not only the upcoming LSU game, but for the rest of the season as well.
This is the second possible "signature win" for Alabama. The only downside is that it's early in the season. Arkansas got no respect as a good win in 2011, and the early loss to 'Bama had everything to do with that.
Team Advice: It's Arkansas, and it will not take the back seat without a fight.
Fan Advice: Get a babysitter (if possible) if you have young kids, this one's likely to get LOUD.
Sam Greenwood/Getty Images

Florida Atlantic is one of two teams that the Tide will play in 2012 that only won one game in 2011.
Florida Atlantic is one of the teams that a lot of people would like to see drop off 'Bama's schedule in lieu of a tougher team. This year, I think the Owls are well-placed. Saban will use the time he saves planning for this game to get ready for Oct. 13 and Nov. 3.
Again, no game is a guaranteed win, but there's no way Alabama loses this one. If the game ever got close, it would light a fire underneath the Tide's offense AND defense.
Team Advice: Don't be thinking about Missouri, even though the hype machine will be close to full speed.
Fan Advice: Enjoy the opportunity to see the whole team get some time on the field. Most of the fourth quarter should feature kids that won't see real starting time until 2013. Look for the patches of light on the field—those are the stars being born.
Joe Murphy/Getty Images

Randall Mackey has the individual tools necessary to shred the 'Bama defense. Last year, his team proved to be pretty much ineffective after taking a quick 7-0 lead on the first drive of the game.
Ole Miss is a sleeper in the SEC West, and has been for a while. The new coaching staff should prove to brighten their future, but I think the Rebels will not be ready to contend for Atlanta for a few more years.
Team Advice: Watch out for the quarterback; he didn't look too thrilled with what happened in 2011.
Fan Advice: There won't be another game until Oct. 13. You may want to record this one.
Photo: Jonathan McDanal (Charleston, SC)
This week will give the Tide some much-needed R&R before the second half of the gauntlet that 2012 will be. They will spend plenty of time preparing for the upcoming road game against newcomer Missouri.
I wouldn't be surprised if at least one of the closed practices over the two-week period was devoted to the upcoming LSU clash. (Of course, I wouldn't be surprised if it was ALL Missouri prep, either...)
Saban will use the first week of practices to hone the Tide's fundamentals. If the Tide is undefeated at this point in the season, I see no reason they can't go all the way. (Having defeated Michigan and Arkansas already would prove to me that they can take down LSU.)
Most likely, I will try to catch the Georgia-South Carolina game.
I grew up in Clover, SC, so I will be rooting for SC all the way to Atlanta (where I will root fiercely for the Tide).
Team Advice: Find a way to let off some steam (responsibly, please). It's the only rest you get until the season is over.
Fan Advice: Go somewhere and relax on Saturday. You guys get a week off, too.
Jed Jacobsohn/Getty Images

Missouri was a founding member of the Big XII. The Tigers are now a part of the SEC, and they are entering at a time when the top programs are far better than the bottom programs.
This will give them a very good shot at establishing themselves in the top half of the conference right away. The top half of the conference is seven teams now, and I don't think they are better than 'Bama.
Missouri will likely end up a white-hot or ice-cold rivalry as the years wear on. (Think like the Florida rivalry.) Missouri (oddly enough) caught a huge break by coming into the SEC East. It will have access to the SEC West's territory, and it will have access to the SEC East's comparably easier schedule.
Team Advice: Start this rivalry off on the right foot. Use everything you learned during the bye week to shut Missouri down.
Fan Advice: This is the first time these two will meet as conference foes. If you can afford it, get a ticket. It will be worth it.
Andy Lyons/Getty Images

Tennessee will be looking to make a HUGE mark all over the SEC. If it doesn't, it's likely Dooley's job on the line. I would like to see him get at least through the 2013 campaign to prove himself, but Tennessee isn't the type of school to just sit at the bottom of the SEC for long.
Alabama is not in the business of keeping other people in their jobs. The "Third Saturday in October" rivalry is as heated as they come. Saban will win this one.
Watch out for Tyler Bray, though, as he will be looking at tape after tape trying to find the Tide's Achilles heel. I certainly hope the defense has themselves squared away for this game. This one's always like a miniature Iron Bowl...nobody ever wins by the margin they're supposed to.
Team Advice: Remember 2009. Tennessee is a rival in every sense of the word. Don't feel entitled to a win. Without Terrence Cody, the 2009 game would have likely been lost.
Fan Advice: It's the "Third Saturday in October." Enjoy the game.
Wesley Hitt/Getty Images

Mississippi State usually fields one of the most underrated defenses in the SEC. In the 2011 season, they held LSU to 16, Alabama to 24 and South Carolina to 14.
Mississippi State will likely field a team that still has some growing to do on offense. It will be a good workout for A.J. McCarron and the WR/TE corps. The team will need all the preparation they can get for the rest of the lineup.
It will be a good exhibition of whatever the Tide is bringing to the field. For better or worse, this game is going to be analyzed to death in light of the upcoming LSU game.
Team Advice: Work out the offense in the practices because the Bulldog defense is tough.
Fan Advice: Watch A.J. McCarron. This will be a good game to focus on him.
Kevin C. Cox/Getty Images

LSU is likely to come into the season ranked No. 1 ahead of Alabama. The Tigers defense could very well be ranked No. 1 when this game kicks off. Their schedule is lax enough to pad their stats.
In any event, if the Tide have made it past Michigan, Arkansas and the Missouri Tigers without suffering losses, I have confidence that LSU will not be their season-buster. LSU is returning a lot of talent on defense, but it shouldn't be enough to make up for the fact that its entire dual-quarterback system from 2011 is gone.
The Tide may not win in a blowout, but they should win.
Team Advice: LSU is out for revenge; make sure you're ready for an epic battle.
Fan Advice: Record the game. LSU and 'Bama will be exposing each other for many years to come. This will be the best game to analyze Alabama's total package before bowl season hits.
Bob Levey/Getty Images

Texas A&M, the other new kid in town, will travel to Tuscaloosa to see if it has what it takes to defeat the Crimson Tide.
A move to the SEC should bolster the Aggies' recruiting classes rather quickly, and Texas is a great state to find football players.
A&M falls into the same category as Missouri for me, as it needs at least a couple of recruiting classes to become contenders. The Aggies should not leave Tuscaloosa with their heads hung low, but they should leave with a loss.
Team Advice: Just like Missouri, start this one off on the right foot. A&M fell victim to comeback victories a lot in 2011. The Aggies will be prepared to hold a lead if they get it. Score early, and score often.
Fan Advice: Again, the birth of a rivalry. If possible, buy tickets.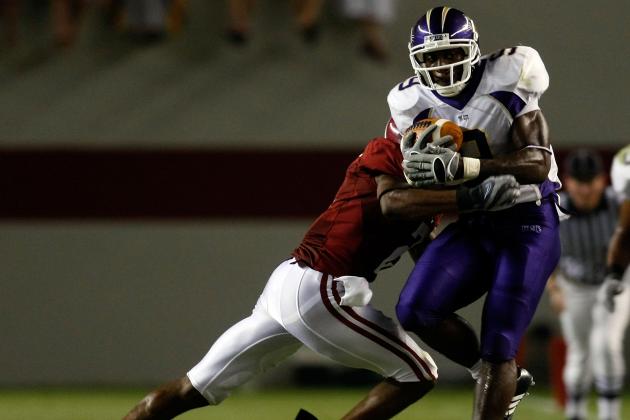 Chris Graythen/Getty Images

The WCU Catamounts travel to Tuscaloosa for a big-money game. The program was in serious trouble, and the head coach was fired. The new coach spent the last nine years coaching linebackers at Appalachian State University. (Yes, the same App. State that took down a ranked Michigan Wolverines squad in 2007.)
The future is bright here at WCU. (I live on campus with my wife, who is a senior.) However, they still have a few years before they are an FCS championship team. Warning to Saban: Check their record before you schedule them, lest they go all "2011 Eagles" on your butt.)
Team Advice: This is a budding Georgia Southern-type team. Don't go to sleep on them, they're "under new management."
Fan Advice: If you can get it, I'd watch it on TV. This will be a lot like the Georgia State game in 2010. WCU hasn't had good morale on the field for the past few years. It's basically starting over from scratch. It will be a great opportunity to see a reborn program in action, even if it's still young.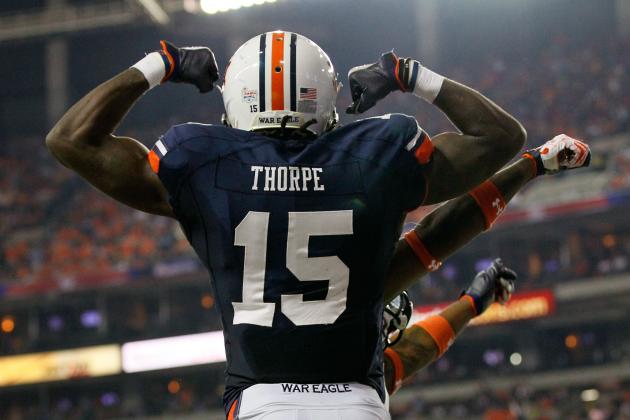 Kevin C. Cox/Getty Images

It's the Iron Bowl. It's 2012. Regardless of record at the time, this is the State Championship. In Alabama, this is as big as it gets. There is no NFL team here. There is no bigger game in the state of Alabama.
There is no regular-season victory bigger than a victory over Auburn University. Gene Chizik has a mentality over at Auburn that projects very well into the future.
One day, he will command a powerhouse that will return this rivalry to the greatness that it once had. (I mean, we saw a glimpse of what he's doing in 2009 and 2010.) Pretty soon, the "ESPN College GameDay" may get renamed to the "ESPN SEC GameDay."
After all, they are the same thing, right?
Team Advice: It's the Iron Bowl, and you live on campus. I can't tell you anything you don't already hear...every day.
Fan Advice: See "team advice." Enjoy the biggest rivalry in college football.