State of the Franchise: How the Anaheim Ducks Will Look at Season's End
December 30, 2011
Marianne Helm/Getty Images
Orange county is a lonely place to be for the local hockey fan. At 14 points out of a playoff spot and second to last in the Western Conference, the Anaheim Duck's only real competition for last place is coming from the Columbus Blue Jackets.
Knowing Anaheim's tendency over the past few years of playing far better in the second half of the season than the first, you might be hesitant to totally count them out. Yet a reasonable look at the condition of this organization does not have anyone thinking playoffs. The fact is that this team should (and will) look very different by the beginning of next season, and it won't have anything to do with banners being raised at Honda Center.
Looking Ahead
Though the Ducks will shortly be regaining the services of veterans Jason Blake and Saku Koivu, it will not be enough to garner a late season resurgence. Anaheim will lose 40 games this season, and though this hurts the heart when checking the standings, such a poor record will likely assure them a top-five draft pick. This is something that fans are already beginning to hang their hat on. But what about the team's current lineup? Will there be a shake up before the trade deadline?
Absolutely, and I am not willing count on any players aside from Corey Perry and Cam Fowler being untouchable.
Veterans Saku Koivu and Teemu Selanne could very possibly be dealt to a contending team, and while Selanne is very loyal to the Anaheim area, history and conventional wisdom demands that we at least consider the possibility that he could request a trade. That being said, Selanne is not exactly what you would consider "expendable." He just so happens to lead the team in points. Either way, weather it be a merciful trade at the deadline, or retirement, we are not likely to see Koivu or Selanne back with this club next year.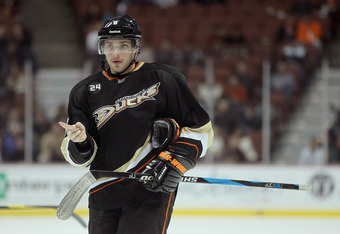 Jeff Gross/Getty Images
With Bruce Boudreau's offensive brainpower behind the bench, Anaheim will see an increase in offensive production (Selanne or not), so we shouldn't expect to see a lot of changes to the top line, even in the midst of Bobby Ryan trade rumors. Ryan will stay with the team, and the focus at the end of the year will inevitably be goal tending and defense.
Saying Jonas Hiller has been inconsistent is putting it very lightly and his capabilities will be even more in doubt as the year winds down. Look for the Anaheim Ducks to make a move for an established net-minder, possibly in the form of Ryan Miller.
Even with the possible exodus of their entire second line, the Duck's organization will be looking to draft a defender with their first overall pick because of the high amount of talent that the upcoming draft class will boast at that position. The Ducks give up a ton of shots per game, and while a new goaltender could help make that stat less of an issue, the top four defenders on this team look like they're in over their head almost every game.
They need some help, and they'll have it via the draft.
The reality of this team is clear: they are in a rebuild. They are hardly even a shell of the 2007 Stanley Cup team they once boasted, and counting on players brought in by the resulting roster moves to carry the torch is not working. The Ducks need to build from the ground up, which they will do. Historically Anaheim has drafted very well, establishing one of the most talented and promising farm systems in the sport.
That trend will pay substantial dividends in the near future.