Brittney Palmer Talks Her Life-Changing Trip to Italy, Our Troops and More
January 2, 2012
"Only those who have learned the power of sincere and selfless contribution experience life's deepest joy: true fulfillment." This powerful quote written by Anthony Robbins is a phrase we're often brought back to when we ponder upon what it truly means to partake in a selfless act.
On a recent tour to Italy for the USO/Armed Forces Entertainment tour, UFC ring girl Brittney Palmer fulfilled these words to the fullest.
Joined by UFC bantamweight Urijah Faber and lightweight Clay Guida, Palmer took part in her first USO tour to experience and serve the troops in Italy. In a recent interview with Bleacher Report's Garrett Derr, Palmer discussed her life-changing experience and how it was all put into place.
"My manager has been involved with USO tours before and has been connected with those involved. One day he asked me if it was something I'd be interested in doing. I was beyond excited to be given this opportunity," stated Palmer.
"Then just a couple weeks later we're getting ready to go to Italy for the USO tour. I was so excited that it was actually happening. Overall, it was a smooth process besides from getting all our schedules lined up. It worked out perfectly."
While things began perfectly, they didn't necessarily continue that way. Palmer arrived in Italy but her luggage was nowhere to be found. Similar to her trip to Australia, Palmer's luggage had officially been lost.
"It's kind of a funny story. When I traveled with the UFC to Australia they lost my luggage. When we got there we only had a day-and-a-half before weigh ins to experience where we were and everything around us," stated Palmer. "Well, since they lost my luggage, I had nothing.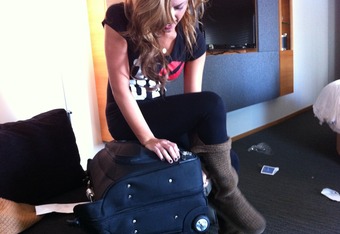 "Then we got to Italy and they lost it again. It was the worst feeling ever. This was a once-in-a-lifetime opportunity and I had none of my stuff. But, you think I would have learned from the first time. I had a duffel bag with a few clothes, but of course I had forgotten my shoes," laughed Palmer." Luckily, they found my luggage the next morning."
Palmer isn't entirely sure why she continually loses her luggage, as the bad luck seems to follow her. But, we do know that Palmer had an extremely difficult time packing only what she would need for her trip to Italy. In fact, Palmer found it nearly impossible to shut her suitcase as it was overflowing with clothing.
"I have a problem with closing luggage," Palmer laughed. "I had three bags for a six-week trip and that's impressive."
When Palmer finally got settled down, her life-changing trip had her traveling and visiting all parts of Europe. The journey began in Sigonella in Sicily where Palmer, Faber and Guida spent time with the local troops and their families. Their tour continued to Naples in Naples all the way to Camp Darby in Livonia located outside of Pisa.
The outreach didn't come to an end there as Palmer and company also traveled and visited Vicenza, Aviano and finally to Camp Ghedi.
Throughout her trip, Palmer got to witness more than she could have ever imagined.
"During our tour in Italy we got to see the entire base and see where they have the explosives. We got to sit in an F-16 plane at Aviano and we had the opportunity of seeing the 'Predator'. In addition, we also saw the 'Global Hawk' which is $30 million dollars with a wingspan of 130 feet," Palmer stated. "It was truly amazing."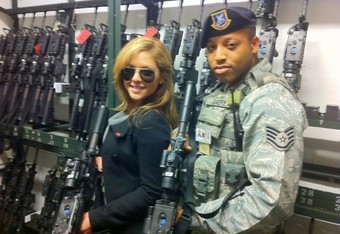 While Palmer's trip is certainly something she'll cherish for the rest of her life, there was something that stuck out to her during her time on the base.
"The most amazing experience for me was getting to spend time with the wives of the soldiers. The soldiers are absolutely amazing and so are their wives. The wives really go out of their way to serve as well with raising their families in Italy," said Palmer.
"That was the most amazing experience. Having the privilege of spending time with them and getting to know who they are. I got to spend time with their babies and loved holding them while I was there."
Palmer couldn't say enough about how much she truly appreciates the service of our men and women as they are risking their lives for our freedom.
"I think it's such an amazing and selfless act. It really is. They put so much time in that often goes unnoticed.They say goodbye to their friends and family. You never know where you're going to go as they could be in Italy or in all parts of the world," said Palmer. It's such an amazing thing that they give up their lives for us.
"It allows all of us to do what we want to do without worrying. It's truly amazing. It's something I could never see myself doing. My little brother wants to enlist and I'm so supportive of him and think it's great," said Palmer.
Palmer's trip not only gave her a different perspective on our service men and women but life in general. After spending time with the families located in Italy, Palmer returned to the United States more grateful than ever before.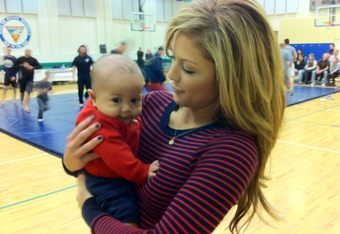 "I think it really makes you so grateful. The world is so much bigger than a lot of people think and bigger than what I thought. There's so much going on and sometimes it's the smallest things in life that bother us today. But, in the grand scheme of things, they mean nothing. This trip really grounded me," stated Palmer.
Despite being back to the normal everyday life, Palmer is often reminded of those serving not only in Italy but all parts of the world. While there were many things to be said about her experience, Palmer summed up her trip in one word,
Rewarding.
"It was such a rewarding trip. I got to meet so many great people and got to see a different part of the world that I never got to see before. I don't take anything for granted. I'm thankful to be alive and be here today," said Palmer.
"It was so special and I'll never forget it."
To learn more about Brittney Palmer, follow her on Twitter.