Kemba Walker vs. Jimmer Fredette: Which NBA Rookie Has Shown More Promise?
December 28, 2011
The NBA is about young, showtime players like the Charlotte Bobcats' Kemba Walker and the Sacramento Kings' Jimmer Fredette. While Walker and Fredette have both shown much promise, which rookie has shown more promise?
In four games, including the NBA preseason, Fredette has played significant minutes off the bench, averaging 29 minutes per night. The 10th pick of the 2011 NBA draft has averaged 12.3 points, 3.3 assists and 2.3 rebounds on 39.5 percent shooting.
In Fredette's first preseason game, the BYU product lit up the court against the Golden State Warriors. The 6'2", 195-pound Fredette swished a three for his first shot and ended the game with 21 points on 7-of-11 shooting.
The Warriors had no answer for him all night, as Fredette made some nice pump-fake moves and strong drives while facing Golden State's Stephen Curry.
Fredette, the 2010-11 NCAA National Player of the Year, changed ESPN analyst Rick Reilly's mind about how he would fair in the NBA after burying the Warriors in two preseason games.
Fredette is a combo guard who will play backup to the Kings' Marcus Thornton and Tyreke Evans. Kings coach Paul Westphal is a big Fredette fan who wants the rookie to play his game and work on his defense and rebounding—a weak spot in Fredette's game.
Walker has been equally impressive for the Bobcats. A point guard out of Connecticut, Walker has averaged 10.3 points, 4.7 reboundsand 2.7 assists on 32.4 percent shooting in three NBA games.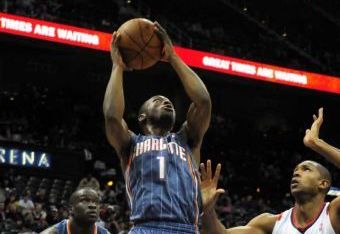 The 6'1", 172-pound Walker created a splash in his NBA debut. He came off the bench against the Atlanta Hawks and had the game-winning shot. Walker scored a game-high 18 points with three rebounds and two assists that game in just 19 minutes of action.
In the NBA opener against the Milwaukee Bucks, Walker was again instrumental in helping the Bobcats win 96-95. Walker had 13 points, seven rebounds and three assists with no turnovers. He also hauled a crucial rebound while sinking two free throw to seal the win.
While Walker has played 20 minutes a night behind Bobcats point guard D.J. Augustine, Walker will probably overtake him for the starter's role as the season progresses.
Walker said that, as an NBA player, he has to work on his shooting and decision-making.
Even though both players have been money, the more impressive player has been Walker. Fredette has a more impressive cast around him, with top scorers like Evans and Thornton to help him succeed. Walker, though, is on a terrible Bobcats team whose best player is Corey Maggette, who doesn't scare anyone.
The ball is frequently in Walker's hands as the Bobcats point guard. He impressively has not turned the ball over yet, while Fredette has eight giveaways.
Having game-winning players certainly helps Walker edge Fredette so far with his overall play.
Both Fredette and Walker have been impressive, but Walker has been the more impressive in their short time in the NBA.