2011 Valero Alamo Bowl Preview: Robert Griffin III and Baylor Face Washington
December 28, 2011
Sarah Glenn/Getty Images
Every so often, a college football program has a special talent that comes into the program and ends up having a memorable four years.  That player can make a huge difference in the direction of the program and may set the foundation for years to come.  One of those players, Robert Griffin III, will lead Baylor against Washington in this year's Valero Alamo Bowl.
The special player's team had a wild season all year long.  Baylor played in wild, high-scoring ballgames every week.  They started the year with a 50-48 win over TCU at home.  In fact, only one Baylor game this year had under 50 points combined. 
The three losses in four games that Baylor suffered in the middle portion of their schedule had their differences.  The loss on the road at Kansas State was cruel as they dropped a one-point decision to the Wildcats, 36-35. 
But then the back-to-back blowout losses to Texas A&M and Oklahoma State by a combined 72 points had them reeling.  Baylor, however, got back on the winning track with a win over Missouri and ended the season with five straight wins, including victories over both Oklahoma and Texas. 
They ended up with nine victories on the season and are playing in their second consecutive bowl game for the first time since 1991-1992.
Baylor's opponent in the Alamo Bowl, Washington, had an up-and-down year.  The first half of the season started off very well, as the Huskies won five of their first six games, with the only loss on the road at Nebraska.  The second half of the season was almost the complete opposite of the start.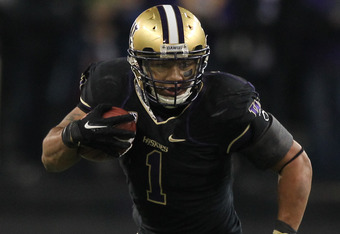 Otto Greule Jr/Getty Images
They won just two of their last six games, with the only wins coming against Arizona and Washington State.  Regardless of that, they were able to win seven games this season and are playing in their second consecutive bowl game after missing out on the postseason from 2003 to 2009.
So, how many points will be scored by two teams that have a tendency to do so? 
Read on for the preview of the 2011 Valero Alamo Bowl.
Baylor Offense vs. Washington Defense
The special player and the headliner for this year's Alamo Bowl is the 2011 Heisman Trophy winner, Baylor quarterback Robert Griffin III.  He has produced in one of the best offenses in the country all year long.  He was first in the nation in passing efficiency and second in total offense at almost 387 yards per game. 
He was the catalyst for an offense that was second in the nation in total offense at over 570 yards per game.  They also averaged more than 43 points per contest, which was sixth best this year.  But while Griffin has been the main reason for the Bears' success, there are pieces around him that have had great years as well. 
Wide receiver Kendall Wright was eighth in receptions per game and was second in receiving yards at 131 yards per game.  Running back Terrance Ganaway finished 15th in the country in rushing, averaging over 112 yards per game. 
This is going to be a major problem for the Washington defense.  It has struggled all year long, giving up more than 33 points and 426 yards per game this season. 
They also have been horrible defending the pass, ranking among the five worst pass defenses in the nation, allowing almost 284 yards per game through the air.  The advantage goes to Baylor here in a big way.
Edge: Baylor
Washington Offense vs. Baylor Defense
The Huskies offense started the season on a roll as they scored at least 30 points in their first six games this year, including 52 in a win over Colorado.  But then they struggled in the second half of the year, as the only times they scored more than 21 points were in their two victories mentioned above. 
Keith Price has been the man under center for Washington and he has been efficient in running the offense, finishing 12th in the nation in passing efficiency.  He has help from running back Chris Polk, who averaged almost 112 yards per game on the ground. 
That has added up to more than 31 points and 392 yards per contest.  They'll have a chance to put points up as well, because as good as Baylor's offense has been this season, the Bears defense has been just as bad this season. 
They finished in the bottom 20 nationally in all four major defensive categories (rushing, passing, scoring and total defense) and they only gave up less than 24 points just once this season in a shutout win over Division I-AA Stephen F. Austin. 
Washington will have their chances to move the ball on offense and must take advantage of it.
Edge: Washington
Special Teams
Washington has the advantage here as they have one of the better punters in the nation in Kiel Rasp, who averaged over 45 yards per punt this season.  They also have been solid returning kickoffs this season as they are averaging almost 24 yards per return. 
Baylor has had similar struggles on special teams as well this year, finishing in the bottom 20 in punting and kickoff returns.  That puts more pressure on the Bears offense to stay productive and minimize the opportunities to give the ball back to the other team.
Edge: Washington
Coaching
Art Briles has done a remarkable job in resurrecting a dormant Baylor program.  After a successful stint at Houston, he had four wins in each of his first two seasons in Waco.  The turnaround started in 2010 as he led the Bears to their first winning season since 1995. 
The growth has continued this season as they are just one win away from their first 10-win season in 31 years. 
Steve Sarkisian is now in his third season at Washington and is still waiting to have a breakthrough season.  He has led Washington to two straight bowl games, but is only one game over .500 for his career.  He could use a victory here as a springboard for the program into 2012.
Edge: Baylor
This and That
This could turn out to be a big advantage for Baylor.  The Bears fans got a chance to travel to an in-state bowl last year, and they'll get a chance to have another big crowd in San Antonio.  I'll also be interested to see how full the Alamodome will be with a team from Texas and the Heisman Trophy winner playing in this year's edition of the game.
So what will happen in the 2011 Valero Alamo Bowl?
This has all the makings of a track meet.  It features two teams that can move the football playing indoors on a fast surface facing bad defenses.  Baylor's offense has carried the team all season long and there's no reason that should not continue here. 
Washington's only chance is to match Baylor score for score. The Huskies just haven't been consistent enough to have a chance in this game.  Robert Griffin III will succeed in his final showcase before he goes on to play on Sundays this fall.
Line: Baylor by nine
The Sports Mac Prediction: Baylor 63, Washington 42