O.J. Mayo Primed to Help the Memphis Grizzlies Make Another Deep Postseason Run
December 28, 2011
Kevin C. Cox/Getty Images
The Memphis Grizzlies are a little more than an hour away from their preseason opener against the New Orleans Hornets, and O.J. Mayo is the first player fully dressed in his uniform.
Sitting in front of his locker, the Grizzlies shooting guard is seemingly enjoying the music that is ringing from the loudspeakers in the dressing room, considering he is rendering the lyrics while motioning his head back and forth.
Mayo, like his peers, is relieved the players and owners had finally reached a resolution on a new collective bargaining agreement that ended an intense 149-day lockout. He is happy to finally to be back to the team's facility for the first time since the Grizzlies' dramatic postseason run ended in seven games to Oklahoma City six months ago.
Most importantly, Mayo is elated to be back in Memphis after a somewhat tumultuous campaign in which he was the center of midseason trade rumors after losing his starting job to then-rookie Xavier Henry.
After all, it was a decision by Grizzlies coach Lionel Hollins about which Mayo admittedly could have easily ruined the chemistry of a Memphis team that was among the NBA's hottest during the season's late stages.
Among the reasons is that the 24-year-old Mayo, who was in his third pro season, was averaging 13.6 points per game. However, he was benched in favor of an unproven newcomer who was averaging just 5.6 points per outing, including six points on a dismal 1-of-9 shooting in his first start in a win against Miami.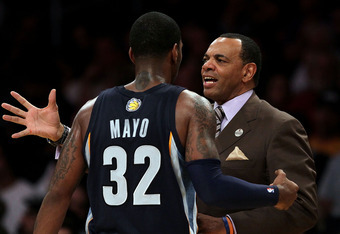 Jeff Gross/Getty Images
"I thought last year after I got benched, I was a little mature about it," Mayo said. "But I didn't want to hurt my team. One thing that I've never wanted to be was that cancer in the dressing room, because we had a good thing going."
As for rumors involving a Mayo trade near the season's halfway point, Hollins contends much of those speculations were media-driven, going as far as to say that he sensed all along that Mayo would return to the Bluff City for the 2011-2012 season.
"I knew for a long time that he would be back," Hollins said. "I mean, that was you guys that were writing and saying that O.J. wasn't going to be here."
Part of the reason for Hollins' decision to demote Mayo is that he showed up late for the team's shoot-around before their game against the Heat. It also didn't help that the former Southern Cal standout was enduring a shooting slump, which essentially increased Hollins' desire to make the immediate lineup change.
Still, although many outside of the organization believed that Hollins' benching Mayo put a dampener on their relationship, Mayo is quick to say that his connection with his coach is stronger than it has been in recent years.
That's because Mayo was just as proficient offensively as the Grizzlies' top reserve, having witnessed his scoring average increase to 20 points per contest while helping lead surging Memphis to 32-22 record in the process.
His late-season progress, coupled with Rudy Gay's season-ending shoulder injury days after the All-Star break, eventually led to him making his first postseason start, one he will likely never forget. Mayo, who owns the franchise record with 20 postseason three-pointers, managed 16 points and tied a playoff-record with four steals in helping the Grizzlies force a decisive seventh game against the Thunder.
"I think he's better because of last year," Grizzlies guard Tony Allen said of Mayo, whom he was involved in a fight with last year on the team plane over a debt from an in-flight card game. "I mean, the man was benched and was averaging 17 points. He's been through the fire, but we're glad to have him around."
Meanwhile, as for being back for his fourth year with the Grizzlies, Mayo said his main focus is to continue contributing to a team that is expected to secure one of the Western Conference's eight playoff spots, regardless of whether he starts or not.
As for whether he will finish out the 66-game regular season in Memphis, Mayo—who was the subject of trade rumors days before the Grizzlies' Dec. 26 season opener at San Antonio—said that is the least of his worries.
"Being from West Virginia, I feel like this is my second home," Mayo said. "It's definitely where I want to be."
That was sort of easy to assume, given Mayo was the first player in uniform roughly an hour before the preseason opener.
Andre Johnson is a freelance reporter for the Memphis Commercial Appeal newspaper and Memphis Sport Magazine. To reach Johnson, call 901-690-6587 or send email to: memphisgraduate@yahoo.com.