How the Albert Pujols Deal May Be Beneficial to the LA Angels Long Term
December 28, 2011
Ed Szczepanski/Getty Images
On December 8 the Los Angeles Angels shocked the world when they inked Albert Pujols to a 10-year, $254 million contract. Since then, the Angels have been both praised and scrutinized for their huge investment in the soon-to-be 32-year-old slugger.

Those who are critical of the signing believe that Pujols will become a huge burden on the Angels long term. While this argument may have some validity, it is also important to highlight the possible ways that Pujols could save the Angels long term.
Some argue that free agent Prince Fielder would have been a better fit for the Angels. Not only is Fielder younger, but he would have added a left-handed bat to a right-handed heavy lineup.

It cannot be ignored, however, that Fielder is represented by agent Scott Boras. Angels owner Arte Moreno has publicly expressed his dissatisfaction with Boras, and Fielder likely became a second option as a result. With Boras as his agent, anything could have happened in negotiations between Fielder and the Angels, and the Angels could have been left out in the cold once again.
Free agent Aramis Ramirez, who was also available at the time, was an unlikely fit as his documented clubhouse conflicts seemed to be a huge negative in the eyes of some Angels executives.
Without Pujols, the Angels could have been left with the same lineup as they did during the 2011 season. General manager Jerry Dipoto, in an attempt to keep the Angels competitive, then could have been forced to turn to the trade market in order to make any major offensive improvements to the team. Obvious fits would have included David Wright or Ryan Zimmerman.

While many teams would love to have either of these two players, it would likely cost many quality prospects in order to acquire them. The Angels could have been forced to part with players such as Peter Bourjos, Hank Conger, Garrett Richards or Jean Segura.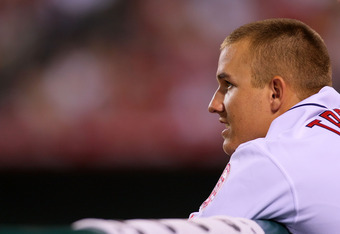 Victor Decolongon/Getty Images
The signing of Pujols allows the Angels to retain their top prospects and continue developing for the future while at the same time competing for a World Series title now. Without an extremely deep farm system, the Angels could have been hurt long term by making any such deal. By subtracting from their farm system, the Angels could have jeopardized their ability to compete long term.
Pujols, being the leader that he is, will also help to develop many of the Angels' young players. Teammates such a Howard Kendrick, Hank Conger and Mike Trout could all greatly benefit from the presence of Pujols both on and off the field. One can only imagine how much faster a top prospect such as Trout could develop simply by being in the presence of a historic player like Pujols. Even in the late years of his contract, Pujols will have much to teach the Angels' young and upcoming players and could have a much longer lasting effect on the team through the knowledge that he passes on.
While it is easy to look at the dollar figures to determine if a contract is good or bad, it is much more difficult to identify the intangibles that a player can bring to an organization. Pujols' deal may be monstrous, but this deal may also help to keep the Angels competitive for many more years to come.