Philadelphia Flyers: 5 New Year's Resolutions for the Orange and Black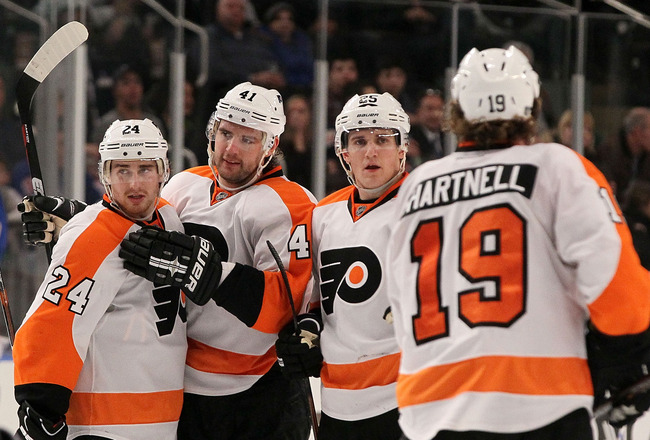 Jim McIsaac/Getty Images
With the new year rapidly approaching, it's always good to savor the remaining minutes of this year while thinking about building on success next year.
For the Philadelphia Flyers this is no different.
After overturning a significant portion of their roster last summer, which came under heavy scrutiny, this team has dressed 10 different rookies and at times found themselves atop the Eastern Conference.
Despite being in first place at times, this team still has questions surrounding it and areas it can improve in.
The absence of a Chris Pronger from your lineup will do that to you.
However in any struggle there are casualties. The Flyers would like to have avoided that casualty, but such is a hockey season.
Fortunately for Paul Holmgren, there is a plethora of young talent he can use in a trade to remedy that casualty and perhaps turn this exciting team into a bona fide Stanley Cup contender.
Ladies and gentlemen, allow me to present to you five new year's resolutions for the Orange and Black.
Please feel free to comment below!
Discipline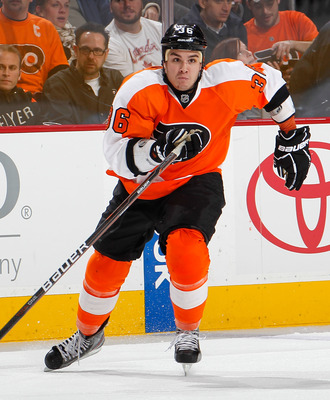 Paul Bereswill/Getty Images
The Flyers are currently the most penalized team in the league. Although division rival New York Rangers are one spot ahead and atop the conference, taking as many penalties soon takes its toll.
Flyer fans may take pride in the fighting and rough stuff of their adorned "Bullies," but 16.6 minutes a game of penalty killing means for half the game you are playing short-handed.
It tires out your team and gives your opponent an unnecessary advantage playing on the penalty kill that much time. As the season goes on, this just snowballs.
What the Flyers can do is pick their battles more wisely.
A hockey fight can excite a crowd as much as a Jaromir Jagr Hat-trick, but look at the Flyers' recent loss, Wayne Simmonds convincingly wins a fight but the Flyers get rolled.
Max Talbot understandably gets frustrated on a bogus call, then makes matters worse by taking an unsportsmanlike penalty which led to a goal.
Like the old adage goes: Work smarter not harder.
The Flyers need to stop taking dumb penalties, stop getting baited into meaningless fights and focus on playing hockey, or they may trade a chance at winning a cup for being considered "tough."
Forget About the Winter Classic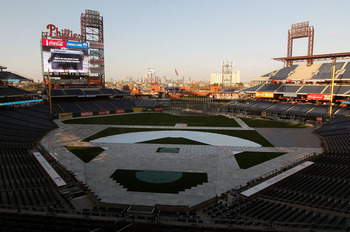 Paul Bereswill/Getty Images
Right now the Flyers are on a bit of a losing streak.
The 24/7 cameras are at times confused for hemorrhoids.
It seems like you can't get an interview out of anyone inside the locker room without mentioning the Winter Classic.
Mark my words right here right now, folks: The Flyers are probably losing that game.
They're firing on six of their eight cylinders.
The Rangers are playing better hockey right now.
The Rangers want it more.
The Flyers are and should be pacing themselves for a long run.
However this over-hyped, mid-season game has them playing seriously out of character.
At the start of December the Flyers were on a seven-game winning streak. Then the 24/7 show starts, and they can't get out of their own way.
Personally I'm sick of hearing about the Winter Classic. Okay I get it the game is outside... big bleeping deal!
At the end of the day, it's just a regular season game.
Problem is the Flyers are playing it at home, and the pressure is visually on them.
I really believe once they get past this meaningless game, they get back to being themselves.
Although I feel they lose the game, I do feel they take the remaining games in the season against the Rangers.
Stop Feeling Sorry for Themselves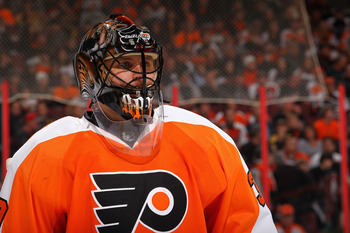 Al Bello/Getty Images
I've been a rabid supporter of Bryzgalov all season. I'm not jumping off the Tiger's back any time soon, but he could have played a little better against Tampa Bay.
On the goal by Steve Downie, a shot went wide off the net. The puck did deflect off a skate and conveniently onto Downie's stick, then into the net.
Bryzgalov went down to stop the original shot but visually hesitated in frustration to move laterally and make a possible save.
Things are tough right now.
No, you're team isn't helping you by letting Steven Stamkos bang home rebounds on you.
Yes, your home fans are going to boo you, but this was on the road.
No you're not going to stop everything either.
But one thing you must never ever do is give up.
Bryzgalov isn't the only player doing this either. I saw Danny Briere give up on defending Gabrielle Landeskog in Colorado, allowing him to skate in on the net and score.
The same player then missed a big game against the Rangers with a swollen pinky.
James Vanriemsdyk is another player that seems to have dissappeared despite getting a late goal against New York last week.
So you're hurt, guess what? Everyone else is too!
The lack of battle I see in some players needs to stop, regardless of what they make or who they are.
If it continues, then bring back Tom Sestito and every other player from Adirondack that never says die.
Play Better in Their Own Zone.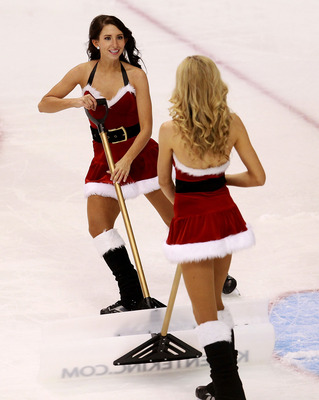 Ronald Martinez/Getty Images
If I didn't know any better I would think that picture was two Flyers playing defense.
It is simple Hockey 101: Get the rebounds whether in front of your own net or the opponents.
Don't let opposing forwards screen your goalie and pick up rebounds, then fling them into the net.
The last two times the Flyers played the New York Rangers, they saw first hand a defensive clinic.
That clinic consisted of not giving Claude Giroux any room to breathe and clearing the crease in front of their goalie.
The Flyers, on the other hand, let guys like Steven Stamkos, Milan Lucic, etc., skate around in their own zone with no one covering them.
I don't care who the coach is, what kind of system they play, whatever, there's just some things you don't do in hockey, and the Flyers forget these things in their own zone.
The Flyers boast a collection of speedy forwards. There is no reason any opposing forward should be skating around unaccounted for to pick up loose pucks or screen your goalie.
The Flyers don't give up many shots in a game, but when they do it's either a crazy redirection for a goal or a 30-goal-a-year forward standing all alone by himself to pick up a rebound and flip it over a sprawled out goalie.
This lack of attention to defensive play will not only cost you games in the regular season, but it may also deny a playoff appearance.
Scott Hartnell leads the team in plus/minus differential at plus-20. It's not just because he's on the top line, he also is an effective back checker.
Perhaps the youth on the team needs to learn the value of defensive effort in the NHL.
Whatever it is I'm confident this will be addressed moving into next year.
Fill Chris Pronger's Shoes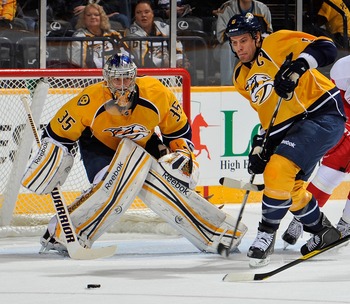 Frederick Breedon/Getty Images
The previous slides were directed more at the players.
This slide is more of a concern to the Flyer brass.
In Philadelphia no one wants to hear the phrase "next year."
Granted this is a team that is young and has a ton of potential, but let's face it, a Shea Weber or Drew Doughty could put this team over the top instantly.
Well, maybe one or two of them, but you get my point.
Although he was recently diagnosed with a concussion, apparently Weber is doing good and is likely to play Friday. Similar to what happened with Claude Giroux.
The recent losses against the Rangers, Bruins and Lightning are games where Chris Pronger is needed.
The defensive lapses I mentioned on the previous slide wouldn't be so common and not addressed with him in there.
The 24/7 distraction would be handled all by him and space cadet.
Instead we're starting to see rookie mistakes and a team slowly losing its identity the way it did last year.
This year the Flyers know Pronger won't be back.
Paul Holmgren can use the cap relief from Pronger's salary to go out and fill the void left by the team's true leader.
Not feeling sorry for yourself when things are down, playing with discipline and better defensively are things leadership address in the locker room.
If the Flyers address all the issues I have brought up here, they can be in for a deep playoff run and return to the Stanley Cup Finals.
I hope you guys enjoyed this. By all means feel free to tell me what you think.
Thanks and have a Happy New Year!
Keep Reading

Philadelphia Flyers: Like this team?