Georgia vs Michigan State: SEC Dominance Versus Big 10 Revenge in the Outback
December 28, 2011
Kevin C. Cox/Getty Images
Three points. That's all that separates the Michigan State Spartans from the scent of roses. For the University of Georgia Bulldogs, sugar would have been sweeter. But the storybook ending to redeemed seasons for both teams didn't quite come to fruition.  
Hence, they've landed in Florida for the new year. It's a landing filled with storylines and endings that could define the tone of the next season.
This Jan. 2 matchup for the Georgia Bulldogs is a game that will can the criticism. For MIchigan State, revenge will be sweet. A win by this Big Ten runner-up would conquer the bowl-game jitters. For the University of Georgia, the fodder on sports radio will be muffled. A big win in Tampa would put the Bulldogs into the limelight of 2012 greatness.  
Down South, this is more than a game. It's a battle for conference respect. Up North, it's a chance to redeem a losing bowl record that could span five seasons. Let the games begin.
Today the equipment trucks arrived at the University of Tampa's Rood Field at Peplin Stadium and practices officially began. Reporters' notebooks rampantly filled with scribble. Absent from the practice field was Georgia's premiere running back, Isaiah Crowell. No problem, say the Dawgs. Talent is abundant, along with rest. And that's something this team has been doing for a few days.  
The SEC is the Spartans' worst nightmare. They've lost to SEC teams (Georgia and Alabama) twice in the past four years. They're still reeling from Matthew Stafford's 2008 performance that rendered an L in the win/loss column (24-12).  
Last year, the Spartans were smashed by Alabama, a team who was out to prove that a one-point loss to the No. 1 team in the nation wasn't enough to disintegrate their drive toward greatness.
But this isn't last year. It's next week.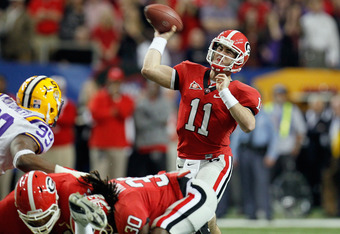 Kevin C. Cox/Getty Images
The Spartans defense will be zeroed in on Georgia's quarterback, Aaron Murray, like flies on watermelon rinds in the summertime. But Murray—who is first in the SEC with 33 touchdowns and second with 2,861 yards—will lash forth with a vengeance that is sometimes costly in the form of interceptions. This year, he's the league leader with 13.  
For Georgia, this opponent will be different from the rest. The No. 5 defense in the country (Michigan State) is the Big Ten leader with 41 sacks and 16 interceptions.  
But don't take the Dawgs defense lightly. In this matchup, Georgia ranks number three in defense, right behind Alabama and LSU.  
The sold-out Outback Bowl is not just another snore in the grand scheme of bowl games. For these two teams—Georgia and Michigan State—a victory on Jan. 2 in Tampa will soothe the pain of missed opportunities of 2011 and perhaps, inspire a 2012 sequel that is bigger and better.