Big Ten Football 2011: Predicting the League from Top to Bottom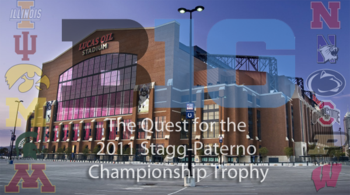 A change would do you good.
Sheryl Crow sung it and the Big Ten is living it. This season will see many changes for the conference. There are three first-year coaches, a new team, and for the first time, a conference championship game. For all of the teams there is hope for the upcoming season and for some, that hope will become reality and success.
As spring football gears up, it is time to take an early look into the upcoming season, predicting where each team will finish in their quest for the Stagg-Paterno Championship Trophy in Indianapolis.
Let the predictions and debate begin.
12. Minnesota Golden Gophers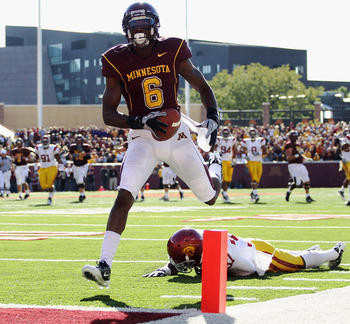 Jamie Squire/Getty Images
Jerry Kill takes over a Golden Gophers squad that experienced a challenging season, with Tim Brewster being fired after a 1-6 start and the Golden Gophers finishing 3-9 (2-6 Big Ten). Kill comes to Minnesota after serving as the head coach at Northern Illinois University.
MarQueis Gray returns to play quarterback this season after spending 2010 as a wide receiver. Kill is high on Gray, who he sees as a dual-threat and has the potential of being a great fit in Kill's offense.

The defense will be anchored by sixth-year senior safety Kim Royston. Royston posted 86 tackles, including a sack, and one interception for Minnesota in 2009.

Kill is starting to build for the future, as Minnesota's recruiting class was ninth in the Big Ten according to Rivals.com. It was a solid class with 19 of the 24 recruits being three-star players, highlighted by Minnesota's Mr. Football, LB Peter Westerhaus of Holy Family Catholic High School.

This year will be a year of transition for the Golden Gophers, as they are installing new systems on both sides of the ball and they are working on installing the mindset and expectations needed for success. With all that lies ahead for the Gopher's another losing season is on tap.

A 3-1 start looks possible, with the team losing the opener to USC, but the conference schedule is tough as they miss playing Indiana this year. The best hope for conference wins are at Purdue and home against the Illini in the season finale.
Prediction: 4-8 (1-7, sixth place Legends Division)


11. Purdue Boilermakers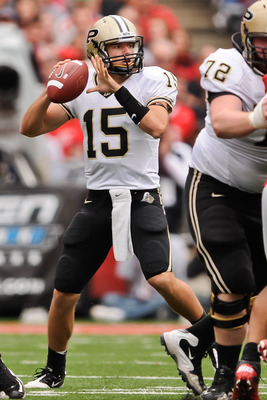 Jamie Sabau/Getty Images
Purdue is looking to get back on track after a 4-8 (2-6 Big Ten) season. This season should start to move back to .500 as the Boilermakers return four offensive line starters and have the potential of major contributions from key players lost last season.

Third-year coach Danny Hope is hoping that the injury bug that struck the team hard is more kind this upcoming season. QB Robert Marve, WR Keith Smith, and RB Ralph Bolden were all lost during the year and it hindered the progress made during Hope's first season.

The upcoming year is a mixed bag regarding the triad. While, Hope is optimistic Marve will be back to help lead the Boilermakers this fall after suffering his second ACL tear, Bolden is slow to recovery from ACL surgery and Smith was denied a petition for a hardship sixth-season.

The recruiting class does not boost the Boilermakers' fans hope for the season. James Evans, B/R Purdue Feature Columnist said, the "Boilermakers have one of the weakest recruiting classes in the nation once again this season." Landing the lowest rated class in the conference per Rivals.com, Purdue will have to do more with less in order to help Hope stay around for a fourth year.

The non-conference schedule is potentially favorable as the Boilermakers open with Middle Tennessee State, Rice, and Southeast Missouri State before taking on Norte Dame. A 3-1 start is not out of the question, though 1-3 is entirely possible. While the conference is favorable for Purdue the Boilermakers just don't have the team to totally take advantage.
Prediction: 4-8 (1-7, t-fifth place Leaders)
10. Indiana Hoosiers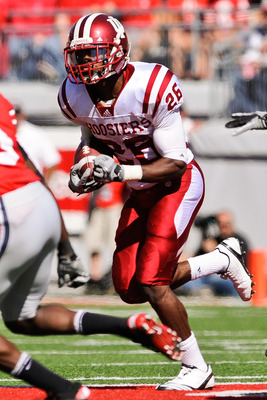 Jamie Sabau/Getty Images
Kevin Wilson takes over an Indiana Hoosier team that completed their third straight losing season and 15th in the past 16 years. The Hoosiers started the season off well, winning their first three games and leading against Michigan into the fourth quarter. The season went south after that as they finished the season 5-7 and last in the Big Ten (1-7).

The Hoosiers are bringing in a recruiting class that features one four-star recruit (LB Zack Shaw from Coshocton, OH) and only 12 three-star recruits. This and having to replace Three-year starter Ben Chappell at quarterback spells for a challenging season ahead for coach Wilson.

The rebuilding process for the Hoosiers starts with converting to a 3-4 scheme and evaluating the depth that is in place. The offense is in need of leadership with Dusty Kiel and Edward Wright-Baker, and Tre Roberson battling to take over signal calling duties. Like Minnesota, the upcoming year will be a challenge for the Hoosiers.

The non-conference schedule will be telling to how the conference season will go. The Hoosiers open at Ball State and then host Virginia, both teams that struggled like them last season. If they are able to win both games, as expected, it is possible that they will be undefeated going into Big Ten play for a second season.

Unfortunately for the Hoosiers, they do not play Minnesota or get a chance to avenge their loss to Michigan this season and have a very tough road schedule (Wisconsin, Iowa, Ohio State, and Michigan State). The best chances for conference wins are at home against Illinois and Purdue.
Prediction: 5-7 (1-7, t-fifth place Leaders)
9. Northwestern Wildcats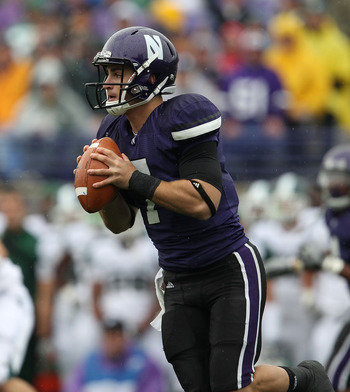 Jonathan Daniel/Getty Images
The Wildcats finished last season with a 7-6 (3-5 Big Ten) record on their way to a third-straight bowl game. Unfortunately, to the frustration of sixth-year coach Pat Fitzgerald any positives are tempered by the fact that the Wildcats lost four of their last five games.

A major concern for Northwestern this year is to fix the defensive holes that were exposed during the final three games of the season. The Wildcats gave up 163 points the last three games as compared to the 162 they gave up in the first eight weeks of the season.

Coordinator Mike Hankwitz must work to fill the holes and work to bring the unit back to the success they had the previous two seasons. He and the rest of Wildcat nation should be hopeful about the return of LB Roderick Goodlow, who missed last season due to injury, as he should be in the mix for a starting position.

The success of the Wildcat offense is tied to the recovery of QB Dan Persa, who is rehabbing his surgically repaired Achilles' tendon. The Wildcats need running backs Mike Trumpy and Adonis Smith to continue their development to take some of the pressure off of Persa and give Fitzgerald some more options with the offense.

Northwestern has a weak non-conference schedule (Boston College, Eastern Illinois, Army, and Rice) so they should be able to compile enough wins to withstand a poor conference schedule and still become bowl eligible for a fourth year in a row.


Prediction: 6-6 (2-6, fifth place Legends)
8. Illinois Fighting Illini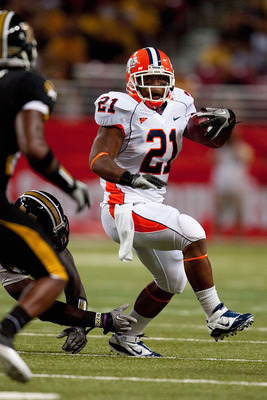 Dilip Vishwanat/Getty Images
The Illini struggled to find consistency this past season on their way to a 7-6 (4-4 Big Ten) record. This was to be expected freshman Nathan Scheelhaase took over the signal calling for the Illini.
While he was feeling his way into the position, the Illini took advantage of a three-pronged running attack, with running backs Mikel Leshoure and Jason Ford along with Scheelhaase rushing for 3,045 yards. WR A.J. Jenkins emerged for the run-first Illini as the main receiving option as he caught 56 passes for 746 yards.
The Illini have some big holes to fill this upcoming season as they lost several key players including LB Martrez Wilson, DL Corey Liuget and Leshoure. Ford will be counted on to pick up the running load this season and DT Daryle Ballew and LB Evan Frierson, along with others will have to fill the defensive holes. The recruiting class will add some depth, though it lacks the number of five and four-star recruits that Zook brought in at the start of his Illini tenure.
The Illini will have a lot of home cooking this season as they play eight games at Memorial Stadium and do not play their first road game until October 8th against Indiana. The Illini have the potential to be 5-0 prior to that first road game if they gel and play at the level they did in defeating Baylor last season. If they show the inconsistency that led to a 1-3 stretch to close the regular season, a 2-3 start is not out of the question
Prediction: 6-6 (3-5, fourth place Leaders)
7. Michigan Wolverines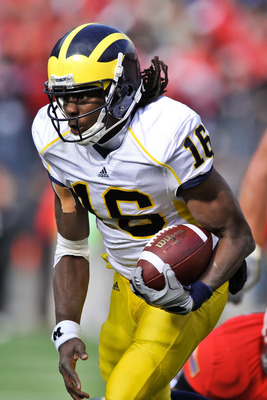 Jamie Sabau/Getty Images
Brady Hoke steps into the Big House in the attempt to return the swagger that the Michigan faithful expect. Last year the Wolverines went 7-6 (3-5 Big Ten) but looked bad as they lost six of their final eight games.

The offense is looking to be a potential strength for the Wolverines again as they return almost all their starters. The Big Ten Offensive Player of the Year Denard Robinson is to be in the fold again as concerns were raised about the offense that would be offered up this season. Robinson showed his legs were his best weapon as he ran for 1702 yards and kept teams on their toes.

The defense returns eight starters but was an area that needed improvement. Hoke is switching the team back to a 4-3 scheme under coordinator Greg Mattison's leadership. Additionally, Hoke will be coaching the strong-side linebackers to help with this effort.

Michigan, despite the challenges with Rich Rodriguez's managed to pull in the third best recruiting class in the conference per Rivals.com. 19 of the Wolverine's 20 recruits are four (6) or three-star (13) recruits. The infusion of talent, fitting Hoke's schemes will help as the Wolverines move forward.

The non-conference schedule again sets Michigan up for a good start. The biggest challenge to a 4-0 start will be Notre Dame's trip to the Big House. Unfortunately, the Wolverines miss out on playing Indiana this year, but they get Minnesota and Purdue at home, which will help their record. Schedulers did Michigan no favors with their last four games, so they may enter the bowl season on a slide.
Prediction: 7-5 (4-4, third place Legends)
6. Penn State Nittany Lions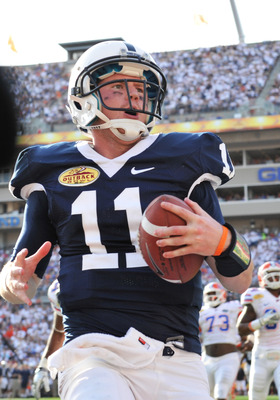 Al Messerschmidt/Getty Images
Joe Paterno enters his 46th season as the Penn State coach following a disappointing 7-6 (4-4 Big Ten) campaign with several positions to address. While not new for Paterno, of course, what is new to him after this many years, it is something that can reek havoc on the happiness of the Happy Valley fans.

Gone from last year squad is RB Evan Royster and three of the offensive line. Take that into account along that the problems with the quarterback position (Rob Bolden asking for his release and Matt McGloin's implosion at the Outback Bowl) and it could be a challenge for coaching hall-of-famer.

The defensive line needs to return to their 2009 level and identify individuals to step up and contribute on the pass rush. Defensive ends Deion Barnes and Shawn Oakman are two incoming recruits who may be called upon to help in this role.

Those two are members of a 16-member recruiting class for the Nittany Lions. While it was the smallest class in the conference, the fact that they landed five four-star recruits helped it to be rated as the conference's sixth ranked class by Rivals.com.

Penn State opens the season against Indiana State before a huge showdown against Alabama. How the Nittany Lions stand in that showdown will go a long way in identifying the success that will be had this season. The challenges in the Big Ten season are backloaded as Penn State closes with Nebraska and then road games at Ohio State and Wisconsin. Success in those three will go a long way in determining if the Nittany Lions will be competing for the first Stagg-Paterno Championship Trophy.
Prediction: 8-4 (5-3, third place Leaders)
5. Iowa Hawkeyes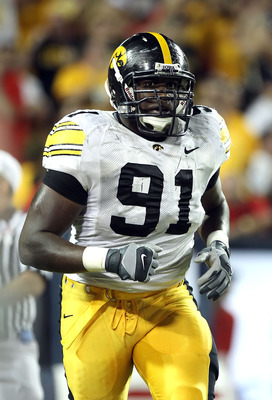 Christian Petersen/Getty Images
The Hawkeyes finished last season with an 8-5 (4-4 Big Ten) record, which included a 27-24 win over Missouri in the Insight Bowl. Unfortunately for Iowa, the core of this team is gone as they will be playing on Sunday this next season.

Iowa's key losses on offense include QB Ricky Stanzi and WR Derrell Johnson-Koulianos. Former backup QB James Vandenberg is in line to fill Stanzi's shoes. WR Marvin McNutt is going to have to be the go-to man without Johnson-Koulianos there to take some of the coverage.

Defensively, the defensive line lost three of four starters and both safeties are gone from this bowl winning team. Mike Daniels and Broderick Binns are key returners who will be asked to lead the Hawkeye's efforts.

On both side of the ball, the Hawkeyes are going to have to lean on their incoming recruits. Luckily for the Hawkeyes, the conference's fourth best class, with four four-star recruits and 16 three-star recruits is on its way to Iowa City.

Games against Iowa State and Pittsburgh will give the Iowa faithful the answer to the question if the Hawkeyes are reloading or rebuilding. A 4-0 start would not be surprising, but a 2-2 start may not be out of the question if the team does not gel.

Road games against Penn State and Nebraska help frame a favorable schedule which is missing Wisconsin and Ohio State. That will play into the Hawkeye's favor as they try to make the run to the top of the conference they missed last year.

Prediction: 9-3 (5-3, third place Legends)
4. Wisconsin Badgers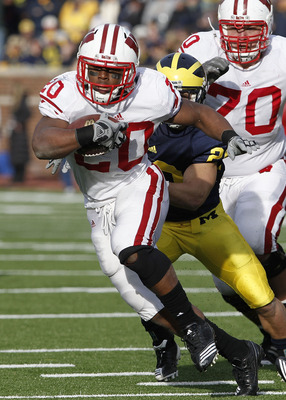 Gregory Shamus/Getty Images
The 2010 season ended with Bret Bielema's squad finishing an impressive 11-2 (7-1 Big Ten). Like the Hawkeyes, the Badgers will be looking to reload after losing key players after the season.

The offense is going to see significant changes as offensive lineman Gabe Carimi and John Moffitt finished their Badger experience. Additionally, RB John Clay, TE Lance Kendricks and QB Scott Tolzien completed their time in Madison. Jon Budmayr and Curt Phillips will be competing for the signal caller duties for the Badgers while Montee Ball and Big Ten freshman of the year James White take over the rushing duties.

Defensive Lineman Louis Nzegwu and David Gilbert are expected to play a larger role this year following departures which included Junior J.J. Watt. Some additional defensive support may come from four-star recruit LB Jake Keefer, who anchors the Badgers' seventh-ranked recruiting class.

Even as the Badgers reload, they should have little problems with their non-conference schedule. An interesting showdown awaits Wisconsin as they will play South Dakota, who upset Minnesota last year 41-38. It is highly that the Coyotes will be able to duplicate such a feat in Madison this season.

The biggest challenges facing the Badgers are their Big Ten opener as they host Nebraska and road games against Michigan State and Ohio State. Their performance in those three games will help determine if a BCS bowl is likely or an off-season wondering if they allowed an opportunity to slip through their fingers.

Prediction: 10-2 (6-2, t-first place Leaders)
3. Michigan State Spartans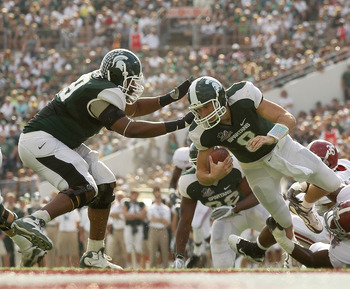 Mike Ehrmann/Getty Images
The Spartans are coming off an 11-2 (7-1 Big Ten) campaign, which was one of their best in recent history. However, the season ended on a very sour note as they were blown out by Alabama 49-7 in the Capital One Bowl. Mark Dantonio begins his fifth season in charge of the Spartans, he ready to move forward to remove the taste of the Alabama loss.

The sting of the loss will be a motivating one of the Spartans. However the team is going to be going through some rebuilding. On the offensive side of the ball, Dan Roushar needs to replace three of the offensive lineman to support the rushing efforts of RB Edwin Baker and protect QB Kirk Cousins from the Big Ten beatings.

One the defensive side of the ball, MSU loses two of the best defenders in recent history, Greg Jones and Eric Gordon. Steve Gardiner or incoming four-star recruit Lawrence Thomas may have to step up to fill those big shoes.

Thomas highlights the MSU recruiting class that Rivals.com ranked as the fifth best in the conference. The 21 player class consists of two four-star recruits and 17 three-star recruits.

Michigan State has a non-conference schedule that only has one potential challenge, a showdown with Notre Dame. If the Spartans can escape with a win against the Fighting Irish, a 4-0 non-conference record is within reach.

A key game to the MSU season will be their Big Ten opener against a depleted Ohio State squad. While the game is at Columbus, it will be the final one without QB Terrelle Pryor, RB Dan Herron, WR DeVier Posey, OT Mike Adams and DE Solomon Thomas. Trips to Iowa and Nebraska will present challenges this season and could be the difference between the Spartans going to Indianapolis or wondering what might have been.

Prediction: 11-1 (7-1, t-first place Legends)
2. Ohio State Buckeyes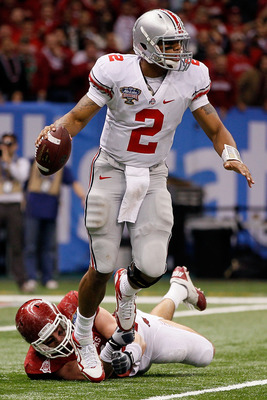 Kevin C. Cox/Getty Images
Ohio State ended last season with a 12-1 (7-1 Big Ten) record following an impressive 31-26 win over Arkansas in the Sugar Bowl. However, a lot of the joy of the season has been sucked away as the continuing drama related to violations at Ohio State has over-shadowed the successes on the field.

It is going to be hard to say how the Buckeyes shape up for the upcoming season with major pieces missing for a significant part of the year. A positive for Ohio State is the fact that they had the top recruiting class in the conference, lead by LB Curtis Grant, a five-star recruit from Richmond, Virginia. Along with Grant, the 23-player class has one five-star recruit, nine four-star recruits, and 12 three-star recruits. With the challenges of the year, higher expectations will be placed on this group.

"We do not play the Little Sisters of the Poor." - Ohio State President Gordon Gee

After looking at the Buckeye's schedule, they must have ignored their President as they open with Akron, who was 1-11 last season and Toledo, who Boise State played last year. After those two games, they play Miami and Colorado, who fired their coaches last season.

The Buckeyes should be 4-0 after those games even though they will be without QB Terrelle Pryor, RB Dan Herron, WR DeVier Posey, OT Mike Adams and DE Solomon Thomas for the first five games of the year and without coach Jim Tressel for the first two games. The Big Ten schedule will not be as kind as the Buckeyes open conference play against Michigan State and then travels to Lincoln to face Nebraska.

If the Buckeyes can succeed early and then continue to succeed once their "leaders" return, they can make a strong run in the conference. If not, it will be a season of finger pointing and snickers across the mid-west.
Prediction: 10-2 (6-2, t-first place Leaders)
1. Nebraska Cornhuskers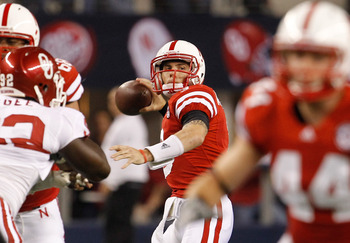 Tom Pennington/Getty Images
Nebraska enters the Big Ten off a 10-4 (6-2 Big 12) season. Despite the success, Bo Pelini has made significant changes in his staff.

As a result of challenges offensively near the end of last season, Tim Beck takes over as offensive coordinator. It is thought that the Cornhuskers will run a version of the spread offense this season. The person leading the offense is up in the air as Taylor Martinez has been put on notice and Cody Green and incoming freshman Jamal Turner will be in the mix for the signal calling duties.

The run-focused Cornhuskers will depend on Rex Burkhead to lead the rushing attack but will potentially have a triad of freshman backs ready to step up and carry the ball. According to Brandon Cavanaugh, B/R Nebraska Featured Columnist, Braylon Heard, Aaron Green and Ameer Abdullah can be a factor in a "conference that prides itself on strength, (their) speed may be an edge that Nebraska can use to exploit deficiencies."

Those three are part of the conference's second ranked recruiting class. The class is small by some standards, but it has significant quality with 11 four-star recruits among the 19 members. A significant number of these players will have a chance to step up right away or will be redshirted as part of long-term plans.

The highlight of the non-conference schedule is a rematch against Washington, who embarrassed the Black Shirts in their bowl showdown last season. If the Cornhuskers win that game, a 4-0 non-conference record is in order.

Nebraska hits the ground running in the Big Ten as they travel to Wisconsin and host Ohio State to start the conference slate. Going to Madison and leaving with a win is a challenge as the Buckeyes can attest to in recent history so that may be the lone stumbling block for Nebraska this season. If they play to their potential a trip to Indianapolis may be in the cards for the first-year league member.


Prediction: 11-1 (7-1, t-first place Legends)
Keep Reading

Michigan State Football: Like this team?