National Signing Day 2011: Power Ranking The Big 12 Recruiting Classes
Tom Pennington/Getty Images
It's the end of the Big 12 as we know it, and much of the conference feels fine.
Especially when it comes to the inaccurate science that is college football recruiting.
Can any school knock Texas from its perch atop Big 12 recruiting?
Which schools laid claim to some of the nation's finest prospects?
As we wave bon voyage to Colorado and Nebraska, where do the Buffaloes and Cornhuskers rank in the final standings of their technically current conference?
To track all of today's top recruits, click here
Check out the latest news and reaction to all of today's signings.
12. Baylor Bears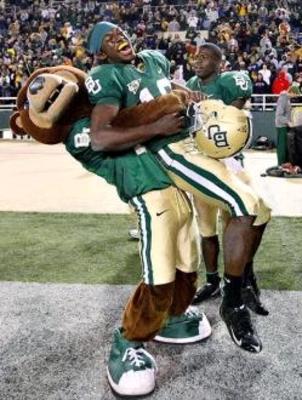 Top Three Prospects: OL Spencer Drango, WR Jonathon Lee, OL LaQuan McGowan
The Bears needed to restock their offensive line and managed to pull in not only a quality prospect, but their best overall recruit in Spencer Drango.
A heavy emphasis was put on the defensive side of the ball, specifically on the secondary.
The Bears signed four defensive backs in this class along with four defensive linemen to help speed up the pass rush.
Baylor once again remained primarily within the state of Texas for its recruiting trips with one exception. Defensive back K.J. Morton joins the Bears out of Visalia, California.
11. Iowa State Cyclones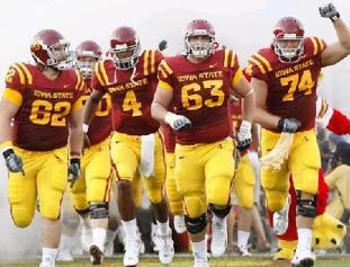 Top Three Prospects: RB DeVondrick Nealy, WR Quenton Bundrage, RB Robert Standard
Recruiting football players to Iowa State is a lot like running a nursery.
The people helping you had better know what they're doing and you all need to have the patience of a Saint.
Iowa State's offensive struggles combined with the departure of senior quarterback Austen Arnaud demanded new firepower.
That's exactly what the Cyclones brought in.
A duo of quarterbacks, running backs, tight ends and a quartet of wide receivers dot the Iowa State recruiting class.
The starters' jobs are up for grabs.
If head coach Paul Rhodes' performance as the Cyclones' head man thus far is any indication, he will squeeze the most talent he can out of his new recruits.
10. Colorado Buffaloes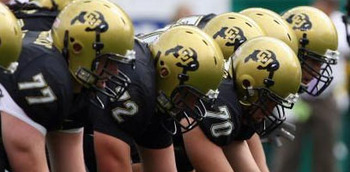 Top Three Prospects: LB Brady Daigh, OL Marc Mustoe, RB Malcolm Creer
Transitional recruiting classes are usually a mixed bag and Colorado's was no exception.
While the Buffaloes did manage to snag some solid prospects such as Daigh, Munstoe and linebacker Woodson Greer, Colorado also managed to find one of the finest diamonds in the rough.
Running back Malcolm Creer was late to the recruiting game, but once the Buffaloes saw his tape, it was full speed ahead.
Colorado offered, swept Creer off of his feet and now one of the new members of the Pac-12 have perhaps one of its most overlooked weapons.
9. Kansas State Wildcats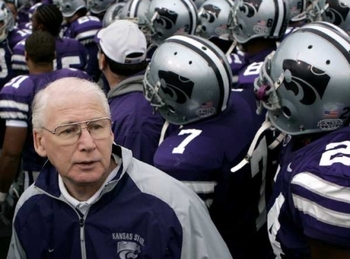 Top Three Prospects: ATH Daniel Sams, DE Hunter Davis, DE Meshak Williams
When Bill Snyder returned following the Ron Prince debacle, Wildcat fans were overjoyed.
If Prince would've coached your favorite team, you would've been, too.
The problem is that Snyder appears to have returned to his old ways of recruiting.
Surprisingly, only one of Kansas State's top three prospects are from a junior college.
Seven other junior college transfers dot the commitment list.
That means over 30 percent of this class won't get to stick around for the life of a standard scholarship.
It was definitely an interesting way to build a program in the 1980's, but one has to wonder if such a tactic will work again in this day and age.
8. Kansas Jayhawks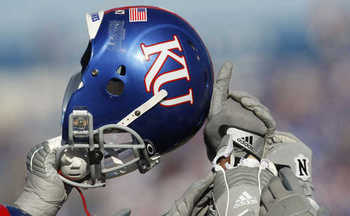 Top Three Prospects: ATH Anthony Pierson, RB Darrian Miller, QB Brock Berglund
With the difficulties that head coach Turner Gill faced during his initial year as the Kansas Jayhawks' head coach, one would think that recruiting wouldn't be any easier, right?
As a well-known ESPN commentator is known to remark, "Not so fast, my friend."
Gill took the bull by the horns and set his sights high.
It's hard to believe that following the Jayhawks' 3-9 record last season, Kansas would have corralled the kind of athletes that they did.
Anthony Pierson provides excellent size and speed at a likely defensive back spot.
Running back Darrian Miller could be just what the doctor ordered for the Jayhawks' backfield.
A littany of offensive linemen were brought in to make his life even easier.
This year's crop is a testament to Gill and his staff's ability to recruit.
7. Missouri Tigers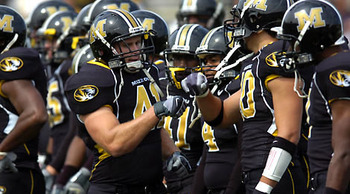 Top Three Prospects: DT Sheldon Richardson, QB Corbin Berkstresser, LB Kentrell Brothers
The Tigers' 2010-2011 recruiting class checks in about where they all usually do.
It's a batch of solid prospects that could absolutely tank or be the next big thing.
Not in the traditional sense of, "No one that follows recruiting truly knows what's going to happen" either.
Missouri's recruiting seems to always be summed up in one syllable, "Meh."
Aside from Sheldon Richardson, there aren't really any standout prospects.
Berkstresser and Brothers do show more promise than the rest of the group, but they're not slam dunks by any means.
6. Oklahoma State Cowboys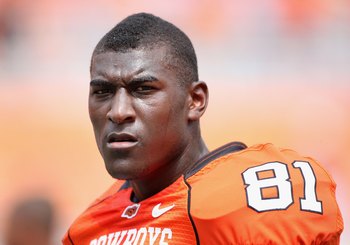 Christian Petersen/Getty Images
Top Three Prospects: RB Herschel Sims, QB J.W. Walsh, DT James Castleman
The Cowboys are similar to Missouri, but they differ in two distinct ways.
First, Oklahoma State deals in quantity. The Cowboys brought in 27 prospects for this class.
Secondly, while Missouri does have access to some quality areas in Kansas City and some areas of Texas, Oklahoma State's roots are deeper and their connections are more firm.
Most of this year's Cowboy commits are from the Lone Star State including all top three prospects.
The competition that Oklahoma State's prospects have faced puts them head and shoulders over what Missouri's prospects can claim as a whole.
5. Texas A&M Aggies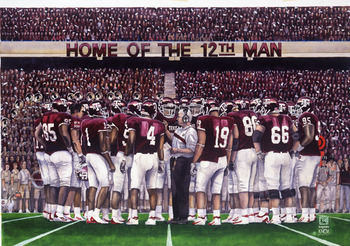 Top Three Prospects: OL Joseph Cheek, DB Howard Matthews, DB Floyd Raven
Aside from the three listed above, no prospects really stand out amongst the Aggies' class.
It was thought that A&M might be able to parlay some late-season on-the-field successes into recruiting victories, but once again the Aggies fell short.
Pickings can get slim with big brother Texas and bully Oklahoma fighting for the best in the state along with non-conference powerhouses.
If A&M wants to have a more productive class in the future, they need to be able to utilize far more talent in the way that eventual quarterback Ryan Tannehill was this past season.
If not, the Aggies will find themselves in the middle of the Big 12 rankings during both football and recruiting season's end.
4. Texas Tech Red Raiders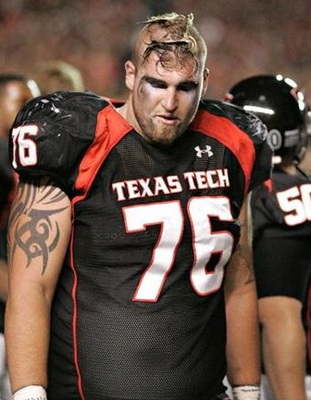 Top Three Prospects: TE Jace Amaro, WR Derek Edwards, WR Marcus Kennard
Shock and awe, Texas Tech went out and solidified commitments with some of the best wide receiver prospects in the country.
While that may not be mind-blowing, one of the finest acqusitions is defensive end Leon Mackey.
The 6'5", 260-pound mauler from Hinds Community College may be just the thing to cure some of the Red Raiders' defensive ills.
Mackey is part of an eye-popping six defensive end commitments for Texas Tech.
It's clear that head coach Tommy Tuberville isn't interested in having the Red Raiders known as "Shootout U" for much longer.
If Tuberville can continue to bring in this level of results, Tech may challenge for the Big 12 crown sooner rather than later.
3. Nebraska Cornhuskers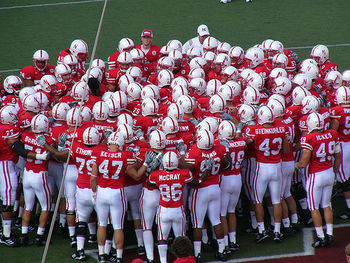 Top Three Prospects: RB Aaron Green, QB Bubba Starling, OL Tyler Moore
While the Cornhuskers' season ended with a thud, they wrapped up a recruiting class that is loaded with both talent and potential.
An entire offensive line's worth of commitments are in this year's haul, all of them highly rated.
Nebraska secured the services of Aaron Green, one of the nation's top running back prospects.
Quarterbacks Jamal Turner and dual-sport athlete Bubba Starling would make instant impacts if both end up in scarlet and cream this fall.
The Cornhuskers struck gold defensively with defensive back Charles Jackson and the National Signing Day commitment of Todd Peat, Jr.
If Nebraska can continue to build on these successes year after year, it won't be long before the Cornhuskers represent the Big Ten in a BCS bowl.
2. Oklahoma Sooners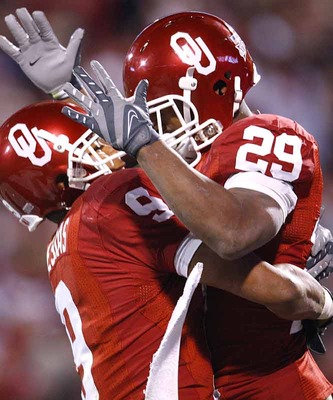 Top Three Prospects: WR Trey Metoyer, RB Brandon Williams, DT Jordan Phillips
The Sooners certainly haven't had any issues in the past several years when it comes to recruiting.
Securing two of the top prospects at their position, wide receiver Trey Metoyer and running back Brandon Williams, shows that the Oklahoma name still carries weight in the Longhorn State.
The Sooners kept this class balanced with no specific emphasis.
Oklahoma continues to funnel young talent that will likely see the field next season into the offense and slide immensely gifted prospects into the defense.
There doesn't seem to be a "Travis Lewis" in this class that stands out immediately, but that's not to say that there might not be a surprise.
1. Texas Longhorns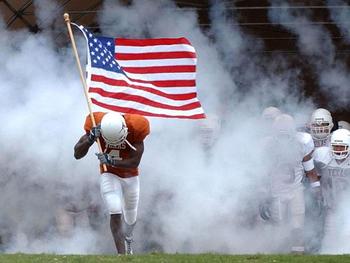 Top Three Prospects: RB Malcolm Brown, LB Steve Edmond, DB Quandre Diggs
Did you really think that a 5-7 season would deter Texas from taking home yet another Big 12 recruiting trophy?
The Longhorns secured one of the finest running back prospects in the nation in Malcolm Brown.
Many thought that another amazing prospect would follow him in Aaron Green, but Green joined his brother Andrew at Nebraska.
Texas went heavy after defensive prospects in this class signing four defensive backs, three defensive linemen and three linebackers.
They also signed a full offensive line's compliment of prospects.
Finally, if you were a fan of Jordan Shipley, his brother Jaxon will be playing wide receiver for the Longhorns.
Same song, different verse.
Texas takes home the recruiting title, but what can they do with all of this talent and a new staff?
Football news, reviews and much more awaits! Follow Brandon on Twitter (@eightlaces) for the all the latest and other general football goodness.
Keep Reading