National Signing Day 2011: Tracking Where The Top 100 Recruits Sign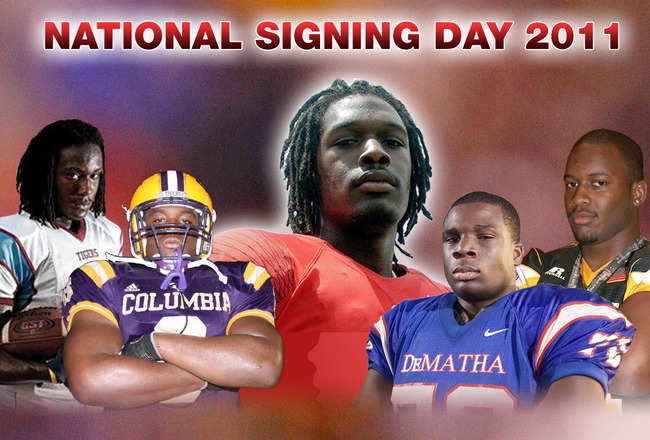 Here we go. National Signing Day is here and the clock is ticking on the top prospects in the country to make their college decisions. Some have already made their intentions public while others are playing it close to the vest.
With a slew of scheduled announcements to be made on NSD, make sure to keep checking here for updates on players and where they are headed as the day unfolds.
Let's run down the nation's top 100 players and tell you where they are headed next fall.
100. Viliami Moala, DT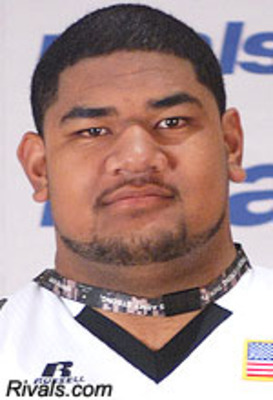 Moala is a 6'2", 330 pound space eater who is headed to Berkeley to swallow Pac-12 running games. He can play the one technique or nose tackle, clog the middle and push the pocket from the interior.
He should be a monster as the big man is also a solid athlete and plays with a relentless motor.
Update: Signed with California
Jeff Tedford gets a space eater in Berkley.
99. Charles Jackson, DB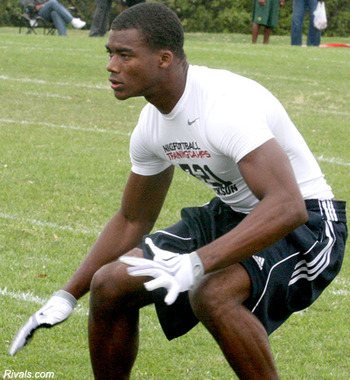 Jackson is talented defensive back who will look to become the next Prince Amukamara at Nebraska. He's a Texan who will be joined by running back Aaron Green as another talented player form the state of Texas joining Big Red.
Jackson can jam and re-route at the line and carry receivers deep or play well in off-man coverage.
Update: Signed with Nebraska.
Officially is a Cornhusker.
98. Kasen Williams, WR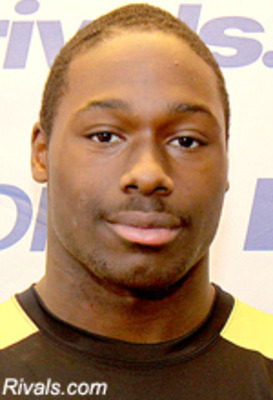 A 6'2", 200-pound perimeter terror for an offense, Williams is the biggest U-Dub receiver commit since Craig Chambers and could put up Reggie Williams-like stats in Seattle.
He can use his size and strength to out-will defensive backs for the ball, he high points well and really knows how to get in and out of his breaks quickly for a bigger receiver.
Update: Signed with Washington
Williams joins fellow Washington native Austin Seferian-Jenkins to form a solid receiver/tight end duo.
97. Gerod Holliman, DB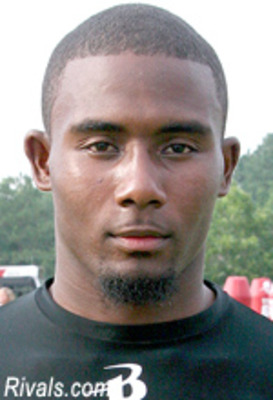 Holliman is a talented defense back who can play both safety spots and some corner. He has very good range to roam and make plays and solid instincts to read combo routes and not be looked off by quarterbacks.
He can also be deployed in the slot to cover receivers and he is not afraid to stick his nose in the box and throw his body around in the run game.
Update: Signed With Louisville
Holliman was originally committed to Ole Miss, but his commitment to Louisville led to the dotted line.
96. Trey DePriest, LB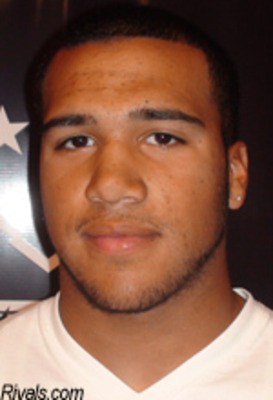 A coverage linebacker, DePriest is a rare secondary defender from the prep ranks who excels at the junction point.
He has great hips and movement skills vs. the pass and is instinctive to make picks underneath in coverage. The 6'2", 230 pounder also has speed and range to track the run sideline to sideline.
Update: Signed with Alabama
DePriest will excel in Tuscaloosa.
95. Demetrious Nicholson, CB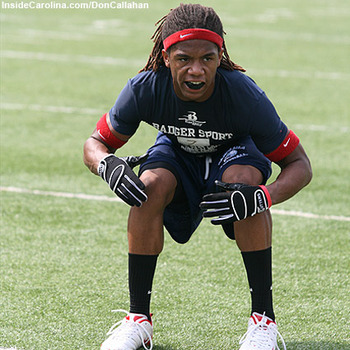 Nicholson is among the quickest defensive backs in the country. His short area burst and quickness allows the 5'11", 170-pound corner to match up with any receiver.
He's very good in transition and coming out of his backpedal. Nicholson has 4.43 speed and plays bigger than his listed frame. He is very fast and rarely circles too close.
Update: Signed with Virginia
Impressed with Mike London's charisma.
94. Ben Councell, DE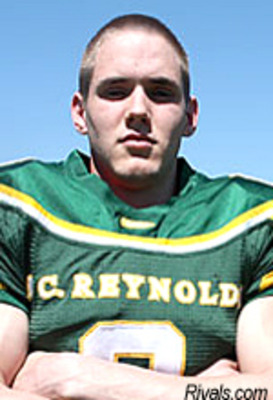 Councell is a 6'5", 225-pound defensive prospect from North Carolina. He's rusher who just keeps coming and coming to impose his will on you. He possesses a great motor and is very good against the run. He's athletic enough to make the transition to stand-up outside linebacker in ND's 3-4 scheme, but could also play designated rusher in the Irish's sub packages.
Update: Signed with Notre Dame
Councell will turn Notre Dame's incoming trio of defensive ends a quartet.
93. Christian Heyward, DT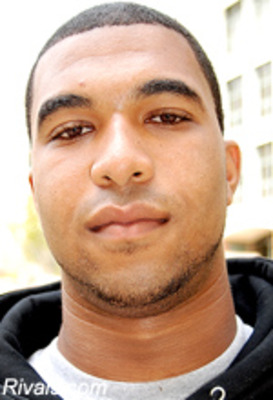 Heyward is an athletic tackle that uses his light, 275-pound frame to his advantage. He doesn't stay blocked long and has speed to chase down players in a short area. Heyward has long arms and stands 6'2", so he can keep himself clean well. He can penetrate gaps and finish out on quarterbacks.
Update: Signed with USC
USC gets a top notch DT for depth.
92. Greg Robinson, OL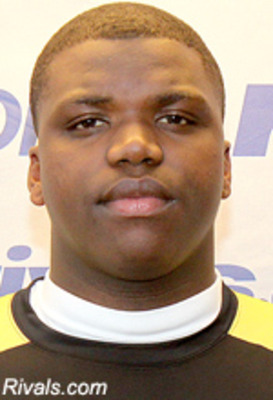 Bound to block for the champs, the 6'4", 300-pound Robinson is versatile enough to play tackle or guard. He is a great drive blocker in the run game, moving defenders off their marks, yet he also can pull and trap well. Robinson is a solid athlete and can make blocks in space. He also can mirror and slide as a protector very well.
Update: Signed with Auburn
Now the question becomes whether or not Cyrus Kouandjio will be joining him in the trenches.
91. Amir Carlisle, RB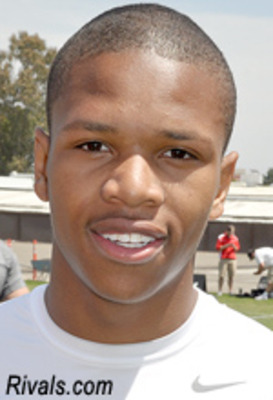 Carlisle recently switched to USC over Stanford on a recruiting trip to Los Angeles. He can play running back or slot receiver and will give the Trojans backfield another home run threat. He's extremely quick and shifty and he is a matchup problem for linebackers out of the backfield.
Update: Signed with USC
Carlisle was originally committed to Stanford, but now that's he's officially a Trojan, that bridge is burned for good.
90. J.W. Walsh, QB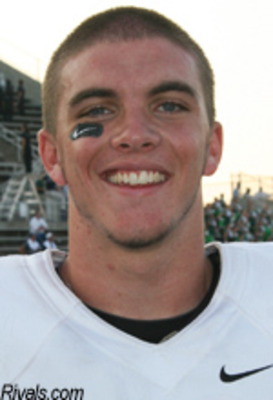 Walsh is a dual threat QB who can throw for 300 yards one week and rush for 150 the next week. Anything you ask him to do, the 6'2", 190-pound signal caller can do it. He's got legit 4.4 speed and surely some trick plays will be in store for him at Oklahoma State.
Update: Signed With Oklahoma State
There were some rumblings during the All-American game that Walsh and fellow commit Herschel Sims were unhappy with some coaching changes, but the Cowboys can rest assured now.
89. Christian French, TE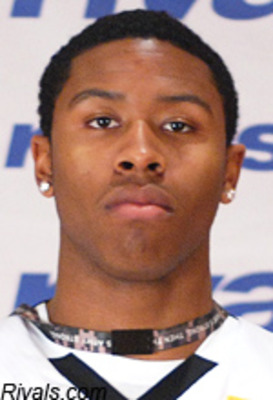 French is a 6'6", 230-pound tight end from the state of Iowa. He's big and long and has a large strike zone to pluck balls out of the air and away form his frame. He can get up the seams with solid speed, yet he's very aware to work voids underneath to be quarterback friendly. He also can be used on jump balls and fade routes in the red zone.
Update: Signed with Oregon
Oregon's super-athletic class just got a little more athletic.
88. Christian LeMay, QB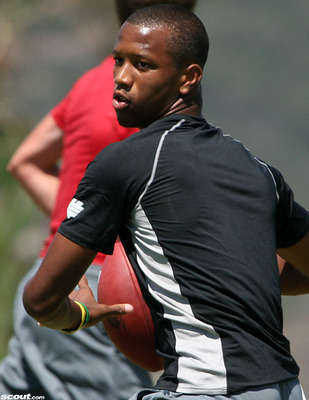 LeMay will get a chance to learn from Aaron Murray in Athens for a few years before he takes the reins. He's got solid arm strength and accuracy at 6'2" and 200 pounds. He's a great leader and an extended coach on field. LeMay leads his huddle and knows how to be poised and clutch in crucial situations.
Update: Signed with Georgia
The Dream Team locked up it's top-flight signal-caller.
87. Kiehl Frazier, QB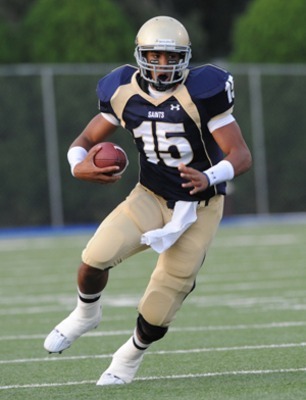 Frazier is from the same area of Springdale, Arkansas where current Tiger OC Gus Malzahn once coached. Malzahn's offense is heavily used in the area which is why many feel Frazier should have a seamless transition to Auburn's offense. He's a great leader, has great arm strength and can also make big plays with his legs.
Update: Signed with Auburn
From the moment he committed in the summer, Frazier was probably Auburn's lead recruiter.
86. Ben Koyack, TE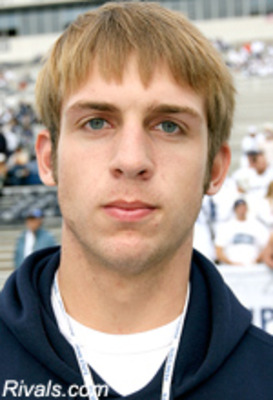 Koyack is the typical Pennsylvania prep football player—big, tough, strong and gritty. Headed to South Bend, the 6'5", 230 pounder will look to be the next Kyle Rudolph for the Irish. Koyack can excel as a dynamic force in the passing game, using his size and length while also working very hard as blocker in the run game.
Update: Signed with Notre Dame
Koyack was one of Notre Dame's first commitments and made it official today.
85. Justice Hayes, RB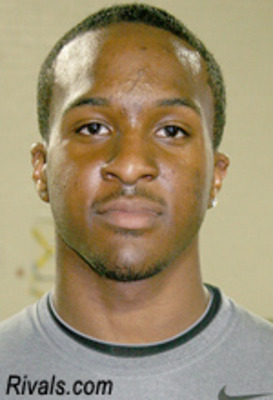 Hayes displayed true maturity and love for Big Blue when Rich Rodriguez was fired by stating that, no matter what, he was sticking with Michigan. The 5'10", 175 pound running back is among the quickest in the country and will take the rock to the house many times in the Big House.
Update: Signed with Michigan
After originally committing to Notre Dame, Hayes stuck with Michigan through thick and thin.
84. Charone Peake, WR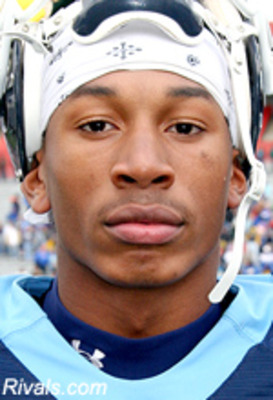 Peake is a tall-and-long receiver who stands 6'3" and weighs 200 pounds. He eats up cushion quickly by taking long strides and he is a very smooth athlete with solid pluck ability. He knows how to use his size to shield away smaller defenders from the ball. He's a sheer play maker and will team with 5-star receiver Sammy Watkins as a dynamic duo at Clemson.
Update: Signed with Clemson
He and 5-star receiver Sammy Watkins form the top receiver duo in the nation.
83. DeAnthony Arnett, WR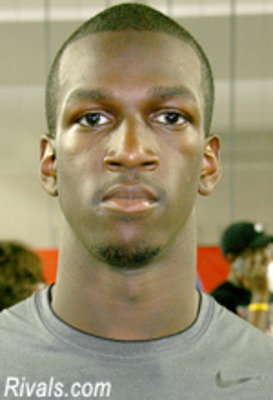 Arnett has great hands and high points the ball extremely well. He's extremely athletic, evidenced by his great adjust-ability and his long arms give him a large catch radius. He can pluck balls away from his frame and then use his speed to make plays deep or as a RAC type of receiver.
Update: Signed with Tennessee
Can do Dante Stallworth-type things for Rocky Top.
82. Delvon Simmons, DT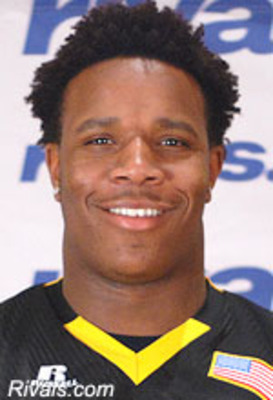 Simmons is a similar player to Christain Heyward, yet he may be a big stronger at this point. He's 6'5" and 265 pounds with solid athleticism in the trenches. He plays with a great motor and always looks to make plays up and down the line.
Update: Signed with North Carolina
Butch Davis gets his next Marvin Austin in Simmons.
81. Reese Dismukes, OL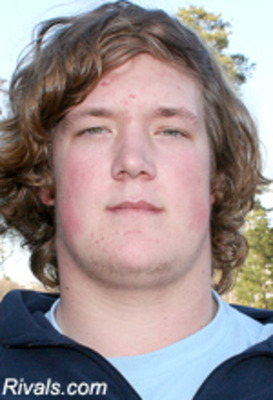 At 6'4" and around 290 pounds, Dismukes can play center, guard or tackle. He's tough and nasty along the trenches and is a solid run blocker. He fires out of his stance and looks to finish very well. He plays with solid knee bend and uses great technique and hand placement against pass rushers. Dismukes could see time early at Auburn.
Update: Signed with Auburn
Dismukes made his long-time commitment official on Signing Day.
80. Tre Madden, LB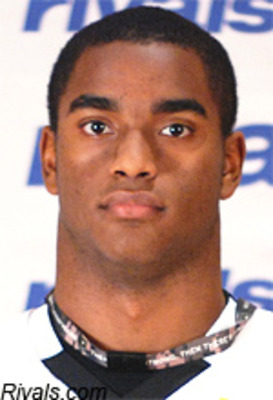 Madden is an underrated linebacker who will likely play the SAM or WILL at USC. He can really cover running backs well out of the backfield and has the hips to adjust, turn and run at the junction point. Madden has solid lateral movement and plays with great range. He scrapes well and uses his speed to outrun oncoming traffic in pursuit.
Update: Signed with USC
Madden was a Trojan all the way, it's just official now.
79. Bobby Hart, OL
Hart has very nimble, light and quick feet for a big man who stands 6'4" and weighs nearly 300 pounds. He's very quick laterally and can slide and mirror as well as any offensive lineman in the country. He adjusts with ease and can recover versus any movement a pass rusher gives him.
Update: Signed with Florida State
There was some drama with a twitter scare, but it's official. Hart is a 'Nole.
78. Max Wittek, QB
Wittek is one of two top-notch USC QB commits. He stands 6'4" and weighs 215 pounds and has a rifle for an arm. He comes form the same school as Matt Leinart and Matt Barkley and will look to continue the lineage of Mater Dei-to-USC starting quarterbacks. Wittek is a bit of gunslinger and his accuracy is improving.
Update: Signed with USC
Wittek is one of two 4-star quarterbacks signed by the Trojans along with Cody Kessler.
77. Marvin Shinn, WR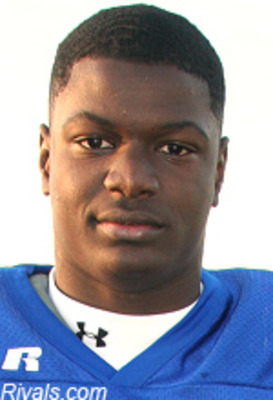 Marvelous Marvin is a big time receiver with big time length. At 6'3" and with a long wing span, Shinn can easily snatch balls in the air and away from his frame. He's got solid speed and the leaping ability to use his size to his advantage. He needs to add some weight and strength so he won't be pushed by physical defensive backs, but he has a world of potential to be an All-SEC receiver.
Update: Signed with Alabama
WIth Julio Jones off to the NFL, Shinn should fill the gap well.
76. Antonio Richardson, OL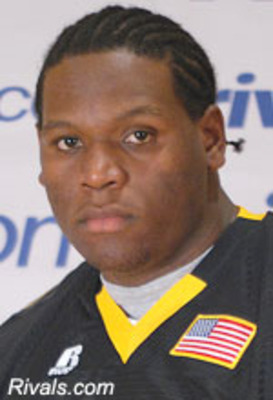 Richardson is a big, 6'6", 310-pound tackle prospect who looks like a future all-conference right tackle wherever he goes. He's a mauler in the run game and he is great in a short area or phone booth. He's just athletic enough to get to the second level on linebackers and make blocks in space. He mirrors well as a pass protector and he has great grab-strength.
Update: Signed with Tennessee
Richardson chose to stay home and help protect Tyler Bray in Knoxville over Auburn, UGA and Miami. He can play both tackle and guard spots.
75. Jacoby Brisset, QB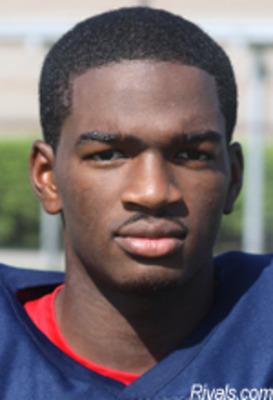 Commit: Undecided
Considering: Wisconsin, Washington and Miami
Brisset was thought to be a Florida State lock, but the Seminoles are just about out of it for the 6'5", 225 pound QB. It seems he wants to play football and basketball in college. Brissett is a very athletic signal caller with great arm strength and solid accuracy from the pocket. He can also make throws on the run and plays with his legs.
74. Herschel Sims, RB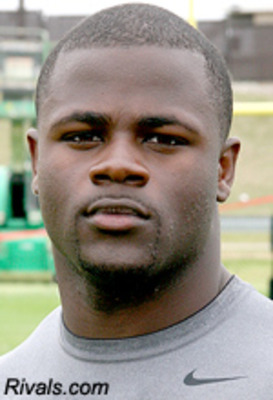 Sims is a 5'10", 190-pound running back with home run and every-down ability. He has deceptive run strength and power to push piles while also having the speed to turn the corner. Once he gets up field, he can outrun defenders to pay-dirt. Sims can also factor as a receiver out of the backfield and will be dynamic as a Cowboy.
Update: Signed with Oklahoma State
For awhile there it looked like Sims was bound to de-commit, but TCU didn't steal him away and the Cowboys kept their top two recruits in place.
73. Mathew Hegarty, OL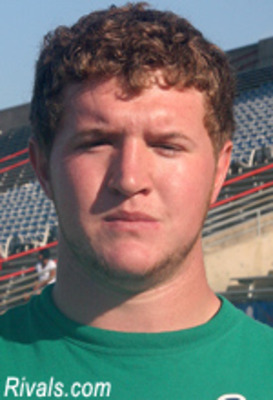 Hegarty is a 6'5", 270-pound lineman headed to play at Notre Dame. He looks like he could grow into a solid tackle in time due to his natural knee bend and refusal to bend at the waist. Even at 6'5", Hegarty plays with a good pad level and sound leverage. He uses his nimble feet slide and mirrors well in space as a pass protector.
Update: Signed with Notre Dame
Another Golden Domer all the way, Hegarty made it official on Signing Day.
72. Cody Kessler, QB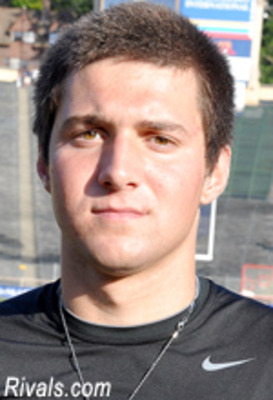 Kessler is the second of the Trojans' incoming QB duo. It's a debate as to if Wittek should be here or Kessler but only time will tell. At 6'1" and 210 pounds, Kessler is a very consistent player. He has solid arm strength, accuracy and athleticism. He makes sound decisions and commands a huddle.
Update: Signed with USC
With Kessler and Max Wittek both under wraps, it'll be interesting to see how this places out for the Trojans.
71. Brett Hundley, QB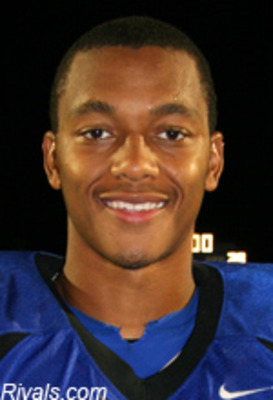 Hundley, a 6'4", 210 pound QB, will headline the Bruins' recruiting class this year. He is a huge get and could force some transfers. Mike Johnson is rumored to have been hired as the new OC in Westwood, and Rick Neuheisel will take on an increased role coaching QBs and running the offensive attack. Sticking with the pistol, UCLA will look to take advantage of Hundley's athletic ability and arm strength.
Update: Signed with UCLA
Hundley is one of the few bright spots in an otherwise dreary class for the Bruins.
70. Kenny Hayes, DE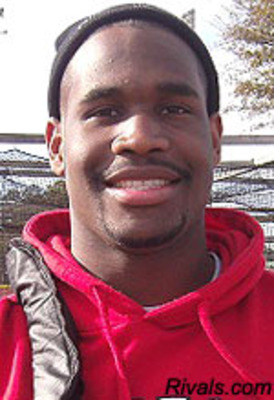 Hayes is part of an incoming defensive end class for the Buckeyes that rivals the trio headed to Notre Dame. At 6'5" and 245 pounds, Hayes is a solid athlete who can play the run and pass. He's a solid rusher with a good burst at the snap and strength to anchor against the run.
Update: Signed with Ohio State
Hayes joins 5-star DE Steve Miller to form one of the best tandems in the class.
69. Tyler Moore, OT
A big, nasty blocker, Moore is 6'6" and 300 pounds. He could be a great right tackle or kick inside to guard. Moore looks to not only finish but punish defenders in the run game and can move stouter linemen off their mark in the trenches. He uses a quick grab as a pass protector and moves well when engaged.
Update: Signed with Nebraska
Moore signed with Nebraska as expected; no surprise from the long-time commitment.
68. Anthony Zettel, DE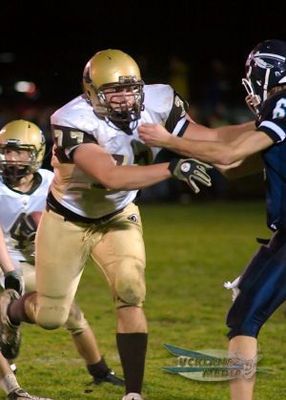 Zettel defines the scouting term "relentless motor". He works every snap and just keeps coming and coming and coming. He plays with great energy and effort and hustles to make plays. He can chase down from the backside, play stout on the strongside and still get upfield as a rusher.
Update: Signed with Penn State
Considering how few weapons Penn State is brining in, Zettel will be counted on for a lot next season.
67. Brandon Shell, OL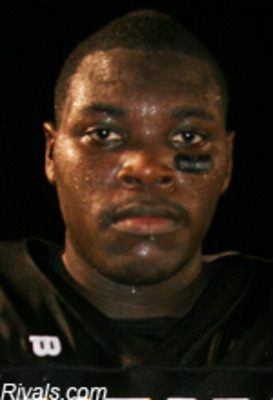 Shell will be an All-SEC left tackle. He's that good. He stands at 6'7" and 290 pounds, which should be about 310 when he leaves college. He's a great athlete with great feet, balance, agility and adjust-ability. He slides to protect and re-directs well to recover in space vs. quick and athletic pass rushers. Shell is a natural knee bender.
Update: Signed with South Carolina
Having a top-tier offensive tackle to block for Marcus Lattimore next season should do wonders for the Gamecocks ground game.
66. Erique Florence, DB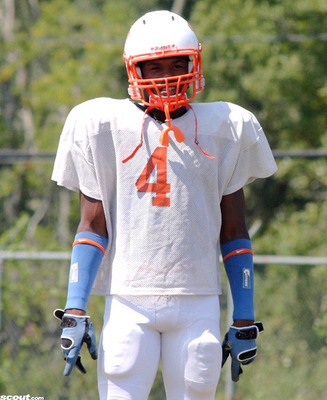 Florence is a 6'2" 185 pound free safety prospect from Valley (AL) with supreme instincts, range and ball skills. He can cover man-on-man a little bit so he brings versatility to a secondary. He can cover the deep third by himself or split and use his speed and athleticism to get off hashes in Cover-2.
Update: Signed with Auburn
It came down to staying home with the Tigers over heading to Hollywood for USC for Florence, who was the first NSD announcement of the day.
65. Jaxon Shipley, WR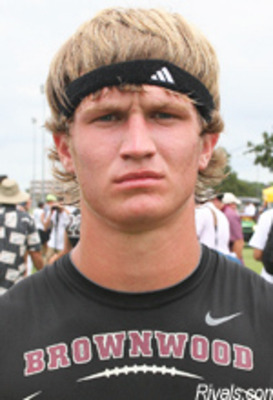 Shipley simply is a younger version of his older brother and former Longhorns receiver, Jordan Shipley. He knows how to get open, work voids underneath and is very QB friendly. He has very good release quickness and knows how to get out of his breaks in underneath routes. Shipley has sound hands and is a reliable option.
Update: Signed with Texas
Shipley was a Longhorn since before they even began recruiting him.
64. Kenny Hilliard, RB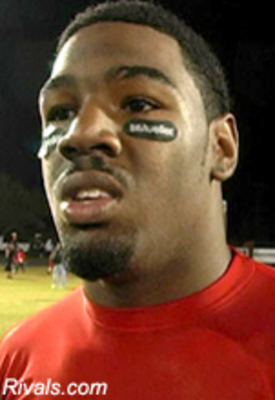 Hilliard is a big running back with smaller back skills. He's not just a bruising straight liner, as the 6'0", 220 pounder has some wiggle to his style. He's very strong to push piles and he can gain yards after contact. He's quick out of his stance, opens his basket and uses his vision to set up blocks on the field vs. a defensive front seven.
Update: Signed with LSU
There were some academic issues, but they're in the rearview now and Hilliard is officially a Tiger.
63. Aundrey Walker, OL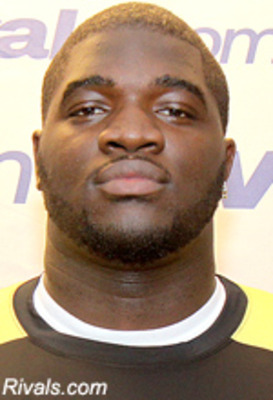 Walker is a 6'5", 355-pound offensive guard who may be the best pure, sure-fire guard prospect in the country. He dominates one-on-one in the run game and is athletic enough to combo block, get to the second level and pull a trap. He's a solid pass protector in a phone booth and once he gets his hands on a rusher, it's over.
Update: Signed with USC
This is a shocker. We were sure that Walker would continue the Glenville tradition and head to Ohio State, but credit USC for this one. Walker should dominate defensive linemen in the Pac-12.
62. Eric MacLain, TE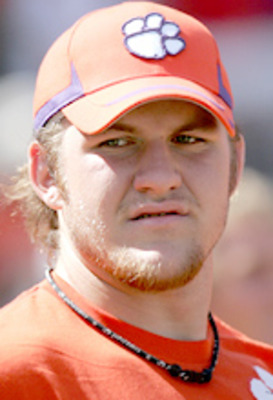 MacLain is a clone of Saints tight end Jeremy Shockey, he even resembles him. Rough and rugged, the 6'5", 245 pound tight end factors in the run and pass. He gets after it as a blocker, working to seal edges and pin defensive ends and 'backers. He also can be flexed as a receiver and has soft hands and uses his size to high point balls.
Update: Signed with Clemson
With one of the best groups of offensive playmakers surrounding him, MacLain should find himself one of the lest defended tight ends in the ACC in a couple of years.
61. Kelvin Benjamin, WR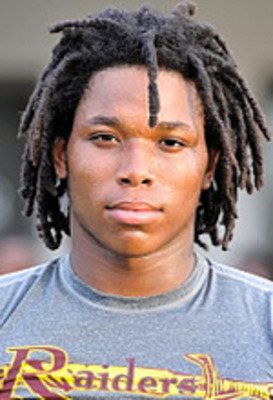 Benjamin stands 6'6" and weighs 210 pounds. He has great speed and can kill a defense on all three levels. A red zone matchup nightmare, he can high point balls and win jumpers in the end zone with his size and great leaping ability. Benjamin also has long arms to increase his strike zone and snatch balls away from his frame.
Update: Signed with Florida State
Benjamin gives the Noles a another tall and physical receiver who can stretch the field.
60. Aaron Green, RB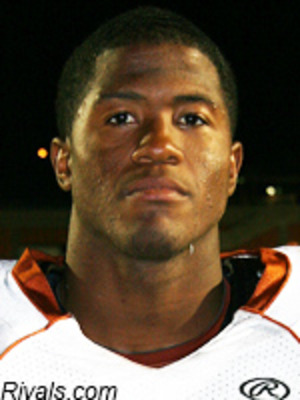 Green chose to leave the Lone Star State for college and head north for Nebraska. He's a 5''10", 190-pound running back with excellent speed, quickness and jump-cut ability. He can pick and slide well to holes and has a burst to skate to the second level. Green is fantastic in space and one of the most elusive backs in the country, yet he does have good strength.
Update: Signed with Nebraksa
Green has the chance to immediately contribute for the Cornhuskers and has the talent to possibly be the best back from the 2011 class.
59. A.C. Leonard, TE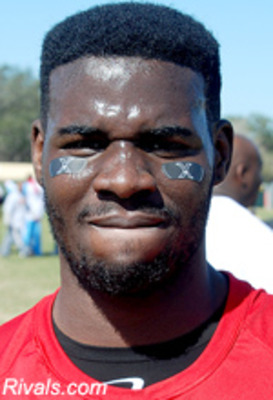 Leonard is almost a clone of former Gators tight end Aaron Hernandez. At 6'2" and 235 pounds, he can ply the move position, H-Back and some fullback while still factoring as a receiver in the passing game. He's athletic for a tight end and gets out of his breaks quickly. He has great hands and works as a blocker.
Update: Signed with Florida
Leonard wavered a bit, but on Signing Day he stuck with the Gators.
58. Lawrence Thomas, LB
Thomas is the headliner of Mark Dantonio's 2011 recruiting class and rightfully so. The 6'4", 240 pounder can play linebacker, defensive end, tight end, fullback and running back. He's a strong player who explodes at the point of attack at any position he plays. He has soft hands and speed to make plays with the ball and is an instinctive defender.
Update: Signed with Michigan State
Thomas was one of the Spartans first commitments, coming onboard before the team's stellar season. The next Greg Jones anyone?
57. Savon Huggins, RB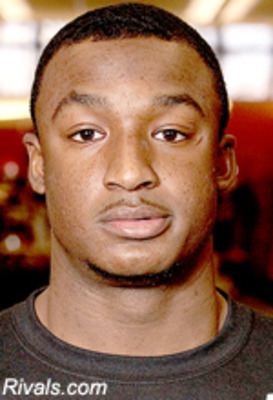 Huggins chose to stay home and play football in Piscataway over the likes of Notre Dame, North Carolina and Michigan State. He will likely see early time for the Scarlet Knights, as the 6'0", 190-pound running back has speed, strength and vision which will allow him to be a three-down rock-toter in college. He has a good burst and factors as a receiver.
Update: Signed with Rutgers
Huggins didn't even commit until Jan. 28. Considering the smarts this kid has we never expected him to change his mind by Signing Day.
56. Jay Rome, TE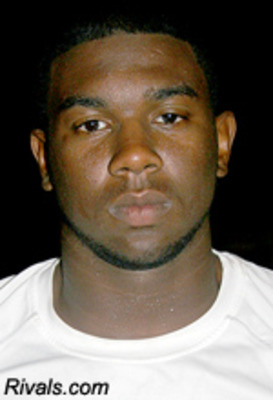 Rome is a Dream Team member and finally committed to the Bulldogs over a week ago. He's a superb tight end and stands 6'6" and weighs 255 pounds. He has very long arms and a large catch radius. Rome's speed allows him to hustle up seams, beat linebackers and jump on top of safeties. He's still developing as a blocker, but once he gains strength, he will be a complete tight end in Athens.
Update: Signed with Georgia
Another of the Bulldogs' in-state prizes, Rome was Georgia all the way since his December visit.
55. James Vaughters, LB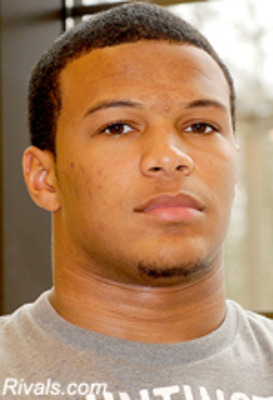 Vaughters is a solid, thick-cut linebacker from the Peach State, headed to The Farm. He's very physical and stout against the run and looks to fill holes aggressively. Vaughters challenges ball carriers at the point of attack and has solid range.
Update: Signed with Stanford
Vaughters has long been the top defensive recruit for a Cardinal class that more and more looks like quantity over quality.
54. Desmond Jackson, DT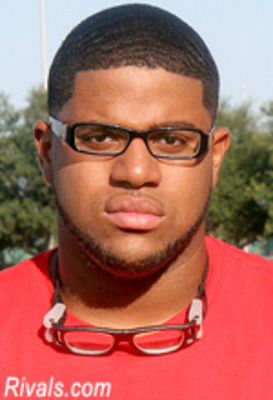 Jackson is among the quickest defensive linemen at the snap in the nation. He's 6'1" and 280 pounds, and has the makings of a great gap-penetrating tackle.
He gets up field in a hurry, plays with good leverge and doesn't stay blocked for long. He routinely played on the other side of the line of scrimmage in the UA game against some talented offensive linemen.
Update: Signed with Texas.
Jackson was part of the Feb. 2010 rush of in-state stars. All of them were Longhorns from day one.
53. Jace Amaro, TE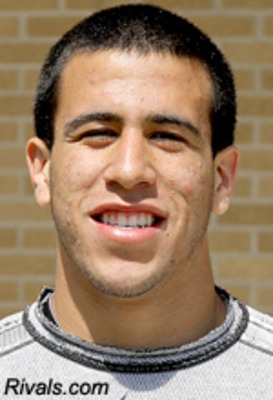 Amaro is an athletic, 6'5", 240 pound tight end. He's at his best as a pass catcher, in-line and flexed out. He has soft hands, runs great routes and can catch well in a crowd. Amaro has speed to stretch the field and awareness to work voids in zone coverages.
Update: Signed with Texas Tech
Amaro should be perfect for the Red Raiders offensive system.
52. LaDarius Brown, WR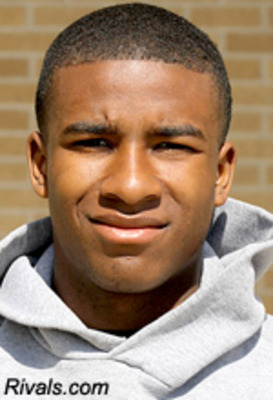 Brown switched from Oklahoma to TCU as he will be a big time star in Ft. Worth. At 6'2" and 190 pounds, Brown has speed, hands, size and play-making ability on the edges.
He runs solid routes and catches everything. His long frame allows him to increase his strike zone and he also has good leaping ability to high point balls.
Update: Signed with TCU
The best player of the Horned Frogs' 2011 class, Brown is a very underrated talent.
51. Jordan Phillips, DT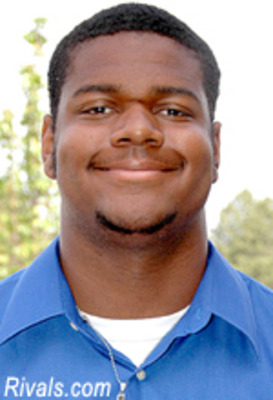 Phillips is super athletic and he's 6'6" and 290 pounds. The big defensive tackle could play strong side end if he chooses, but will likely grow into a dominant tackle in college.
He's quick at the snap and and can overpower a line. He's athletic enough that some say he could play tight end in college, as he does possess very soft hands and shocking RAC ability for such a big player.
Update: Signed with Oklahoma
Phillips could play anywhere along the defenive line or even switch to tight end. Now that's a Sooner.
50. Nickolas Brassell, WR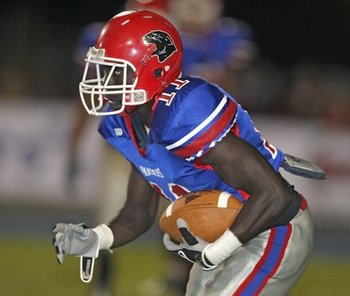 Brassell is a receiver out of South Panola high school in Mississippi. He's 6'0", 175 pounds and a sheer play-maker. He is also a great return man and will surely impact the special teams phase of his college team. Ole Miss is the favorite, yet Alabama has come on strong as of late.
Update: Signed with Ole Miss.
Brassell, Singleon and Moncrief will be scary.
49. Quandre Diggs, CB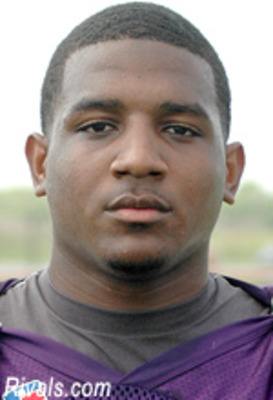 Diggs is headed to Austin to play cornerback for new Texas DC Manny Diaz. He's 5'10", 190 pounds and has great hips, instincts and mirror-ability on the perimeter.
His athletic ability, quickness and recovery speed should allow the new Longhorns defensive scheme to employ multiple coverages.
Updated: Signed with Texas
With Diggs, Leroy Scott and Josh Turner the Longhorns have the best group of cornerbacks in the nation.
48. Xzavier Dickson, DE/LB/TE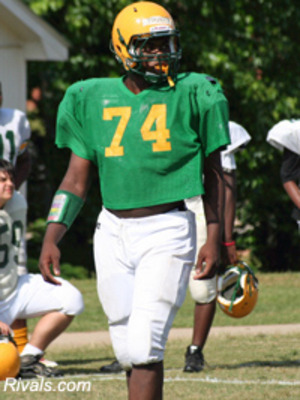 Dickson could easily develop into a great H-Back or move to tight end—he could also be a stand-up outside linebacker or a weak-side defensive end. He's 6'3" and 240 pounds, with great speed, athleticism and instincts.
The Tide will give him his first crack at the JACK stand-up rusher spot and put him in a traditional hand-down position in sub packages.
Update: Signed with Alabama
Dickson might be most versatile player in a stellar Tide class.
47. Damian Swann, ATH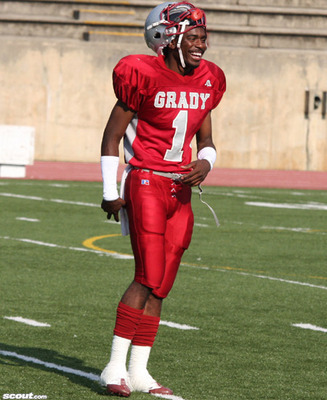 There was some speculation as to if Swann would remain committed to UGA after announcing his pledge during the Army All-American game; yet it looks like he indeed will stay a Dawg.
Swann could as easily end up at receiver as he could defensive back, as the 6'0", 175-pounder is special with the ball in his hands. No matter where he ends up, his elite athletic talent will let him become a star in Athens.
Update: Signed with Georgia
Swann was considered a wavering prospect, but he stuck it out with the Dawgs on Signing Day.
46. Greg Townsend, DE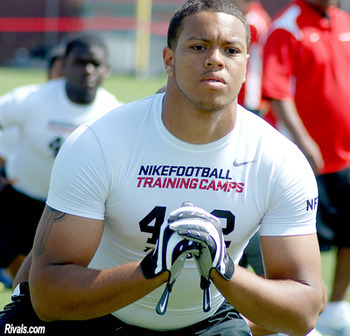 Townsend chose USC over TCU earlier this month, and the Beverley Hills (CA) defensive end product will stay home to hunt Pac-12 quarterbacks. Many felt he was just a product of playing against inferior competition, but the 6'4", 245-pounder revved up his motor and overall game to impress all week during the Under Armour game practices.
Update: Signed with USC
Townsend made the Trojans sweat it out and waited awhile to get his letter in, but sure enough it arrived.
45. Lawson Dawson, LB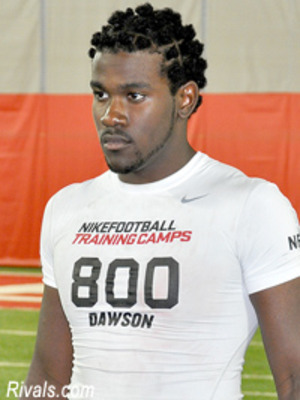 Dawson is a big linebacker at 6'2" and 230 pounds who looks to be a rare future SAM-type linebacker. The strong-side 'backer spot is hard to project and find, and this makes Dawson a hot product on the trail. He's big enough to jam tight ends on the line of scrimmage, shed blocks and play the run. He also is athletic enough to mirror and carry tight ends underneath and up the seams.
Update: Signed with USC
USC gets a huge boost in luring Dawson out of Kentucky. He will play the SAM spot in Monte Kiffin's defense in Los Angeles.
44. Anthony Chickillo, DE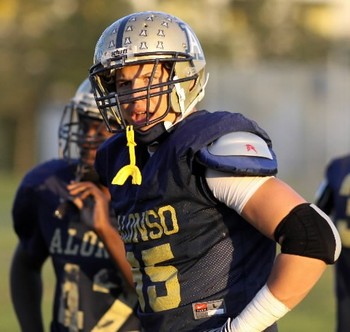 So far, Al Golden's biggest recruiting coup has been keeping Chickillo committed to play in Coral Gables. Florida and Florida State were rumored potential destinations for Chickillo as he waited for The U to hire a new coach. But the 6'3", 230-pound defensive end has decided to remain a Cane and surely made Miami proud with a great Under Armour game.
Update: Signed with Miami
Miami might not have it's usual pedigree of recruiting classes, but between Chickillo and Jalen Grimble The U has a deadly pair of ends.
43. Odell Beckham Jr., WR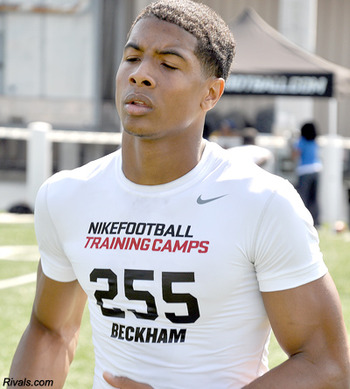 Beckham is a 5'10", 170-pound player who defines the term "RAC receiver." You just have to get him the ball any way you can and let him do his thing on the field.
Smoke screens, wildcat, slants and reverses are all great ways. He's great in space and uses his agility, quickness, speed and instincts to make plays.
Update: Signed with LSU
Jarvis Landry and Beckham will be magical in the Bayou.
42. Jeoffrey Pagan, DE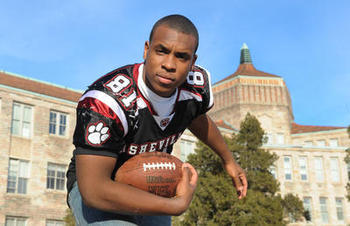 Pagan tore his ACL early in his senior season but has remained a prime recruit all year. The 6'4", 275-pound defensive lineman can play tackle or end. He committed to Clemson earlier this month, but shortly after, Pagan de-committed from the Tigers and is looking at Alabama and Georgia. Georgia seems to be the favorite at the moment.
Update: Signed with Alabama
In a mild upset, Pagan chose the Crimson Tide over Georgia. Many felt the former Clemson pledge was bound for Athens, but 'Bama adds another elite talent to its stellar class.
41. Michael Benett, OL/DT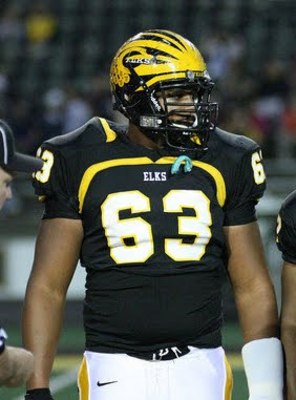 Bennett played in the defensive trenches primarily in high school in Ohio, yet Jim Tressel envisions him as a center/guard on the offensive front as a Buckeye.
Bennett has good strength, short-area quickness and agility to excel on either front. He fires out of his stance and gets after it every snap.
Update: Signed with Ohio State
Bennett was a longtime Ohio State commitment, there was never a doubt he'd be a Buckeye on Signing Day.
40. Mike Blakely, RB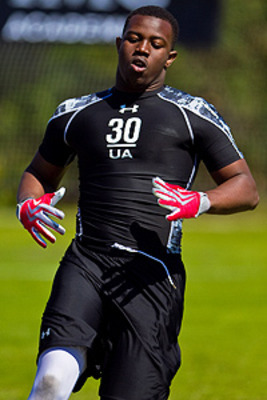 Blakely is bound for Gainesville as the 5'9", 195-pounder will be a Gator. He's not the biggest or strongest in the backfield, but Blakely makes up for it with great speed, quickness, burst and vision. He jumps on top of linebackers in alleys and skates to the second level with ease.
A decisive runner, Blakely also can factor as a receiver and returner.
Update: Signed with Florida
When Urban Meyer bailed, some recruits wavered and some stayed strong. Blakley is in the second group.
39. Austin Seferian-Jenkins, TE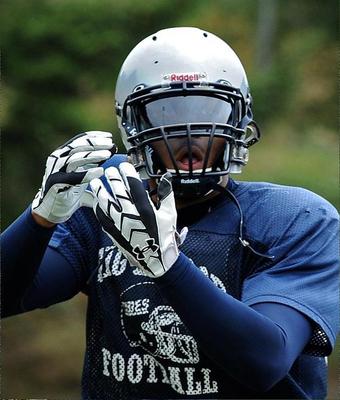 Seferian-Jenkins is a 6'7", 250-pound tight end who will likely develop into a complete tight end in Seattle for UW. He has the size and athleticism to impact the passing game with his speed and large strike zone. Seferian-Jenkisn also has the size and girth to develop into a sound blocker in the running game. He likely will become what former Husky receiver Jeremy Stevens should have become, minus the off-the-field problems.
Update: Signed with Washington
Seferian-Jenkins and Kasen Williams should be a fun duo to watch for the Huskies.
38. Brent Calloway, RB/LB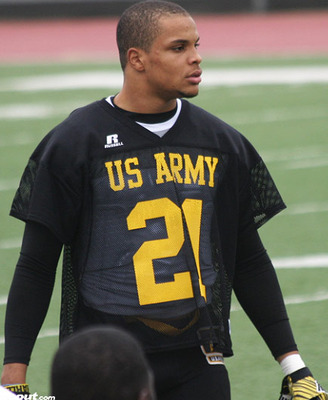 Calloway de-committed from Alabama in exchange for Auburn at the start of this year, citing reasons of wanting to play running back instead of linebacker. Auburn will allow him to tote the rock for the Tigers, and Calloway will get his shot to prove he's a runner and not tackler. The 6'1", 210-pound Calloway is still looked at as a better linebacker prospect at this point, though. Though he is currently solid to Auburn, Calloway did take a last minute trip to Tuscaloosa. He's been feeling local pressure to re-commit to Alabama and could do so on NSD.
Update: Signed with Alabama
The pressure got to Calloway and he switched back to Alabama. What position he plays is still left to be seen, but look for him to be an outside linebacker in Tuscaloosa.
37. Marcus Roberson, DB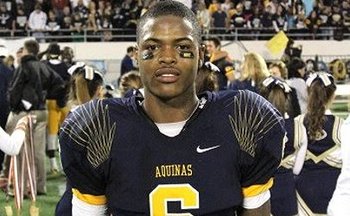 Roberson is the nephew of Texas Tech cornerbacks coach Otis Mounds, which certainly was a factor in his decision to pledge to the Red Raiders. Then Roberson de-committed and chose Auburn, but now word has broke he is back to being de-committed. He has a smooth backpedal and tremendous ball skills for a safety, but has reportedly insisted on playing cornerback. The 6'1",180-pound defensive back is a future back-end star wherever he lands.
Update: Signed with Florida
Florida came out of almost nowhere for Roberson, as Auburn was thought to be the school of choice. More on Roberson shortly.
36. Devon Blackmon, WR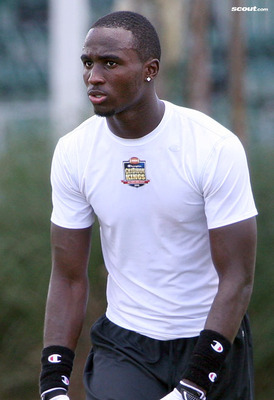 Blackmon will line up as a receiver in Eugene and should be a speed terror in the Pac-12. He showed off his juice by blowing by Under Armour game defensive backs all night. At 6'0", 180 pounds, Blackmon will also get a shot as a return man as well. Chip Kelly will love finding ways to utilize Blackmon in his fast-break spread offense.
Update: Signed with Oregon
The Ducks get more speed and playmaking. Scary to think about.
35. Marqise Lee, DB/ATH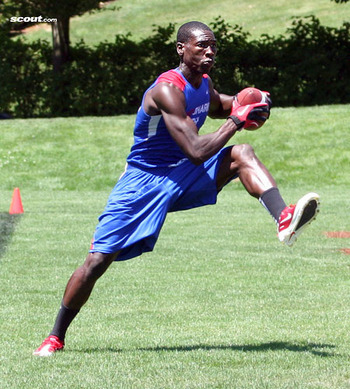 Lee is considered a Trojan lean, but Miami is on the case hard along with Oregon and Cal. At 6'1" and nearly 190 pounds, Lee originally thought his future was as a hoops player. He's only played football for a short time, but is already a premier safety prospect due to natural instincts, smarts, speed and range. His potential has no ceiling in sight at the moment.
Update: Signed with USC
USC jumped into the lead late in this one and sealed the deal on Signing Day.
34. Braxton Miller, QB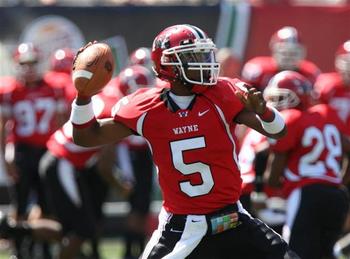 Miller has been preordained to be a Buckeye since birth. He's a legend in Ohio and has been compared to former Buckeye QB Troy Smith and NFL star Donovan McNabb. At 6'2" and about 185 pounds, Miller can beat you from the pocket or with his legs. He could find himself playing an important role in the Ohio State offense at the start of the season with Terrelle Pryor having to sit out the first five games.
Update: Signed with Ohio State
Considering he's in line to compete for the starting gig to open the season was there ever any doubt Miller was a Buckeye?
33. Nick O'Leary, TE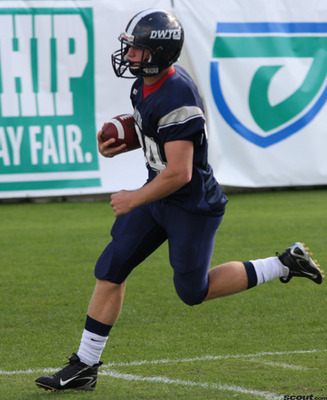 O'Leary chose the 'Noles over the likes of LSU, Alabama, Miami and Wisconsin. The stud tight end has a large strike zone, speed, catch-in-a-crowd ability and is a dangerous RAC player. O'Leary is a bully with the ball in his hands and tries to punish tacklers for even thinking they can stop him.
FSU needs him to develop into a great recruiter before a tight end, as right now, his teammate Jacoby Brissett is looking elsewhere.
Update: Signed with Florda State
The Noles had to be worried O'Leary was having doubts with his high school teammate Jacoby Brissett looking elsewhere but the star tight end followed through on Signing Day.
32. Malcolm Mitchell, DB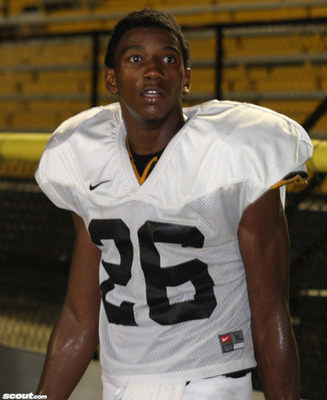 Mitchell is a huge pick-up for the Dawgs as the 6'1", 185-pounder can play both safety and cover corner. A great athlete, Mitchell also has the length and mirror ability to man up on receivers and range to patrol the back end of a secondary at safety.
Update: Signed with Georgia
Mitchell was wavering between Georgia and Alabama, but the Dawgs finalized their commitment with a signature on Signing Day.
31. Steve Edmond, LB
Edmond can play all three linebacker spots in the 4-3 but looks like he will begin right in the middle as MIKE 'backer in Austin. Manny Diaz will surely find ways to put Edmond, 6'3", 225 pounds, in positions to make play after play. Edmond is also a solid blitzer who can also rush off the edge a bit as well. He looks like an early impact player for Texas.
Update: Signed with Texas
Edmond was yet another of the Feb. 2010 Longhorns rush.
30. Aaron Lynch, DE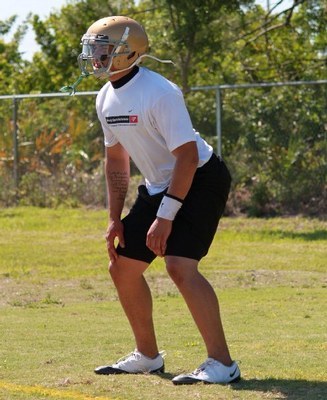 Lynch has gone back and forth between Notre and Florida State and has settled on Notre Dame. He's scheduled to be an early enrollee in South Bend and will get his 6'5", 260-pound frame learning the Irish 3-4 scheme immediately. An athletic up-field type player, Lynch may need some adjustment time to learn the nuances of the Golden Domers' defense, but should develop into a solid player in his tenure.
Update: Signed with Notre Dame
Lynch and Stephone Tuitt should form a dominating pair of rooks and that's only half of Notre Dame's haul at end.
29. Colt Lyerla, ATH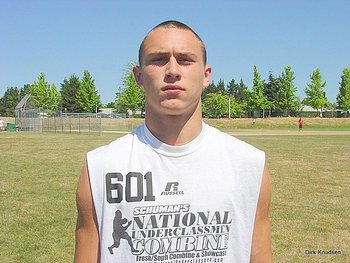 Lyerla chose to stay home and be a Duck over offers from USC, Oregon State, Cal and a host of other big-time programs. He's listed as an athlete, but stands 6'5" and weighs 225 pounds. He can play outside linebacker, defensive end, tight end, H-Back or even fullback.
Lyerla is an athletic specimen who should factor on special teams in Eugene from Day 1. Right now, it looks like he's scheduled to play strong side linebacker for Oregon.
Update: Signed with Oregon
In best player in the state of Oregon committed to staying at home in January and never looked back.
28. Mike Bellamy, RB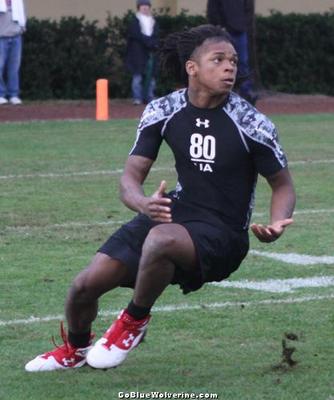 Bellamy is one of the fastest players in the country. A 5'10", 185-pound running back, he's electric with the ball in his hands. Clemson fans will definitely be excited as Bellamy has the potential to rival what Buffalo Bills running back CJ Spiller did for the Tigers.
Bellamy can factor as a runner, receiver or return man and is a threat to score any given time on any given play.
Update: Signed with Clemson
Bellamy is the prized possession of Clemson's offensive superhaul.
27. Stephon Tuitt, DE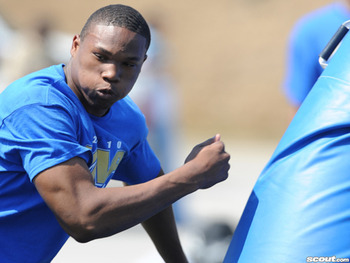 There must be something about playing defensive end for Notre Dame as, like Aaron Lynch, Tuitt has also flip-flopped with Notre Dame. He was pledged to the Irish, then backed out and committed to Georgia Tech, and many felt that was it.
Then Tuitt re-committed back to play in South Bend. He gives the Irish a super talented defensive end trio coming in next year with Lynch and Ishaq Williams.
Update: Signed with Notre Dame
Just like we said with Lynch, Tuitt and Lynch are only half the defensive end haul.
26. Stephone Anthony, LB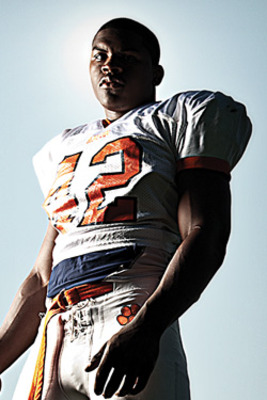 Anthony is one of the top linebackers in the country. At 6'3" and 225 pounds, Anthony has the athleticism, hips and instincts to excel as a coverage linebacker who can play all three downs.
He can track the run with physicality and instincts, then be left on the field in nickel and dime packages to factor against the pass.
Update: Signed with Clemson
Clemson will have two dominant linebackers in Anthony and Tony Steward. And this was a class we called offensive-heavy just a couple of weeks ago.
25. Jarvis Landry, LSU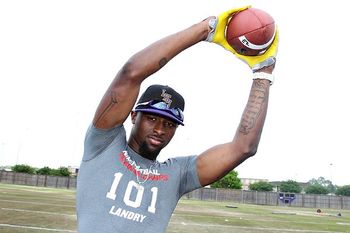 Landry will surely continue the tradition of solid receivers to come out of LSU, such as Dwayne Bowe, Josh Reed and Terrance Tolliver among an array of other talented receivers who called the Bayou home.
At 5'11" and 180 pounds, Landry has great release quickness, eats up cushion in a hurry and gets even with corners with ease. He has solid hands and play-making ability and should help Steve Kragthorpe look good as an offensive coordinator for LSU.
Update: Signed with LSU
Landry was a longtime Tiger commitment, he was never in doubt.
24. Kris Frost, LB/WR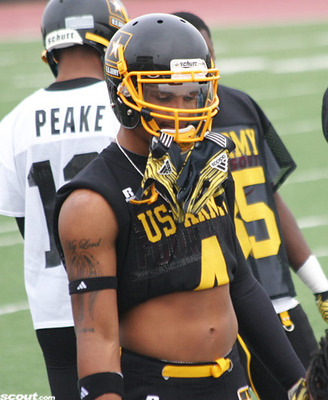 Frost aspires to play receiver but may be a better linebacker. At 6'3" and 210 pounds, Frost is among the best athletes in country for his size and moves well around the field wherever he plays. He has great size and hands for a receiver and good instincts and range as an outside linebacker.
Auburn fans have debated among themselves where Frost should play for the Tigers, but wherever he ends up, he should be a star.
Update: Signed with Auburn
Frost committed to Auburn at the U.S. Army All-American Bowl, then found out there might not be room for him. Turns out there was and a couple weeks later he's signed up and ready to go.
23. C.J. Johnson, LB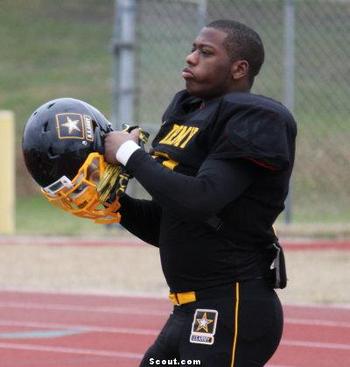 Johnson was solid to Mississippi State, but when Manny Diaz bolted for Texas, he opened up, hit it off with Houston Nutt and opted for Ole Miss. At 6'3" and 225 pounds, Johnson is an elite linebacker with speed, range, size, quickness, shed/escape ability, instincts and vision to ball carriers.
He can play the middle and both flanks and stay on the field all three downs.
Update: Signed with Ole Miss
Chose Ole Miss over Mississippi and LSU. Maybe not the right decision, but after flip-flopping early in the process he stuck to his guns on Signing Day.
22. Christian Westerman, OL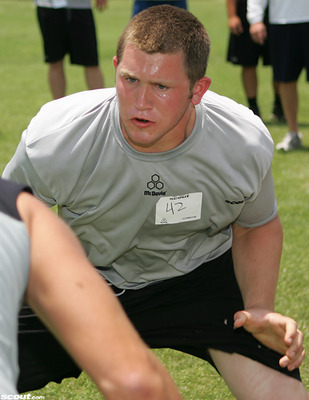 Westerman was a longtime commit to Texas but started to look elsewhere during the fall and eventually settled on Auburn recently. He also looked at USC but never took a trip to Los Angeles.
At 6'5" and 290 pounds, Westerman can play right tackle or kick inside to guard. He's a nasty run blocker who can move defenders off their mark and is the best finisher in the country as a blocker.
Update: Signed with Auburn
The only high-profile Longhorn commitment to bail, Westerman grew restless after a lot of coaching changes and found his home at Auburn.
21. Ishaq Williams, DE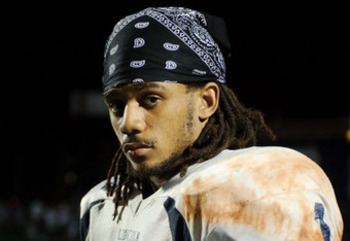 Williams may be the best incoming defensive prospect for Notre Dame's recruiting class, which includes Stephen Tuitt and Aaron Lynch. At 6'5" and 230 pounds, Williams likely will move to outside linebacker in South Bend, where his length, athleticism and first step quickness will allow him to excel early and often.
Update: Signed with Notre Dame
Think back to what we said about Lynch and Tuitt. Here's the real juicy bite for Irish fans, Williams might be the best of the three of them.
20. Dee Hart, RB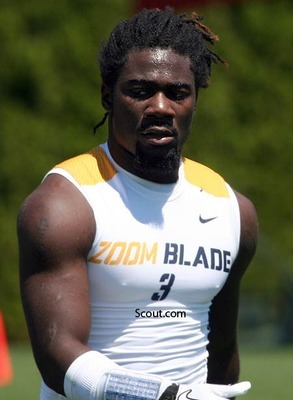 Hart is a 5'8", 190-pound stick of dynamite on the field and has already enrolled at Alabama. He lit up the Army game, averaging around seven yards a carry against some of the nation's best defenders.
He can be used as a receiver, running back or returner and score touchdowns in a variety of ways. He should be a hit in Tuscaloosa for years to come.
Update: Signed and enrolled at Alabama
Hart has been on campus for weeks and is already attending classes at Alabama
19. Tim Jernigan, DT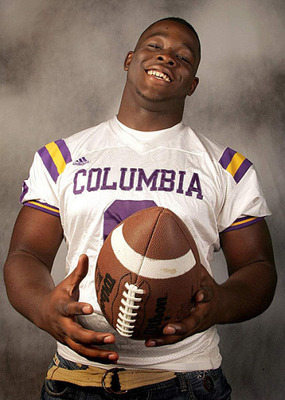 Jernigan is a 6'2", 275-pound force in the defensive trenches who can power through an offensive lineman or blow by them at the snap.
He's so athletically gifted for a defensive lineman that he may even play strong-side end in college. He's down to a final list of the above mentioned five schools and will announce on National Signing Day.
Update: Signed with Florida State
Jernigan chose to stay close to home over LSU. He's had an offer from FSU since he was 13 and he's been to every camp FSU has had for five years.
18. Brandon Williams, RB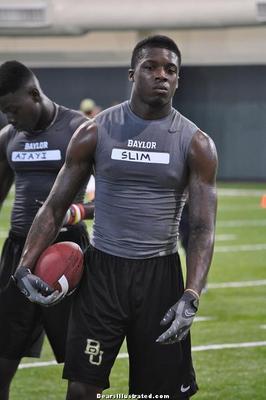 At 6'1" and 190 pounds, Williams has a chance to step in right away and help fill DeMarco Murray's shoes in Norman. Williams can do it all as a running back, and once he develops his pass protection and blitz pick-up skills, he will be a complete running back for the Sooners.
He possesses great speed, quickness and home run ability.
Update: Signed with Oklahoma
Williams and Trey Metoyer might be the best running back receiver duo in the nation.
17. Trey Metoyer, WR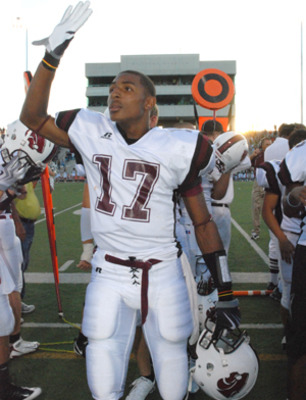 Metoyer is a 6'2", 185-pound receiver who should learn well from returning Sooner receiver Ryan Broyles. Metoyer has the size, hands, concentration, catch radius, leaping ability and speed to terrorize a secondary.
He will make a ton of grabs for the Sooners and should develop into an outstanding route runner on the perimeter.
Update: Signed with Oklahoma
See Brandon Williams.
16. Anthony Johnson, DT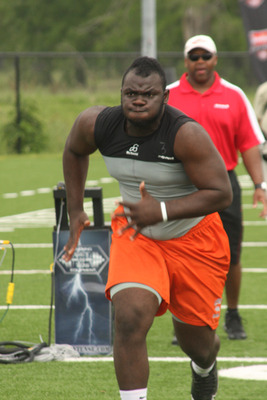 Johnson is the best defensive tackle prospect in the country. At 6'4" and 300 pounds, Johnson is a big man who can do little-man things. He's super quick at the snap, can penetrate gaps and use his speed to finish plays.
Yet he also can use his size to impose his will and strength to collapse a pocket up the middle A Glen Dorsey-type career is nearly a given in Baton Rouge for Johnson.
Update: Signed wth LSU
Johnson was the first commitment of LSU' 2011 class.
15. Jeff Driskel, QB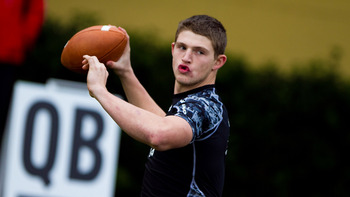 Driskel gets our nod as the top QB prospect in the country and this year's class. He's 6'4" and 225 pounds and has a cannon arm, solid accuracy and mobility.
Driskel is also a good baseball prospect as well. There's nothing Driskel can't do physically on the field, and Charlie Weis should develop him into an elite QB in Gainesville.
Update: Signed with Florida
Driskel has been called the next Tim Tebow. They have very different styles, but theres no denying he has a shot at being a star for the Gators.
14. Sammy Watkins, WR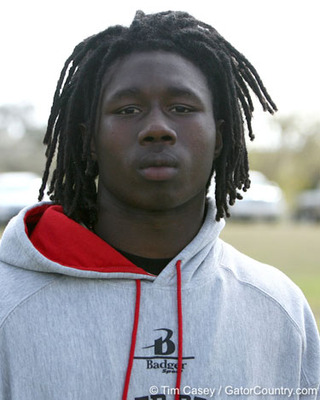 Watkins is a dynamic receiver who stands 6'1" and 180 pounds. He's among the fastest players in the country and eats up cushion faster than any receiver in this year's class.
He can take a smoke screen and turn it into a big gain due to his play-making ability. He has solid hands, and once he hones down the art of precise route running, he will be terrific.
Update: Signed with Clemson
Watkins and Charone Peake will be impossible to defend with Mike Bellamy running behind them.
13. Isaiah Crowell, RB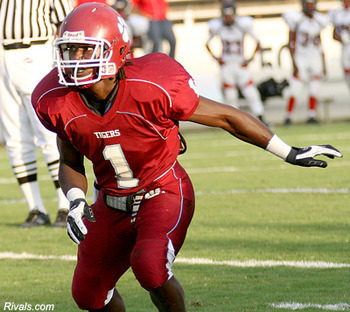 A game breaker, Crowell is one the elite running backs in the country. At 5'11", 210 pounds, Crowell has excellent speed, vision, burst, quickness and quick-cut ability.
He hasn't had to carry the load, but his legs are bigger and stronger than you think, which allows him to start to break tackles more and more in college. He has a chance to develop into one the best running backs to ever come out of talent hot-bed Georgia.
Update: Signed with Georgia
The best individual piece of Georgia's very strong class, Crowell could be the next great Bulldogs running back.
12. James Wilder Jr., RB/LB/ATH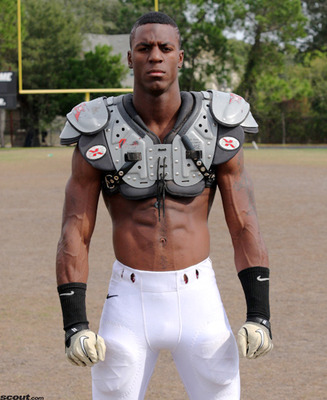 Wilder is pound-for-pound one of the strongest and most athletic players in the country, regardless of position. He's physically gifted and could be a great running back or outside linebacker.
Cut and chiseled, Wilder has speed, quickness, agility and play instincts to do what he wants on the field. He compares favorably to former Seminole and current Philadelphia Eagles linebacker Ernie Sims.
Update: Signed with FSU
Wilder wants to play running back and Jimbo Fisher is going to make that happen. Of all the coaches who told him so there was never a doubt Fisher was sincere.
11. Ha'Sean Clinton-Dix, DB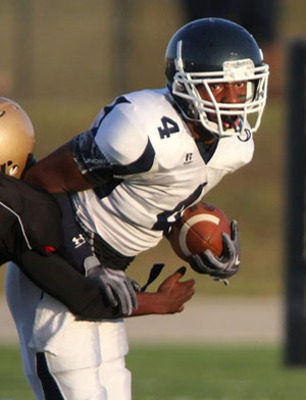 At 6'2" and 190 pounds, Clinton-Dix is one of the top safeties in the country. He has the speed and range to cover the deep third of the field and instincts to read routes and make interceptions.
He can give quarterbacks fits because he's not easily baited and looked off in the passing game. He also has the athleticism to be used as a man defender on slot receivers, where he can use his size to shut down middle-working receivers.
Update: Signed with Alabama
"Ha-Ha", as he is known, stuck with the Tide and faxed his LOI this morning. I guess you can forget about the Florida possibility.
10. Ray Drew, DE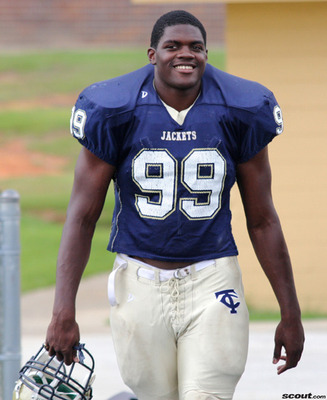 Drew announced for Athens late last week, but told people he had known for months he was destined to play for the Dawgs. An athletic specimen, Drew stands 6'5" and 245 pounds with a great first step, excellent quickness and a burst to close out on quarterbacks.
He will fit in UGA defensive coordinator Todd Grantham's 3-4 scheme at outside linebacker.
Update: Signed with Georgia
Drew was yet another of the in-state prizes Georgia made sure didn't get far from home.
9. La'El Collins, OT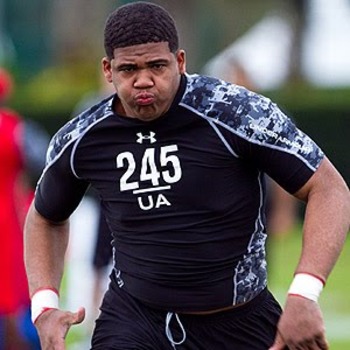 At 6'5" and 290 pounds, Collins is one of the elite left tackle prospects in this year's class. He has the foot quickness, adjust-ability, recovery quickness and agility to mirror any pass rusher in the country at left tackle.
He also can get up to the second level and make blocks on linebackers and in space. He should be a standout at LSU
Update: Signed with LSU
Collins was a longtime LSU commitment, but there were rumors for a little while about a possible decommitment. Those can be put to rest now.
8. Curtis Grant, LB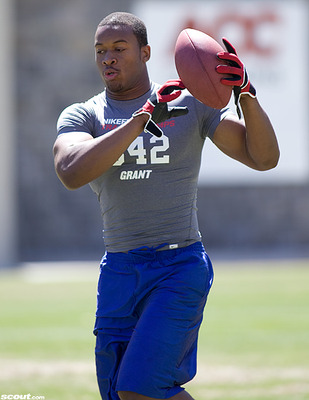 Grant is another elite linebacker prospect in what may be the most talent rich position in this year's class. He's the top player in Virginia and can play in a 4-3 or 3-4 type scheme on defense.
He's physical against the run and jumps on top of running backs by filling run alleys with quickness and tenacity. Grant also has the speed and range to pursue plays sideline to sideline.
Update: Signed with Ohio State
Really good visit to Ohio State equals a signed letter of intent to Ohio State for Grant.
7. Tony Steward, LB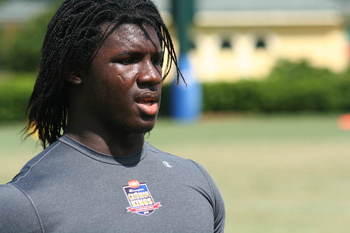 Steward is the most athletic linebacker in the country and stands 6'2" and weighs 225 pounds. He can play the MIKE, WILL or SAM spot in a 4-3 and still cover running backs and tight ends very well.
He has the best instincts for any defensive player in the country. Clemson and Florida State are the last two standing.
Update: Signed with Clemson
Another NSD shocker, Florida State lost out on Steward, who had the 'Noles as his boyhood favorite. Look for Steward to become an immediate star for Dabo Swinney and the Tigers.
6. DeAnthony Thomas, ATH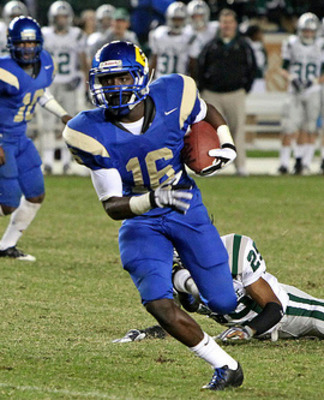 Thomas is a do-it-all player who has played running back, cornerback, safety, receiver, quarterback and returner in high school.
Most scouts likes him as a corner, and the 5'9", 170-pounder is a prime-time athlete and one of the fastest players in the country.
He needs some seasoning as a corner, but should become one of the top cover men to ever don the cardinal and gold, if he ends up in Troy.
Update: Signed with Oregon
Rumors started circulating that Thomas was wavering on his commitment to USC after a recent trip to Oregon. By the time he announced he was joining the Ducks instead of the Trojans on Signing Day it hardly even came as a surprise
5. Malcolm Brown, RB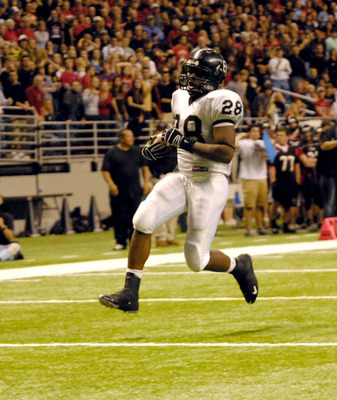 A 6'0", 220-pound man-child with the football, Malcolm Brown is the best running back in the country. He will compare favorably to Ricky Williams and Cedric Benson in Austin.
His size, speed, vision, quickness and strength will make him an instant hit at Texas. He must continue to develop his hands, but Brown should become a special runner in college.
Update: Signed with Texas
Brown is going to start next season, mark my words.
4. Karlos Williams, DB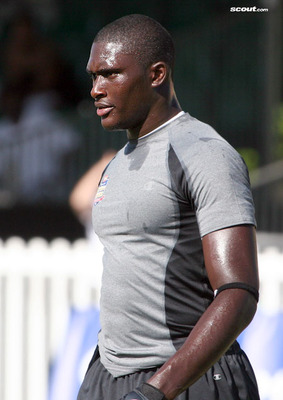 Williams is a defensive back with linebacker size at 6'2" and a stout 210 pounds. He was the best player in the field at the Under Armour game and will be a dynamic strong safety at Florida State.
Williams has great ball skills and instincts and is a ferocious hitter. He plays the pass well and is a monster in the box. He also has a desire to prove Nick Saban wrong about Florida State.
Update: Signed with Florida State
Watch his highlights from the Under Armour All-American Game and start getting excited.
3. George Farmer, WR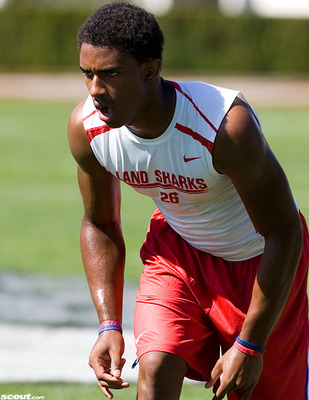 Farmer rates as the top receiver in the country, and the 6'2", 200-pounder is headed to hometown USC. He's a play-maker at receiver who could easily be a top safety prospect if he chose.
Farmer has good hands, great speed, strength and leaping ability. He has a good chance to impact the Trojans' talented wide receiver depth chart as a true freshman.
Update: Signed with USC
Farmer waited until late in the afternoon to fax in his letter of intent, but reports say he was donning Trojans gear all day.
2. Cyrus Kouandjio, OT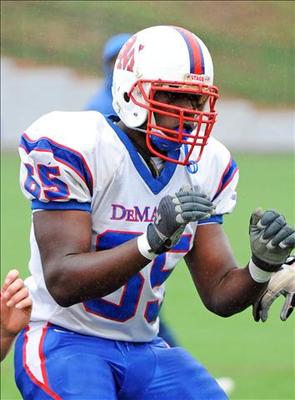 Kouandjio is the best offensive lineman in the country and the big man certainly doesn't lack size at 6'7", 325 pounds. He's an excellent athlete at his size with great feet, agility, balance and recoverability.
He can mirror on an island at left tackle with ease. He's a sound run blocker with a great first step out of his stance and leg drive, and he looks to finish at all times.
Update: Committed to Auburn
Kouandjio committed to Auburn, but hold on a second. Where's that letter of intent? Turns out Kouandjio didn't sign it and might already be wavering. This one will get interesting.
1. Jadeveon Clowney, DE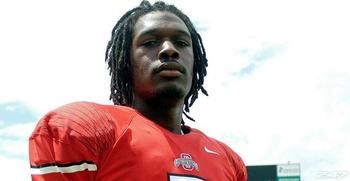 Commit: Undecided
Considering: South Carolina, Alabama, LSU, Clemson, Florida State and North Carolina
Clowney is the top recruit and player in the country. The big defensive end stands around 6'6" and 250 pounds and has tremendous athleticism. Clowney has a burst at the snap to blow by blockers, a great pass rush plan/arsenal and speed to close.
He's also very strong and stout against the run to anchor on the edge, shed and make plays on ball carriers. He won't let his decision be known as to where he'll be playing in college until around his birthday on Valentine's Day.
Update: Clowney will wait until Feb. 14 to announce his decision.
Keep Reading