ACC Quarterback Rankings Week 9: Leaders Pulling Away from the Pack
Kevin C. Cox/Getty Images
Week 10 will be underway Thursday night in Blacksburg with Virginia Tech taking on Georgia Tech. Both teams had last week off and I know Joshua Nesbitt is hoping for a better offensive showing than their last game.
Christian Ponder and Russell Wilson battled it out in last Thursday night's showdown with Wilson winning that contest. Both QB's had more success than they did on the ground than in the air but Wilson tallied one more rushing touchdown than Ponder.
Marc Verica and Chase Rettig lead their teams to upset victories over Miami and Clemson. Not only were they upset wins, but they were also their first ACC wins thus far. Jacory Harris was knocked out early in that game against Virginia and there is no telling when he will be available to play again.
There isn't much to say about Kyle Parker anymore, besides that he should have stuck with professional baseball. It's time to give Tajh Boyd a chance to do something with that team.
Sean Renfree was hands down the offensive player of the week in the ACC. He completed 28 of 30 passes for 314 yards, one touchdown and two rushing touchdowns.
This should be another good weekend for ACC football. There are potential upsets all across the board and should make for another crazy weekend. When it comes to the QB situation, Taylor and Wilson are starting to pull away from the others. Will anyone else step up this week and jostle these rankings?
12. Tanner Price, Wake Forest: LW 11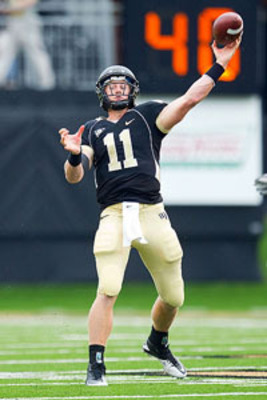 I feel bad for Tanner Price because he is actually a decent young QB but just lacks a defense. That was evident again this past weekend when they were blown out of the water 62-14 by Maryland.
He completed 16 of 31 passes for 156 yards and a touchdown in the losing effort.
Hopefully this weekend against Boston College they can find some type of motivation to get another win. You can't put all your pressure on a true freshman QB and expect him to lead a below average team to victory every weekend. That just isn't going to happen and it hasn't all season.
Jim Grobe, you better be careful or you could be going bye-bye.
Season Stats
PCT: 53.2
PYDS: 879
TD: 7
INT: 4
RYDS: 127
TD: 3
11. Chase Rettig, Boston College: LW 12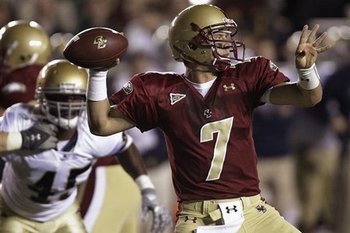 Chase Rettig connected with Montel Harris for a 36-yard touchdown and helped stop Boston College's five-game losing streak in a 16-10 victory over Clemson.
They found themselves in a hole early after Rettig threw a pick-six to give Clemson a 10-3 lead. However, he was able to bounce back nicely and keep his team within striking distance of winning the game.
He finished the game completing 9 of 16 passes for 136 yards, one touchdown and one interception. There is another good chance at improving on those numbers when they face Wake Forest this weekend that has one of the worst defenses in the nation.
Season Stats
PCT: 49.3
PYDS: 492
TD: 3
INT: 3
RYDS: -33
TD: 0
10. Marc Verica, Virginia: LW 10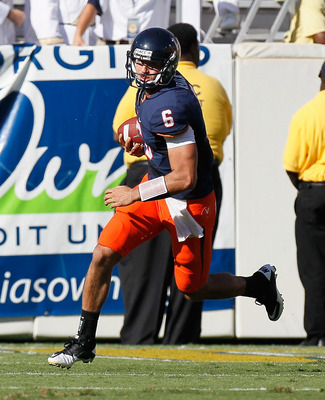 Kevin C. Cox/Getty Images
Verica found Colter Phillips on a fourth down play wide open for a touchdown in the second quarter. This is perhaps the biggest touchdown pass of his career because it set the tone for the game and their 24-19 upset of Miami.
He has been up and down this season and he even made a few ill-advised passes against Miami but was fortunate nothing terrible happened. They have a real shot of going on a three-game win streak when they take on Duke this weekend.
Coming out with a win against Duke would make them one win away from being bowl eligible, a feat that no one thought they could reach this season.
Season Stats
PCT: 59.2
PYDS: 1,665
TD: 9
INT: 7
RYDS: -60
TD: 0
9. Sean Renfree, Duke: LW 98.5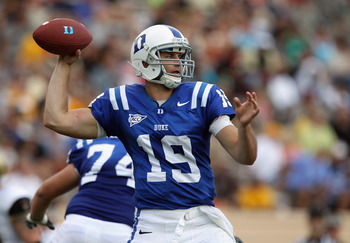 Streeter Lecka/Getty Images
Renfree had a record setting weekend in their 34-31 win over Navy. He tied a Duke record when he completed his first 16 passes of the game, then finished with 28 completions in 30 attempts, which set a Duke record with a 93.3 completion percentage.
It was a pretty good weekend for Duke considering they upset a team that just got done manhandling Notre Dame the week before and Renfree set a few records. Who knows, maybe he will set a few more this weekend when Virginia comes to town.
He finished with 314 yards and three total touchdowns (1 pass, 2 run).
Season Stats
PCT: 54.7
PYDS: 2,051
TD: 11
INT: 15
RYDS: -31
TD: 2
8. Kyle Parker, Clemson: LW 6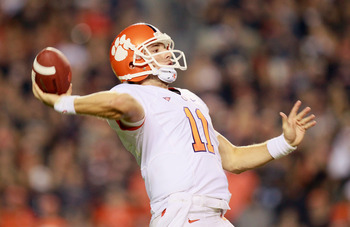 Kevin C. Cox/Getty Images
I had high hopes for Parker when the season started, but now I just feel like I am watching a guy that wish he wouldn't have came back to college.
He has looked like a guy that is playing with no heart of passion after that tough loss they suffered at the hands of Auburn. Last week they had a chance to keep pace with FSU and N.C. State if they beat a struggling Boston College team. However, they were unable to do that and now find themselves basically eliminated from the ACC title contentions unless a miracle occurs.
Maybe it's time to give Tajh Boyd a shot this weekend against N.C. State if Parker doesn't get the job done. I mean seriously, what's there to lose by giving Boyd a chance.
Season Stats
PCT: 53.0
PYDS: 1,315
TD: 8
INT: 6
RYDS: 52
TD: 0
7. Joshua Nesbitt, Georgia Tech: LW 7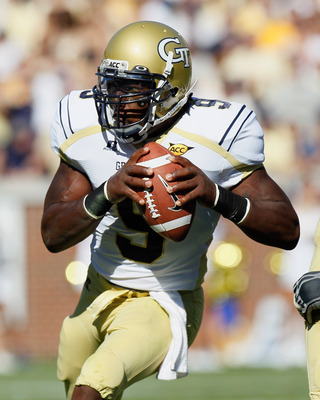 Kevin C. Cox/Getty Images
Can the offense show up for the Yellow Jackets on Thursday night at Virginia Tech? Their lack of consistency on the offensive end has been the biggest question mark for them.
Nesbitt was held to only 2 rushing yards in their last contest against Clemson. Since then they have had a week off to prepare for VT, which could be the biggest game of their season. He must find a way to get this offense rolling again or they could find themselves down early and we all know how terrible they are when it comes to passing.
Thursday night is pretty much a do or die scenario for GT and their hopes of an ACC title repeat.
Season Stats
PCT: 38.2
PYDS: 674
TD: 7
INT: 3
RYDS: 651
TD: 8
6. Danny O'Brien, Maryland: LW 8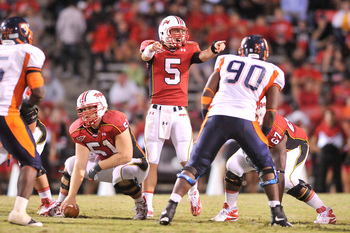 O'Brien has been putting together some solid numbers in his last two games.
It was as if he were playing against a High School defense when they went up against Wake Forest last week. There was no problem finding an open man when he needed one. He finished the game with 168 yards and four touchdown passes.
Of course this weekend will be a bit different when they travel to Miami and will be matched up against a more talented defense than Wake Forest. This is the perfect time for him to earn his keep and if he can some how pull off an upset against the Canes, then they have as good of a shot at making it to the ACC Championship game as anyone else does.
Season Stats
PCT: 56.9
PYDS: 1,148
TD: 13
INT: 3
RYDS: -29
TD: 0
5. Jacory Harris, Miami: LW 5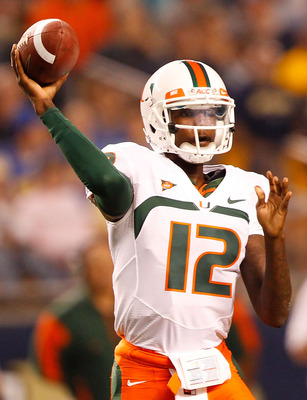 Jared Wickerham/Getty Images
It was a shortened game for Jacory Harris, but not because his team was blowing Virginia out. He was hit hard early in the first half and had to leave the game. As of now there is no time table on when he will be back or available.
This may be a blessing in disguise for the Hurricanes who get a chance to start talented true freshman Stephen Morris against Maryland this weekend.
Harris completed 7 of 13 passes for 85 yards in his short stint on the field.
Season Stats
PCT: 53.9
PYDS: 1,646
TD: 14
INT: 11
RYDS: 24
TD: 2
4. T.J. Yates, North Carolina: LW 4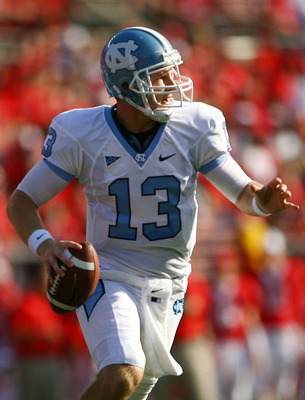 Andrew Burton/Getty Images
Whew! Talk about a scare. William & Mary almost upset North Carolina. Not only would that have been ugly for the Tar Heels, but it would have been just as bad for the ACC.
One ACC team has already lost to an FCS team the last thing this conference needed was another one.
Coming off of his worst performance of the season, Yates was able to rebound and put together a solid showing in their 21-17 victory. He completed 23 of 33 passes for 238 yards and had two total touchdowns (1 pass, 1 run).
Up next is a trip to Tallahassee to take on a much better defense in FSU. Hopefully for the Tar Heels he doesn't play like he did against Miami.
Season Stats
PCT: 66.1
PYDS: 1,873
TD: 12
INT: 4
RYDS: -26
TD: 2
3. Christian Ponder, Florida State: LW 3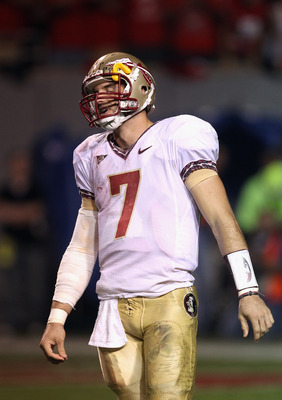 Streeter Lecka/Getty Images
Watching FSU fall to N.C. State last Thursday was so painful for me. Not just because they lost but how they did it.
Most people will sit here and put the blame on Christian Ponder. Heck, even he put the blame on himself after the game was over. Truthfully though, you can't blame one play for the entire outcome of the game, especially when the Seminoles made a lot of key mistakes in that 28-24 loss to the Wolfpack.
What Ponder needs to do now is forget about his mistake, move on and lead this team to three straight ACC victories. If he does that, then this team still has a great shot at reaching the ACC championship game.
Season Stats
PCT: 60.5
PYDS: 1,383
TD: 13
INT: 7
RYDS: 139
TD: 4
2. Russell Wilson, N.C. State: LW 2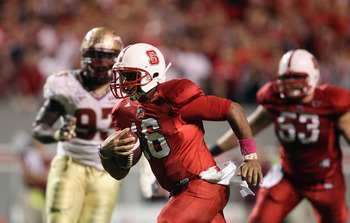 Streeter Lecka/Getty Images
Normally on any given night if you hold Russell Wilson to 178 passing yards and one touchdown then you're going to win. Only this time last Thursday was a different story.
He didn't use his arm to beat the Seminoles defense; instead he used his quickness and vision to run all over them. He accounted for all four of his team's touchdowns and three of them came on the ground.
Not only is he a dynamic passer but he can create for himself when no one is open. They are in charge of their on destiny now. Win out and they go to the ACC Championship game. Lose one game and that could cost them a shot at reaching the goal for the season.
This week Wilson leads the Wolfpack into Death Valley and anything can happen when you play a roller coaster team like the Tigers.
Season Stats
PCT: 58.4
PYDS: 2,302
TD: 19
INT: 10
RYDS: 272
TD: 5
1. Tyrod Taylor, Virginia Tech: LW 1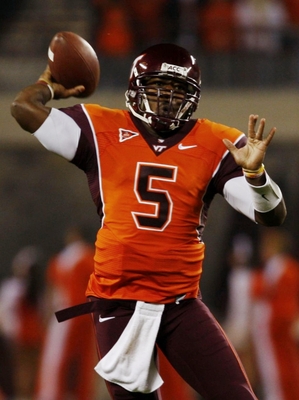 Scott Halleran/Getty Images
Taylor's been on a bit of a hot streak lately and looks to continue that Thursday night against Georgia Tech.
The Yellow Jackets defense hasn't been that great all season, so it shouldn't be too difficult for Taylor to pick them apart. This is also another key game for VT because if they come out on top they will maintain that two game lead in the Coastal Division.
If the defense can take care of business and Taylor can do what he has been recently, then VT should have no problem walking away with a win in this one.
Season Stats
PCT: 63.9
PYDS: 1,602
TD: 15
INT: 3
RYDS: 527
TD: 3
Keep Reading