ACC Quarterback Rankings: Russell Wilson Remains at the Top as Race Tightens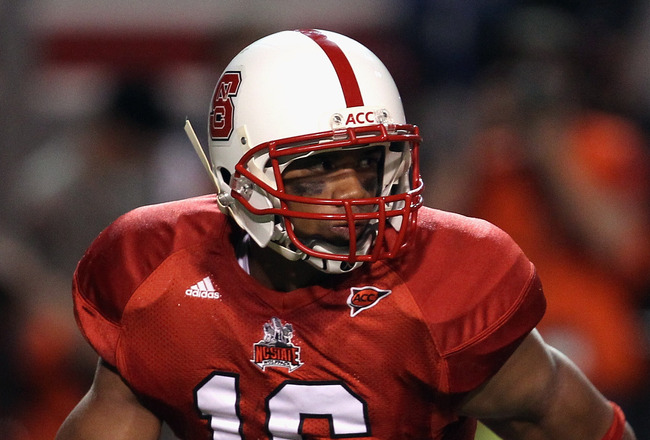 Streeter Lecka/Getty Images
Another week has gone by, and it has come to the same conclusion: Russell Wilson is the best QB in the ACC.
The race is beginning to tighten after two good performances by Christian Ponder and Tyrod Taylor. They will need to keep up this type of play and hope Wilson falters a bit in order for them to take over the top spot.
Tanner Price of Wake Forest had the best game over the weekend, even though it ended in a loss. His 37-of-53, 326-yard performance wasn't good enough for the Demon Deacons to fend off Navy.
There aren't many high-caliber games this weekend, so it's doubtful that the rankings will change much when it's all said and done. If there are to be some changes, they will most likely happen in the ACC game of the week, Maryland at Clemson.
Expect to see more big games from Wilson, Ponder and Taylor as they have favorable matchups. Whatever else happens this weekend can be left up for its own interpretation.
12. QB By Committee, Boston College: LW 11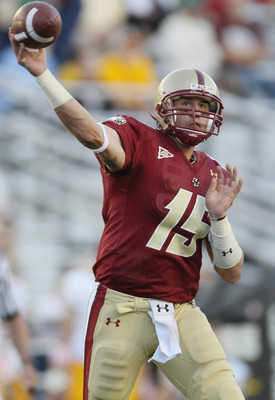 Elsa/Getty Images
What you see is what you get with this trio at QB for the Eagles.
Chase Rettig is the starter at the moment, but due to his recent ankle injury he's been put on the shelf. That leaves them with Dave Shinskie and Mike Marscovetra, who have proved they aren't the right guys for the starting job.
Cumulative Season Stats
PCT: 51.8
PYDS: 1,059
TD: 10
INT: 8
RYDS: -75
TD: 0
11. Tanner Price, Wake Forest: LW 12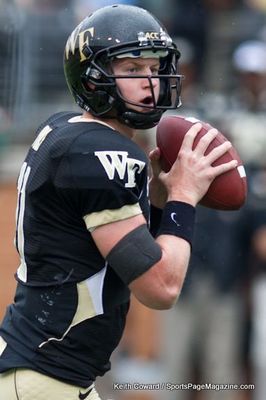 Tanner Price really showed his ability as a QB and what he can bring to the table when healthy.
In the loss to Navy, he completed 37 of 53 passes for 326 yards and three scores (two pass, one run). Those numbers were good enough to set true freshman records for completions, attempts and yards.
Season Stats
PCT: 58.7
PYDS: 631
TD: 5
INT: 3
RYDS: 163
TD: 3
10. Marc Verica, Virginia: LW 9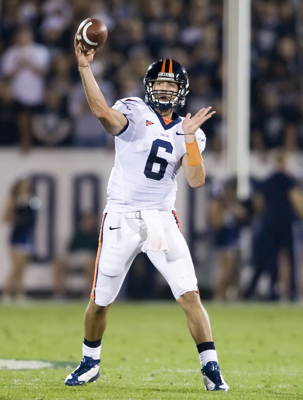 Since being roughed up in the Cavaliers' loss to FSU, Verica hasn't been the same guy.
He once would stand in the pocket until the last moment to complete a big pass even if that meant taking a hard hit. Now he is rushing the throws and making some ill-advised decisions at costly moments.
Season Stats
PCT: 57.4
PYDS: 1,147
TD: 6
INT: 3
RYDS: -68
TD: 0
9. Danny O'Brien, Maryland: LW 10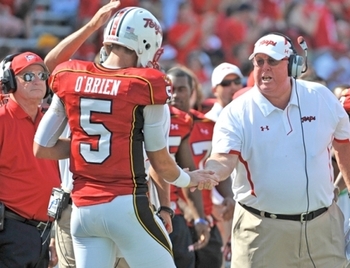 It's always nice to have a week off and regroup after a sloppy performance. That's exactly what O'Brien had the opportunity to do after a less than impressive showing against Duke.
There is no telling how much longer he will have the starting job. Jamarr Robinson's shoulder is starting to improve, and he may just get thrown back in the saddle this weekend to take on Clemson.
Season Stats
PCT: 50.8
PYDS: 499
TD: 6
INT: 0
RYDS: 1
TD: 0
8. Sean Renfree, Duke: LW 8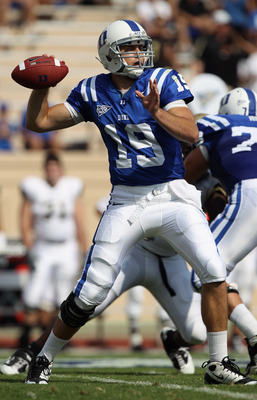 Streeter Lecka/Getty Images
Renfree and his Duke Blue Devils had last weekend off to prepare for the Miami Hurricanes.
Of course, they would prefer them coming into the game after a win, but instead they are going to face them after a blowout loss to FSU.
This game doesn't look too promising for the Blue Devils, and they may not have a legitimate shot to win a game until they square off with Virginia in November.
Season Stats
PCT: 58.7
PYDS: 1,464
TD: 10
INT: 9
RYDS: -29
TD: 0
7. Kyle Parker, Clemson: LW 6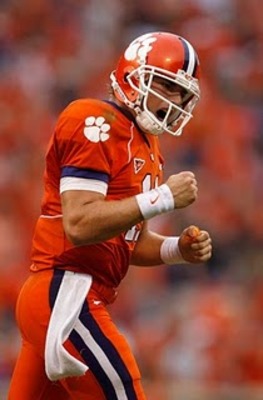 Maybe Kyle Parker is sitting at home wishing he had chosen to play professional baseball instead of coming back to college football now.
All year long he hasn't had any help with his receivers, who constantly drop the ball.
The wheels are starting to fall off the wagon for the Tigers, and if they can't win at home against Maryland, well then, I guess there isn't much to say about them anymore.
Season Stats
PCT: 53.4
PYDS: 866
TD: 7
INT: 4
RYDS: -17
TD: 0
6. Jacory Harris, Miami: LW 5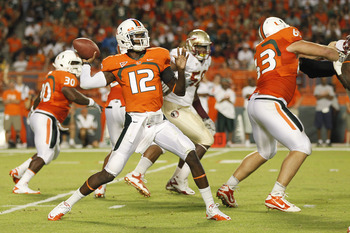 Joel Auerbach/Getty Images
If you can't stand the heat, get out of the kitchen. This saying truly applies to the play of Jacory Harris thus far this season.
In fact, after last week's game against FSU, it could apply to the entire team and even the coaching staff.
Harris has the tools to be an outstanding QB but has lacked consistency and decision-making skills—not to mention those talented receivers of his haven't helped much.
Season Stats
PCT: 52.4
PYDS: 1,120
TD: 10
INT: 9
RYDS: 12
TD: 1
5. Joshua Nesbitt, Georgia Tech: LW 7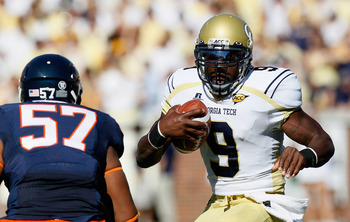 Kevin C. Cox/Getty Images
Well, look who is climbing up the rankings. Joshua Nesbitt may not be doing much with his arm, but I guess who needs to when your team can rush for nearly 500 yards.
This offense would be even more dynamic if he was able to be more of a dual-threat QB.
Season Stats
PCT: 40.0
PYDS: 505
TD: 5
INT: 2
RYDS: 543
TD: 7
4. T.J. Yates, North Carolina: LW 4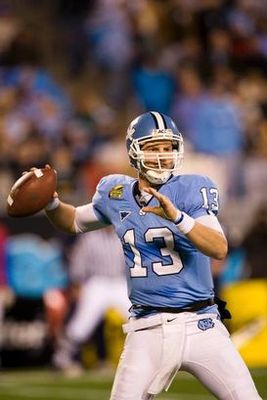 Yates hasn't been putting up the big numbers like he did to start the season. What he is doing, though, is helping his team win ball games—three wins in a row to be exact.
It's a surprise they are playing so well even with all the suspensions they have been dealt this season.
He will have another chance this weekend to put another "W" in the win column when they battle Virginia on the road.
Season Stats
PCT: 65.0
PYDS: 1,170
TD: 8
INT: 1
RYDS: -48
TD: 1
3. Tyrod Taylor, Virginia Tech: LW 3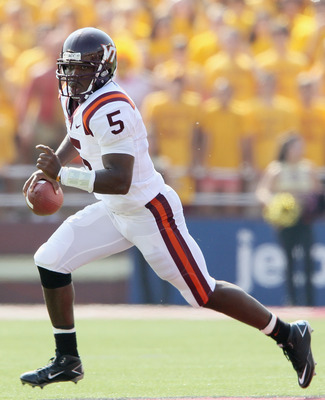 Elsa/Getty Images
Taylor has really found his form of late, and that just makes the Hokies even more dangerous.
To start the season I thought his happy feet would hinder his ability to be accurate, but he has proved me wrong. A large part of their four-game win streak rests heavily upon his shoulders.
The next two weeks should be easy when they have Wake Forest and Duke at home.
Season Stats
PCT: 60.7
PYDS: 1,030
TD: 9
INT: 3
RYDS: 449
TD: 2
2. Christian Ponder, Florida State: LW 2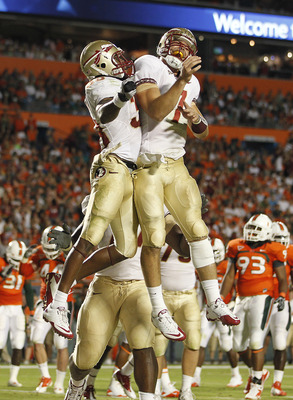 Joel Auerbach/Getty Images
It wasn't the best game of his college career, but it may have been the biggest win he's ever experienced.
He completed 12 of 21 passes for 173 yards and two touchdowns in the 45-17 destruction of the Hurricanes.
The numbers haven't been outstanding, but he hasn't needed to do much when the ground attack has been so dominant.
Season Stats
PCT: 60.0
PYDS: 1,017
TD: 10
INT: 4
RYDS: 123
TD: 2
1. Russell Wilson, N.C. State: LW 1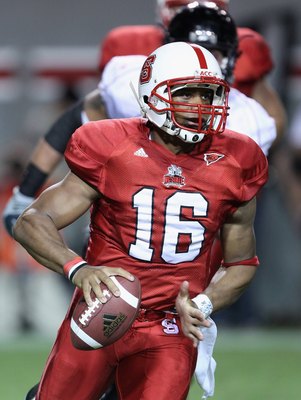 Streeter Lecka/Getty Images
There still isn't a doubt that Wilson is the best QB in the ACC, but in the last two games he has thrown a total of five interceptions. That concerns me because he was so careful with the ball to start the season.
He will continue to compile great numbers through the air, but limiting those turnovers like he did through the first four games of the season will be key down the stretch.
Season Stats
PCT: 59.5
PYDS: 1,802
TD: 17
INT: 6
RYDS: 166
TD: 1
Keep Reading