ACC Quarterback Rankings: Can Anyone Knock Russell Wilson from the Top?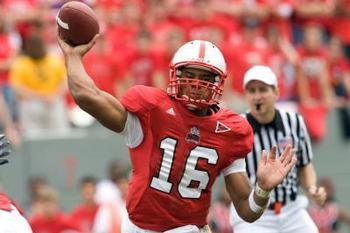 There were plenty of marquee matchups last week where some QB's had the opportunity to raise their stock, but instead they faltered, which put them further behind Russell Wilson.
Wilson didn't have his best game of the season but he still threw for over 350 yards and added three more touchdowns to his league leading total (14). Not to mention he is the leading passer in the ACC and the third-leading passer in the country with 1,474 yards.
A lot of QB's are lurking behind him but none of them have made quite the push to dethrone him from the top of the ACC.
The QB's will have another opportunity to improve their stock this weekend with quite a few big games. Florida State at Miami will be the biggest game of the weekend and could have huge implications on who will be playing in the ACC Championship at the end of the season.
Can anyone knock Wilson off his throne, or will he stay there for another week?
12. Tanner Price, Wake Forest (Last Week: 12)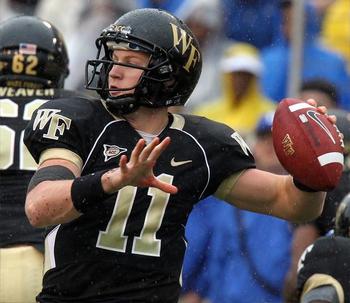 11. QB By Committee, Boston College (Last Week: 11)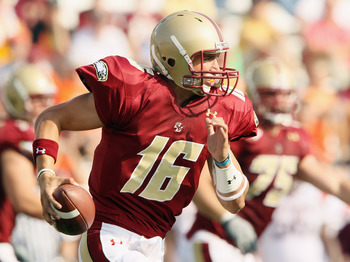 Elsa/Getty Images
First they thought Dave Shinskie was going to be their go-to guy and he didn't exactly pan out. Then true freshman Chase Rettig gets the start against Notre Dame and suffers an injury. Mike Marscovetra was next and he looked just like Shinskie, throwing interceptions in big moments of the game.
There's no telling who will be starting this week at N.C. State, not like it matters or anything because this offense has struggled all season.
Cumulative Season Stats
PCT- 56.1
PYDS- 886
TD- 7
INT- 6
RYDS- -75
TD- 0
10. Danny O'Brien, Maryland (Last Week: 10)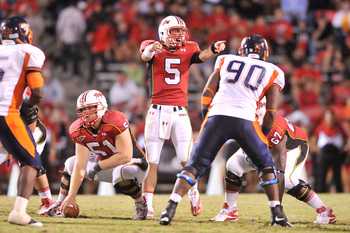 O'Brien got another crack to impress Ralph Friedgen and stake his claim as the starting QB for the rest of the season. I don't think he helped his cause, going 9-for-26 and 172 yards against Duke.
Jamarr Robinson should expect to be inserted back into the starting role once he's cleared to play, and the extra week off will help those chances.
Season Stats
PCT- 50.8
PYDS- 499
TD- 6
INT- 0
RYDS- 1
TD- 0
9. Marc Verica, VIrginia: (Last Week: 7)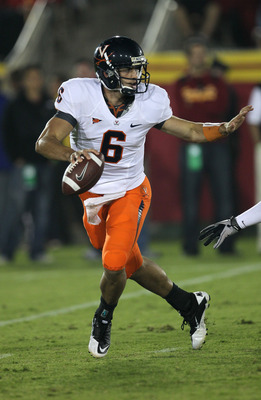 Stephen Dunn/Getty Images
Verica had a chance to make a name for himself and help his team upset the Seminoles, but was unable to get the job done.
He finished 14-for-30 for 211 yards and threw two costly interceptions when they were driving in Florida State territory. The highlight of his game was connecting with Kris Burd on a 76-yard touchdown.
Season Stats
PCT- 57.3
PYDS- 908
TD- 6
INT- 3
RYDS- -58
TD- 0
8. Sean Renfree, Duke (Last Week: 9)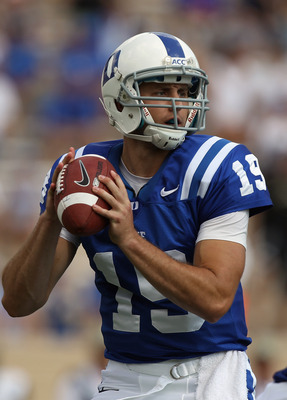 Streeter Lecka/Getty Images
Renfree is only a sophomore playing for Duke and he's the fourth-leading passer in the country.
Talk about ironic, who would have guessed that the fourth-leading passer in the country would hail from Duke? I know I never imagined that in my wildest dreams.
Last week he went 28-for-56 with 351 yards, one touchdown and two interceptions.
Season Stats
PCT- 58.7
PYDS- 1464
TD- 10
INT- 9
RYDS- -29
TD- 0
7. Joshua Nesbitt, Georgia Tech (Last Week: 8)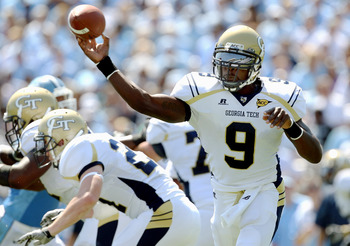 Streeter Lecka/Getty Images
It's about time Nesbitt won the game with his arm instead of his legs. Maybe he can throw the ball or it could be that Wake Forest has an awful defense. My guess is the awful defense.
Either way he finished 11-for-21 with 130 yards and two touchdowns while adding 72 yards on the ground.
Season Stats
PCT- 39.1
PYDS- 446
TD- 5
INT- 1
RYDS- 434
TD- 6
6. Kyle Parker, Clemson (Last Week: 4)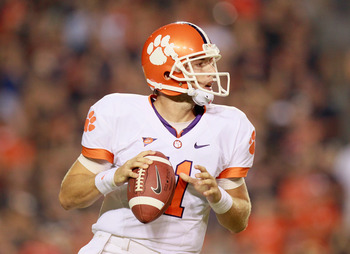 Kevin C. Cox/Getty Images
Parker looked like he was still feeling the affects of the game against Auburn.
He had a tough time with Miami's defense and it didn't help that his receivers dropped six passes. He finished the game 14-for-33 with 149 yards and three interceptions.
Season Stats
PCT- 52.7
PYDS- 552
TD- 6
INT- 4
RYDS- -26
TD- 0
5. Jacory Harris, Miami (Last Week: 3)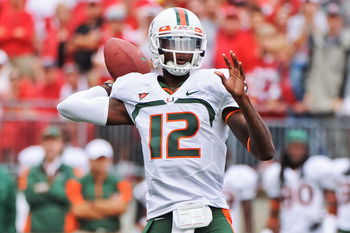 Jamie Sabau/Getty Images
Even though they won the game against Clemson, Harris looked out of sync. He threw four touchdowns but also threw two interceptions along with plenty of questionable decisions.
His numbers should be much better with arguably the best wide receivers in the ACC.
Season Stats
PCT- 57.1
PYDS- 895
TD- 10
INT- 8
RYDS- -19
TD- 0
4. T.J. Yates, North Carolina (Last Week: 6)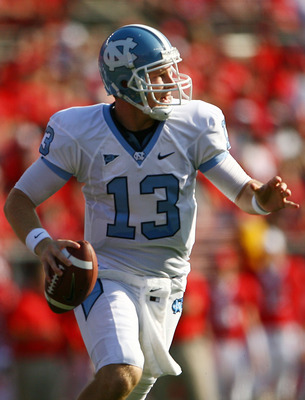 Andrew Burton/Getty Images
Yates has been consistent all year with not many weapons at the receiving position.
He continued that type of play against ECU last week, where he went 18-for-26, 181 yards, and two touchdowns. This guy is starting to become the dark horse of the ACC QB's.
Season Stats
PCT- 68.3
PYDS- 1006
TD- 7
INT- 1
RYDS- -42
TD- 1
3. Tyrod Taylor, Virginia Tech (Last Week: 5)
Elsa/Getty Images
He helped Virginia Tech pull off a miraculous come from behind win at N.C. State last weekend.
In the comeback he finished with 244 yards of total offense (123 pass, 121 rush), three touchdowns, and one interception.
Season Stats
PCT- 61.6
PYDS- 869
TD- 8
INT- 3
RYDS- 322
TD- 0
2. Christian Ponder, Florida State (Last Week: 2)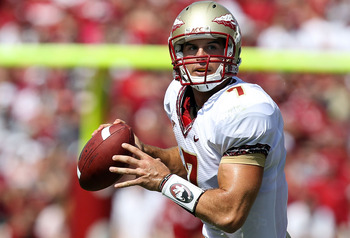 Ronald Martinez/Getty Images
He hasn't made many mistakes this season, but he also hasn't made any big passes like he did last year. That shoulder is giving him more problems than he wants most people to believe and I don't care what he says about it.
The Miami game could be the defining moment of his season.
Season Stats
PCT- 60.5
PYDS- 844
TD- 8
INT- 3
RYDS- 108
TD- 2
1. Russell Wilson, N.C. State (Last Week: 1)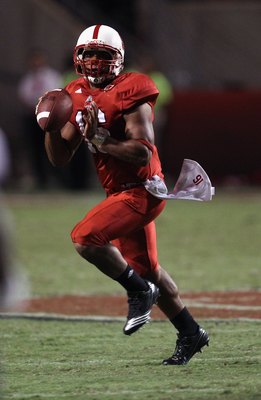 Streeter Lecka/Getty Images
Wilson and N.C. State suffered their first loss of the season against Virginia Tech.
He finished 21-for-49 with 362 yards and three touchdowns along with three interceptions. He's the leading passer in the ACC and the third-leading passer in the country.
Season Stats
PCT- 55.5
PYDS- 1474
TD- 14
INT- 4
RYDS- 121
TD- 1
Keep Reading