College Football Playoff: Atlanta Would Be a Perfect Host for Semifinal or Final
June 28, 2012

Kevin C. Cox/Getty Images
Cities are jumping into the mix to host the semifinals and finals of college football's recently-announced playoff left and right, so it should come as no shock that the Atlanta Journal-Constitution reported Wednesday that Atlanta is interested.
My colleague Michael Felder over at Your Best 11 doesn't think that Atlanta should be included in the mix, but I disagree. It would be a perfect fit for either a semifinal or the championship game...or both.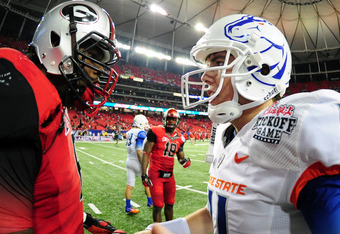 Scott Cunningham/Getty Images
The Chick-fil-A Bowl is widely regarded as one of the best-run bowls in the country. According to the its press page, the bowl has sold out for 15 straight seasons. With an average attendance of 71,855 over the last 10 years, it ranks second among non-BCS bowls in average attendance during that time span.
Its success is also felt in the community. The Chick-fil-A Bowl leads all bowl games in charitable contributions over the last nine years having given $12 million to local, regional and national organizations.
Bottom line, the foundation for a operating a successful semifinal and/or championship game is already in place with the Chick-fil-A Bowl organization.
But it goes far beyond that.
The Chick-fil-A Kickoff Game, SEC Championship Game and the Chick-fil-A Bowl have helped establish Atlanta as a hotbed for college football.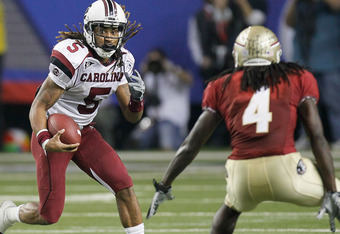 Kevin C. Cox/Getty Images
After some hold-ups, the College Football Hall of Fame is still expected to open near Centennial Olympic Park in 2014, according to SaportaReport.com—which just so happens to be the same year that the college football playoff starts. 
If that's not synergy, I'm not sure what is.
Could Atlanta host a semifinal in the tournament's inaugural season? That remains to be seen.
The city is on the brink of getting a new football stadium with a retractable roof that could be complete by 2017, according to the Atlanta Journal-Constitution. The site for the stadium is still up for debate, and could be located one-half mile north of the existing Georgia Dome or just south of it. Either way, it would be centrally located to the proposed Hall of Fame, Georgia Aquarium, Centennial Olympic Park and several other attractions.
There will undoubtedly be an uproar from fans from other parts of the country if a city in the South gets preferential treatment in college football's postseason. But we don't know how the rotation of the semifinals will work yet or how higher-rated teams could conceivably gain an advantage. I've suggested that the No. 1 team should get to pick between two predetermined semifinal cities.
Let's find out the details of the playoff system before crying foul.
Atlanta has the resources, the proven track record and the foundation in place to be a fantastic host for college football's premier event.