College Football 4-Team Playoff: Why a Set Rotation for Semifinals Won't Work
June 27, 2012

Stephen Dunn/Getty Images
The framework for the four-team college football playoff is now in place, but the devil is in the details.
Who's going to be on the selection committee? How will the revenue be distributed? When are the look-in provisions in the new contract?
All of these are valid questions and will certainly be the subject of the debate moving forward.
One detail that was revealed yesterday is that there will be a six-bowl rotation to host the semifinals. Figuring out how that rotation will work is one of the more important details of this format, and it's one that could have a major impact on how we judge the new system.
The easy answer is to predetermine the rotation so each bowl is given a specified game (No. 1 vs. 4 or No. 2 vs. 3) before the season starts. 
That sounds simple, but it can't happen.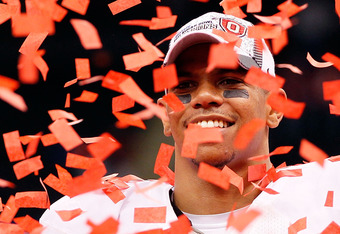 Kevin C. Cox/Getty Images
Can you imagine the uproar if No. 1 Alabama has to play a semifinal game against No. 4 UCLA at the Rose Bowl, which just so happens to be the home stadium of the Bruins? Or what if No. 1 Ohio State "earned the right" to take on No. 4 LSU at the Sugar Bowl?
That controversy would be epic, especially considering one of the goals of this system is to protect the integrity of the regular season.
With 24 semifinal games on the docket during the 12-year contract, each site in the semifinal pool will get to host four games. 
So, how do you fix it? You can't, really.
You could always give the higher-ranked teams more than two site options, but then the teams towards the end of the contract may be forced into a site that hasn't met its four-game requirement. 
The only way to minimize the risk is to place importance on earning the No. 1 ranking and allow the best team in the nation to choose where it wants to play its semifinal between two predetermined sites. The No. 2-seeded team may not like that, but this would at least minimize the risk of this happening twice in the same season.
It's not ideal, but there aren't many other options based on the format that was agreed upon.