BCS Rankings Week 13: Reaction and Analysis to the Newest Poll
November 19, 2011
Reese Strickland/Getty Images
The BCS Standings were sent into a complete free-for-all after No. 2 Oklahoma State's loss to Iowa State on Friday night. 
What seemed to be a slam-dunk for a national title game—an undefeated LSU vs. an undefeated Oklahoma State—has just spiraled out of control. What we have now is the one thing that BCS members did not want. 
Utter chaos. 
There are four teams now that can claim a strong argument as to why they should play LSU for the national title. What's even better is that we still have two weeks left in this football season. Everything that you know now could be changed up by the end of next week. 
For now though, we have those four teams that have a legit shot at playing LSU in the title game. With the Oklahoma State loss, it opened the door for Alabama, Oklahoma, Oregon and Arkansas. 
One look at the current BCS Standings and you will see Alabama with the best chance as the Crimson Tide is No. 3 in the standings. However, if you look at Alabama's remaining schedule they only have No. 24 Auburn left. For Oregon, it's a game against a good 8-2 USC team then two unranked teams in Oregon State and the winner of the Pac 12 South division. 
The Oklahoma Sooners had their only shot of moving into one of the top spots in the BCS get destroyed when Oklahoma State lost to Iowa State. In fact, according to ESPN's John Buccigross, that loss was the first time since 2007 that one of the top two teams in the BCS lost to an unranked team this late in the season.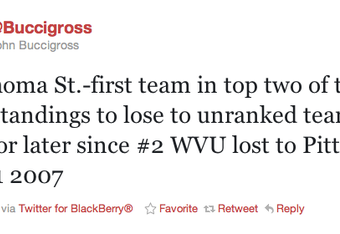 That leaves one team and one team only with the best chance at jumping over everyone to force their way into the BCS title game, the Arkansas Razorbacks. 
In fact this tweet says it the best. If LSU happens to lose to (projected) No. 5 Arkansas next week, it more than likely will make the top three teams in the BCS Standings at Arkansas, Alabama and LSU.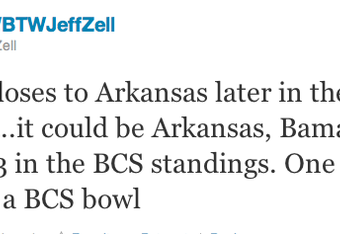 For those of you who hate the SEC and their fans who pump their chest out and say they are the best football conference in the NCAA, this situation is your doomsday. 
However, this is the way that we crown our national champion. Love it or hate it, we have to live by it. 
For now it looks like the next BCS Standings will have LSU, Alabama, Oregon, Oklahoma and Arkansas as their Top 5 teams, with Oklahoma State at No. 6. I cannot stress enough that it can very easily change up in two weeks, or next week, or by the end of tonight. 
As the Joker said in the movie The Dark Knight,"Introduce a little anarchy ... upset the established order ... and everything becomes chaos. I'm an agent of chaos."
The BCS is in total chaos right now. So much chaos that it may be the final straw into blowing up the established order after the 2013 season.
UPDATE: For those of you who have not seen what sent us spiraling out of control and into chaos, here it is. You can thank Iowa State for the state of confusion we are currently in.