Wisconsin Football: Why Patience Is the Key to the Rise of the Badgers' Program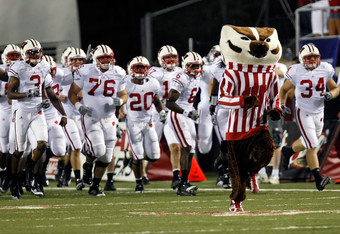 Ethan Miller/Getty Images
Slow and steady wins the race, as the saying goes. This should be applied to the Wisconsin Badgers, as they lick their wounds and prepare for Purdue this weekend.
With two disappointing losses on the road, the Badgers' National Championship hopes have gone and they are now a stretch to play in the inaugural Big Ten Championship Game. While a national or conference title would be great, missing out on either one this year it will not affect the long-term advancement of the program.
Some would say that implementing a playoff system in college football would fix the unjust ranking scheme and give Wisconsin a better chance to prove itself. However, something that revolutionary is not likely to occur, at least now. So, if Wisconsin cannot change the system, they need to adapt themselves.
The keys to Wisconsin gaining respect in the BCS rests on the solid recruiting and development of players, the seeking of challenging contests, and patient confidence.
One of the strengths of the coaching staff in Madison has been the development of raw talent. Many Badger stand-outs have made careers in the NFL: J.J. Watt, Gabe Carimi, DeAndre Levy, Owen Daniels, Lee Evans, Jim Leonhard, and Joe Thomas were not top recruits out of high school, but flourished at the University of Wisconsin. This and the relative success of the Badgers in recent years have put Madison on the map for many recruits around the nation.
Russell Wilson chose to spend his last year of eligibility at Wisconsin over defending National Champion Auburn. Quarterback Bart Houston, a four-star recruit from California, has verbally committed as well. Tackle J.J. Denman, a Pennsylvania native, committed to the Badgers over such schools as Penn State, Michigan, Notre Dame, and South Carolina.
Wisconsin is walking a pathway to securing as talented a set of players as any other programs. Talent does not necessarily translate to performance, but if there is a training staff that can bring out the full capabilities of these young athletes, they certainly work for Bret Bielema.
A major criticism of the Badgers has been their weak non-conference schedule. With such opponents as UNLV, Austin Peay, San Jose State, and South Dakota, Wisconsin is not going to garner much respect in the voter polls or computer standings. Aside from the consideration of the Sagarin rankings, more challenging opponents give the Badgers more experience in facing top-tier programs.
Badgers need become conditioned to playing perennial powerhouse programs like Texas A&M, Virginia Tech, or even successful non-BCS teams like SMU or Fresno State, to get the most benefit from their schedule.
LSU is a great example of this; they have defeated ranked non-conference challengers Oregon and West Virginia (on the road, no less), along with a difficult season against tough SEC rivals. A tough schedule offers the best competition. Competition breeds excellence.
Jonathan Daniel/Getty Images
The final part of developing a great program is patience. The best football teams have been consistently good for decades. It took years of work for the storied histories of Alabama, Michigan, Notre Dame, or USC to result in elite programs.
The building of a great team is like building credit; the poll voters, year-after-year, can generally expect Oklahoma to be competitive every year, considering their accomplished history. Given the right circumstances, they get a top ranking from the beginning. They don't have to embarrass other teams or post blow-out scores to get there.
Wisconsin is still building that credit.
With the success found in the 1990s under Barry Alvarez and the current achievements of Bret Bielema, the Badgers are on the right track to their own blue chip football program. If the Badgers keep up their winning ways, they too will be favored in the polls.
There are many ways to success in college football, but there is no fast-track to national dominance. Boise State can attest to this. Since joining the FBS in 1996, the Broncos have an incredible .786 winning percentage. A high-profile Fiesta Bowl win against Oklahoma in 2007 adds to the credit of Boise State, but wins are not the only things to make a football program.
In the same vein, recent lacklustre seasons have not destroyed the programs of Notre Dame or Michigan. Wisconsin has the formula, the pathway, and the time to reach the top tiers of college football. They just need to move forward.
Patience Bucky, you'll get there.
This article is
What is the duplicate article?
Why is this article offensive?
Where is this article plagiarized from?
Why is this article poorly edited?

Wisconsin Badgers Football: Like this team?