South Carolina vs. Arkansas: Foreshadowing of SEC Championship Game?
November 2, 2011
Andy Lyons/Getty Images
Could the South Carolina-Arkansas matchup this weekend turn in to an epic foreshadowing of the SEC Championship Game? Will the Gamecocks take another huge step towards clinching the SEC East this weekend against the Razorbacks?
Can Arkansas (7-1, 3-1 SEC) keep its hopes alive in the SEC West title chase? With a victory, the Razorbacks will be one game behind the loser of the LSU-Alabama game this weekend.
All four SEC teams in the BCS Top 10 will be on prime-time display Saturday night. LSU and Alabama will battle for the SEC West lead on CBS, while ESPN will carry the South Carolina-Arkansas game.
The No. 9-ranked Gamecocks will travel to Razorback Stadium in Fayetteville to matchup against the red hot Razorbacks. Carolina could clinch the SEC East with a victory.
No. 7 Arkansas, meanwhile, could still overtake both LSU and Alabama. The Razorbacks face the Tigers in Baton Rouge right after Thanksgiving Day. Alabama has tough matchups against Mississippi State and Auburn remaining.
Despite the adversity Steve Spurrier's squad has faced, South Carolina (7-1, 5-1) remains in the national championship hunt. It took a few years for Spurrier to get his program to this point, but the point is he did.
The "old ball coach," as he's been known to refer to himself, has faced scrutiny surrounding his decision to dismiss the previous starting quarterback. In the aftermath of that loss, he's faced further fall-out for his dealings with a certain member of the local media.
Meanwhile, Spurrier's only gridiron defeat came against Auburn on Oct. 1. On the other hand, SC beat a main SEC foe, Georgia (6-2, 5-1), and thus owns first place even though the Bulldogs have an identical conference record.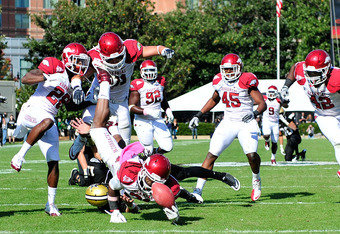 Grant Halverson/Getty Images
The closest team to the Gamecocks in the SEC East is Florida (4-4, 2-4). Georgia defeated Florida, 24-21, last Saturday and has won six games in a row since losing two in a row. The Bulldogs started off 0-2 with losses to Boise State and South Carolina.
After this weekend, the SEC's top dogs have a tougher remaining schedule than the Gamecocks. New Mexico State, No. 22 Auburn, Kentucky and No. 23 Georgia Tech remain for Georgia. Only the Tech game is on the road, but even it is within the state.
Meanwhile, this Saturday will mark the Gamecocks' final road game of the regular season. They have Florida, Citadel and No. 11 Clemson left before they likely play in a major bowl game and maybe the BCS National Championship.
As leaders of the SEC East, SC first has the conference championship game in its sights. If the Gamecocks defeat Arkansas, they'll all but clinch the SEC East.
Unfortunately, life will be hard on the road without their best offensive weapon, sophomore tailback Marcus Lattimore, who is out for the season with a knee injury.
Representing the SEC West, Arkansas has had an outstanding season with big wins over then-No. 15 Texas A&M and then-No. 14 Auburn.
Vanderbilt and Auburn are Carolina's and Arkansas' only common opponents so far this season.
The Razorbacks defeated Auburn, 38-14, in Fayetteville on Oct. 8. Arkansas is coming off a 31-28 victory last week at Vandy. The Gamecocks beat Vanderbilt by a 21-3 score in Columbia, S.C. at Williams-Brice Stadium.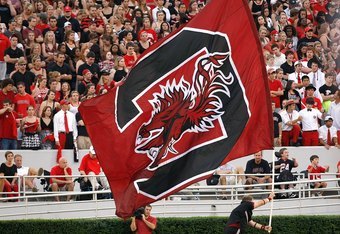 Kevin C. Cox/Getty Images
It was there, earlier this season, that SC lost to Auburn, 16-13. However, thanks to the play of his new quarterback, the 'Cocks defeated Tennessee in Knoxville last week, 14-3.
Spurrier's on-the-job quarterback trainee, Connor Shaw, has been steady more so than he has been shaky. He accounted for both touchdowns last week against the Volunteers. This Saturday's South Carolina-Arkansas meeting could be a relatively high-scoring game.
Arkansas' passing attack can put up a lot of points. The defense, however, can also put up a lot of points for the other team. It gives up 22 points per game. That's No. 33 in FBS defensive rankings.
On the flip side, Carolina's defense gives up 17 points per game. Meanwhile, Arkansas' passing game is ranked No. 9 in the FBS for yards per game.
Now, it's past time for one of my almost famous and foolproof prognostications concerning the outcome of this surely entertaining sporting competition. 
Prediction:
Steve Spurrier's squad hasn't beaten a Top 25-ranked team all season. Without Lattimore, it certainly won't do it this weekend in Arkansas. The Razorbacks will win it, 38-24.
Contact Lake Cruise: Lakecruise@att.net