BYU to Big 12: Understanding All the Factors Affecting Negotiations
October 20, 2011
George Frey/Getty Images
Like any nuanced issue, fans and media have difficulty grasping the myriad of variables that exist in the negotiations and subsequent decision-making relating to Brigham Young University being invited to the Big 12.
While both sides wish it was as simple as extending and accepting an invite, there are dozens of complex issues at play that must be addressed and reconciled before the pressers are called.
From Sunday play and Tier 3 television rights to current ESPN deals and fear of exposure, there is serious complexity.
So herein I attempt to give Cougar and Big-12 fans alike a little more insight into the aforementioned factors and the level of impact they may have in the overall decision.  
Sunday Play
Estimated level of Impact: Low
Sunday play simply isn't an issue in this conference negotiation. Tom Holmoe told the media during the half-time of the BYU-Oregon State game that everyone knows BYU isn't going to play on Sundays.
That includes TV partners. Now, there may be certain TV partners, or conference members who don't like the requirement, but it's not hindering the negotiations. Were it an issue, it would have been a non-starter.
On a lighter note on this topic, I found this tweet from @Zbloxham hilarious and poignant: "BYU: Sunday play is not negotiable. B12: Really? BYU: Really. B12: Baylor and TCU don't care, tho. BYU: No comment."
The SEC and the Big East
Estimated level of impact: High
It's sad but moves by two other conferences have significant import in this whole courtship.
If the SEC invites Missouri and the Tigers decide to make the move before next football season, the Big-12 needs another team ASAP.
There's speculation an immediate replacement could come from the Big East. But with ongoing deliberations in that conference likely to substantially raise the exit fee, that option seems less likely.
Such a scenario would make the Big-12 much more accommodating to some of BYU's ancillary demands as the Cougars would be available to fill that immediate need for a team in 2012.
Erich Schlegel/Getty Images
To 12, or not to 12
Estimated level of impact: High
Some have reported the Big-12 would stand pat at 10 for the near future. If Missouri were to stay, that means BYU is out at present.
But with the recent rash of realignment, the Big-12 remains the only conference without a conference championship game. And once the Big-12 gets to the negotiating table with TV partners, they may quickly change their minds. Especially considering what the Pac-12 got by adding its title game.
The lack of a conference championship game may find itself at the forefront of college football discussion this season if Oklahoma or OK State end up in the national championship game and another (Read: SEC) team drops out because it had to play in a conference championship.
Don't be surprised to see the other BCS conferences whining loudly about requiring all affiliated conferences to play a title game.
BYUtv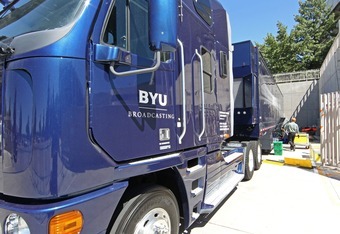 George Frey/Getty Images
Estimated level of impact: High
The most telling news from Tom Holmoe when he came out on the subject of the Big 12 was the repeated reference to misconceptions about BYUtv. So there are some as yet unknown issues TV partners seem to have with BYU's demands related to its network.
While the breadth of those demands regarding TV rights are held pretty close to the vest, it's well known that the Cougars want to make sure two things are accommodated in any conference affiliation and related TV contract:
     - All games are nationally televised
     - BYUtv has rights to rebroadcast games
College football games are tiered in three classes by their level of interest and expected demand. Games like Texas v Oklahoma are Tier 1 games which air on major networks like ABC or an ESPN network.
Tier 2 games are usually found on ESPN's lower family of networks, or in the case of Fox, on their national sports stations (FSN), while Tier 3 games end up on those hard-to-find regional networks in the channels near the adult networks.  
It's expected that, were they in the Big 12, most of the Cougar's conference games would be televised on a Tier 2 or Tier 3 network, with the occasional matchup on a major network.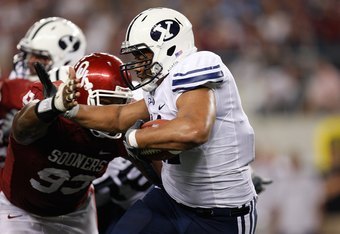 Ronald Martinez/Getty Images
But occasionally, Fox may decide a game against a 1AA team isn't worth picking up. BYU wants the right to air these on BYUtv or KBYU locally. Or better yet, they want to work out deals like that we just saw with the Oregon State game: BYU provides the equipment and absorbs some cost, but the game gets on the regional network while being simulcast on BYUtv/KBYU.
And then beyond that, the Cougars want to have the right to re-broadcast games later to a national audience on BYUtv.
This issue is precisely what led to so much consternation with the Mountain West's TV deal. BYU took many oral or implied promises from other conference members, TV networks and the conference commissioner's office that such accommodations would be made and those promises turned out to be empty.
So BYU wants it all written out clearly and without ambiguity. And this may not sit well with some Big 12 TV partners who don't like relinquishing control or feel like they are being bullied or demanded.
Retention of ESPN deal
Estimated level of Impact: Medium
In addition to the BYUtv issues above, there is some desire on BYU's end to keep some, much or all of the current contracts, and more importantly revenue from those ESPN deals, in place and unshared with other conference members.
Sure, BYU will have to drop some future games if it joins a conference, so it will lose some of the current deal.
But with big money games on the horizon with Notre Dame, West Virginia, Boise State, Georgia Tech and more, the Cougars would like to keep the revenue from those non-conference games that they did the work to procure.
The Big 12 members and current TV partners would obviously prefer not to allow that.
If neither side is willing to compromise, this could be a sticky issue. But if BYU lets this stand in the way, it won't sit well with fans and may make the administration come off greedy.
Guarantee of exposure
Estimated level of Impact: High
This is a much overlooked factor, in my opinion. BYU has said from the day it planned to leave the Mountain West that it's all about exposure.
Sure, the Big-12 offers a more prominent conference and access to the BCS. But BYU doesn't want to end up playing 90% of its games on Fox Sports Provo, or some other sparsely watched regional network.
Sure, win games and you'll get Tier 1 and 2 spots. But so far this season BYU has played on an ESPN network in every week but one. It's arguable no team in America has had more exposure than the Cougars.
Say what you want about Fox networks being national, there's no comparison between the number of eyeballs, and subsequent exposure, you get in a Saturday afternoon game on FSN versus a Thursday, Friday or Saturday night game on ESPN.
So while a move to the Big 12 brings better competition, it doesn't necessarily mean more exposure. You can argue that in the long run it does, but BYU would prefer to have some guarantees. And with ESPN on its side, they seem to think they can get them.
Available substitutes
Estimated level of impact: Medium
It's no secret that BYU comes with a list of demands and–how shall we put it–idiosyncrasies.
So part of the decision on the Big 12's part is the availability of other alternatives. We saw how quickly they extended an invitation to TCU, despite the Horned Frogs having a substantially smaller fan base, less media appeal, weaker facilities and less institutional support.
The other options currently available include SMU, Boise State, the aforementioned Big East's Louisville and West Virginia, and a couple others.
In the end, BYU, with its relationship with ESPN, national fan-base and superior facilities is likely to remain the Big 12's top choice, assuming none of these other issues become irreconcilable.
Now, we wait and see.
Follow Ryan at Twitter.com/SportsGuyUtah