Auburn vs. LSU: Can the Auburn Tigers Shock the World?
October 20, 2011
Kevin C. Cox/Getty Images
Seven games have been put to bed in the mind of the Auburn Tigers and surely in the mind of head coach Gene Chizik as well. That's a very good thing for them because the past is gone and they need to look forward.
The report card is in on their first half of the season, with the Tigers performing adequately, but with definite need for improvement.
Their record is respectable at 5-2 overall and 3-1 in the SEC.
But, this weekend starts a new chapter, with AU showing a lot more confidence and cohesiveness in their seventh game against Florida.
I don't think it matters that they defeated a badly injured Gator team and faced two true freshmen quarterbacks.
The Tigers looked and felt as if they had it together, no matter who the opponent was.
Football is an emotional game and if you've got it, you can feel it. It's evident in the momentum that flattens one team and drives the other, the one that has it.
This weekend Auburn heads into Death Valley to face the No. 1 LSU Bengal Tigers, and most have written it off as a slaughter-fest just waiting to happen to the Auburn version of the Tigers.
But those that are making this assumption are not looking at what Auburn is bringing into Baton Rouge at midseason.
This is not the same team that we saw in the Utah State game, and not even the same team that played and lost to Arkansas.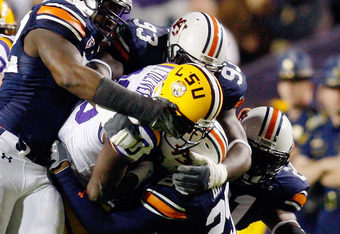 Chris Graythen/Getty Images
It is important to note that Auburn's only two losses came at the hands of the current BCS ranked teams, No. 7 Clemson and No. 9 Arkansas, both very solid teams.
In fact, Clemson was a real unknown at the time they played AU, but they've dominated all of their opponents to an undefeated status at this point.
Typically heading into LSU country is a foundation of dread, given the rabid fan base, an intimidating environment and this year a dominating Bengal Tiger team.
This week, three of LSU's key players were suspended for the Auburn game.
Star cornerback Tyrann Mathieu, leading running back Spencer Ware and defensive back Tharold Simon will not suit up.
This is a devastating blow to the Louisiana faithful, and to the team on both sides of the ball. Even the LSU pundits are starting to show some doubt.
But Auburn vs. LSU has always been a big game for both teams, and in rivalries anything can happen, even if those suspended players were in.
This game goes back to 1901 and for Auburn, it probably ranks just behind Georgia and Alabama in terms of important games to win.
Interestingly, LSU does lead the overall series, but only by four wins 24-20-1.
But is the loss of Mathieu, Ware and Simon enough to flatten the Bengal Tigers to the point of loss, or even lessen that sense of rivalry within the team? Maybe, unless head coach Les Miles and staff do their job right.
Mathieu was a spark for the LSU defense, an emotional leader earning the name Honey Badger because of his tenacity, setting forced fumble records, but more importantly, firing up the defense to pummel their opponents.
Ware is the team's leading rusher, and one of the best backs in the SEC.
Simon leaves a hole in the defensive backfield, where they were one short already.
Never underestimate the emotional toll losing such a stellar group of teammates can have on the rest of the team. Sometimes it leads to a lack of confidence without those three leaders there to rise to the occasion. 
In terms of the Auburn Tigers, they know that they can work together now. They've shown improvement with every game they played. Right now, they're on a high, heading into Death Valley.
Clint Moseley is their new offensive leader, and they seem to rally around him as we saw in the second half of the Florida game.
In other words, they have the momentum.
In the minds of the Auburn players, or any good football team for that matter, loss is never an option, and they're going out there playing to win; and in the LSU game, their heart and grit will mean more than ever.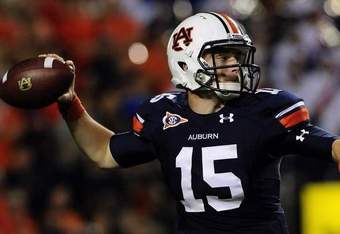 But still, we're talking about going after the No. 1 team in the nation, who got there on their own ability, their own momentum, their own heart; and then Auburn will be facing them on their own formidable home turf.
If LSU has with them everything that got them to No. 1, minus those suspended players, they will likely still walk away with a win, a tight one, but a win.
But, if this setback has caused any chink to their armor, their ability may not be enough to get them by, and in this historic game anything could happen anyway.
Will the Auburn Tigers shock the world? It is a distinct probability. If not with a win, at least in the way they play the game.