Heisman Watch 2011: Latest Updates for Top Contenders vs. Pretenders in Week 7
October 15, 2011
Ezra Shaw/Getty Images
The 2011 Heisman Trophy race was slated to be a landslide victory for Stanford quarterback Andrew Luck, but every week the gap between first and the rest of the pack closes ever so slightly.
With Week 7 of season already underway, the next stage of the battle for the greatest hardware in college sports has already commenced. Enjoy the wild ride that is the Heisman Trophy watch!
UPDATE: Saturday, Oct. 15 at 11:15 p.m. EDT by Ryan Rudnansky
Stanford QB Andrew Luck continues to look like the top Heisman candidate thus far.
Luck and the Cardinal rolled over Washington State on Saturday, 44-14, behind Luck's 336 passing yards and four touchdowns. Luck went 23-of-36 for the night. He's now thrown for 18 touchdowns and three interceptions in six games.
However, it is worth noting Saturday marked Luck's second straight game with an interception.
UPDATE: Saturday, Oct. 15 at 10:55 p.m. EDT by Ryan Rudnansky
Alabama running back Trent Richardson continues to prove he's a legit Heisman candidate.
On Saturday against Ole Miss, Richardson rushed for 183 yards and a career-high four touchdowns, adding 30 receiving yards along the way.
Richardson may have had the play of the week when he juked multiple defenders on his way to a 76-yard touchdown run in the third quarter. Richardson is clearly looking like the top running back in the 2012 NFL Draft class.
UPDATE: Saturday, Oct. 15 at 8:40 p.m. EDT by Ryan Rudnansky
Baylor's Heisman contender Robert Griffin III did not disappoint against No. 21 Texas A&M on Saturday, but his defense didn't exactly follow suit.
Despite 430 yards passing and three touchdowns from Griffin on Saturday, the Aggies blew out No. 20 Baylor, 55-28. The Bears' defense allowed Texas A&M quarterback Ryan Tannehill to throw for 415 yards and six touchdowns, receiver Ryan Swope to catch 11 balls for 206 yards and four touchdowns and running back Christine Michael rush for 105 yards and record two total touchdowns.
Griffin may be a one-man army this season, but if his team slips out of the Top 25, it's not going to matter much.
UPDATE: Saturday, Oct. 15 at 4:59 p.m. EDT by Donald Wood
The South Carolina Gamecocks depend heavily on their top running back Marcus Lattimore, but there may be some seriously bad news on the horizon for the school.
Gamecocks insider is reporting on twitter about the possibility that Lattimore could be out for awhile: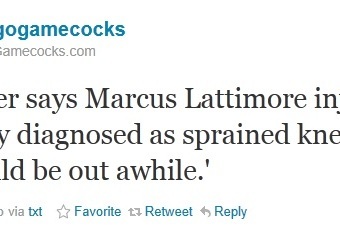 While Lattimore is one of the top Heisman contenders n the nation, his big at winning the award this season have come to a crashing halt. This makes the race for the Heisman even more exclusive than it already was.
UPDATE: Saturday, Oct. 15 at 3:50 p.m. EDT by Donald Wood
A terrible day statistically for Marcus Lattimore and the South Carolina Gamecocks got even worse when he left the game with an apparent leg injury.
The Gamecocks have put all their eggs in one basket, and with just 39 yards on 17 carries, Lattimore came up as small as a Heisman candidate could ever imagine.
There were already serious questions about whether Lattimore was a serious contender for a Heisman Trophy nomination, but this poor showing and injury prove that he won't be a factor in the final decision.
UPDATE: Saturday, Oct. 15 at 2:50 p.m. EDT by Donald Wood
Just when people were starting to seriously consider Denard Robinson as a top contender for the Heisman Trophy, the Michigan quarterback had to put up one of his worst statistical days.
Despite one of the more incredible rushing touchdowns of the season, Robinson was not looking good through three quarters against in-state rival Michigan State.
With just five completions so far and less than 120 yards combined through the air and on the ground, Robinson and the Wolverines look like they are going to lose the game and Robinson will lose his chance at a possible Heisman.
UPDATE: Saturday, Oct. 15 at 2:30 p.m. EDT by Donald Wood
The Wisconsin Badgers are beating down the Indiana Hoosiers through three quarters, leading 52-7, and their star quarterback Russell Wilson is making a strong bid for the top spot in the Heisman Trophy hunt.
Not only has Wilson caught his mandatory receiving touchdown every quarterback who wins the Heisman Trophy seems to have, he has dominated the Hoosiers on the ground and through the air.
While 166 yards and a touchdown through the air doesn't sound very impressive, add 42 yards on the ground and another 25 and a touchdown receiving and you have a picture perfect day.
UPDATE: Saturday, Oct. 9 at 1:50 p.m. EDT by Donald Wood
The Baylor Bears have a tough test against the Texas A&M Aggies, and Heisman hopeful Robert Griffin III is trying to show the doubters that he deserves the honor of winning the honor.
With a big 3rd and four in the first quarter, Griffin felt the pressure of the tough Texas A&M defense, but instead of giving, up the mobile quarterback ran for the first down.
For all of the experts who questioned Griffin's talents and abilities needs to look no further than this video against a tough defense to show just how talented the Baylor QB really is.
No. 1 Contender: Andrew Luck, Stanford
There is no question that Andrew Luck came into the 2011 season as the favorite for the Heisman Trophy, and there is little doubt that he is still the favorite for the award.
Luck has been absolutely lights out for the Stanford Cardinals this season with 1383 passing yards, 14 touchdowns and just two interceptions in five games.
With a game Saturday against Washington State, Luck has another chance to not only pad his stats, but further drive home the point that the Heisman Trophy is his to lose.
Prognosis: Contender
No. 2 Contender: Russell Wilson, Wisconsin
There may be no player in college football that has meant more to their team than Russell Wilson to the Wisconsin Badgers.
With 1391 yards passing, 13 touchdowns and just one interception to go along with two rushing touchdowns, the Badgers got everything they could've asked for when they brought in the NC State transfer.
After having last week off, Wilson will be ready to get back out on the field, and a matchup against a terrible 1-5 Indiana Hoosiers team will have Wilson racking up the Heisman votes next week.
Prognosis: Contender
No. 3 Contender: Robert Griffin III, Baylor
While Robert Griffin III didn't have the greatest game of his season last week, his overall numbers this year are just too amazing to let one less than stellar performance knock him down much.
Griffin's numbers with the Baylor Bears this season have been off the charts, and his over 1500 yards passing and 19 touchdowns to just one interception have him on the tip of all the voters tongues.
For all of the doubters of the Baylor Bears and Robert Griffin III, his Week 7 matchup against the No. 21 ranked Texas A&M could be the young quarterback's defining moment of the season, good or bad.
Prognosis: Pretender
No. 4 Contender: Denard Robinson, Michigan
The Michigan Wolverines are undefeated so far this season, and their resurgence as a serious contender in college football rests on the shoulders of talented quarterback Denard Robinson.
Why Robinson hasn't been getting the respect he deserves for the Wolverines this season is beyond me, and Saturday's game against Michigan State in recorded 50 mph winds will be a huge measuring stick for the Heisman hopeful and his team.
While 1130 yards for ten touchdowns isn't that impressive compared to the others on this list, add that to the 720 yards rushing and eight touchdowns on the ground he has racked up and he is a top-five contender.
Prognosis: Contender
No. 5 Contender: Trent Richardson, Alabama
The only non-quarterback on this list is Alabama Crimson Tide running back Trent Richardson and his inhuman ability to destroy defense with his ground attack.
With little-to-no pass game this season for the Tide, Richardson has been facing more defenders and still breaking free for big gains or just chewing the clock. Without Richardson, Alabama isn't undefeated right now.
While his 729 yards and 11 touchdowns are very impressive, Richardson will be able to stack up the totals Saturday against a mediocre Ole Miss team.
Prognosis: Pretender
No. 6 Contender: Landry Jones, Oklahoma
While many experts believe that the Oklahoma Sooners were passed over in the rankings this season, starting at No.1 and dropping to No. 3 without losing a game, it should be a huge opportunity for quarterback Landry Jones.
Now that the Sooners have a chip on their shoulder, Jones will have a chance to show the nation that the lack of respect for his team is enough fuel to drive Oklahoma to a BCS title.
Jones has an amazing 1814 yards through the air this season with 13 touchdowns, but it's the five interceptions that have voters steering away from the Sooners' star.
Prognosis: Pretender
No. 7 Contender: Marcus Lattimore, South Carolina
The South Carolina Gamecocks have faced controversy at the quarterback position all season, and the only thing keeping their offense marching down the field is stellar running back Marcus Lattimore.
With 779 rushing yards and nine touchdowns to go along with his 153 receiving yards and one touchdown, the Gamecocks bright spot all season has been there stellar back.
While Lattimore is the longest of the long shots in contention for the Heisman trophy, even he can run all over the SEC for the rest of the season, it will be hard to keep him from the top of the list.
Prognosis: Contender
Check back for more on the NCAA Football as it comes, and check out Bleacher Report's College Football Page to get your fill of College Football.