College Football Predictions: Outcomes of Every SEC Game in Week 7
October 12, 2011
Streeter Lecka/Getty Images
Week after week the SEC features great college football matchups.
This weekend is no different as three SEC East teams continue their fight to stay alive for a conference title game berth.
Two of the top teams in all of college football look to keep pace with each other in the SEC West.
Two teams are on byes this week, Arkansas and Kentucky. Arkansas travels to Ole Miss next week and Kentucky hosts Jacksonville State.
No. 15 South Carolina at Mississippi State
Believe it or not, South Carolina versus Mississippi State is the SEC game of the week.
Mississippi State and South Carolina started the season off in similar fashion—with high hopes. MSU's came crashing down fast while USC still has a shot to right the ship.
The Bulldogs are 3-3 after starting the season at No. 20.
MSU moved up as high as No. 16 in the nation, but quickly lost their way after Auburn shut quarterback Chris Relf down at the goal line on the final play of their game.
The two head coaches, Steve Spurrier and Dan Mullen, find themselves in the middle of a quarterback controversy this week.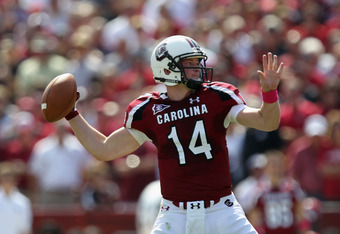 Streeter Lecka/Getty Images
The Daily Gamecock reported that South Carolina coach Steve Spurrier dismissed senior quarterback Stephen Garcia from the team on Tuesday after he failed an alcohol test. Garcia had lost his starting job to sophomore Connor Shaw for USC's game against Kentucky last weekend.
Garcia had been suspended five times previously by Spurrier.
Another upstart sophomore is pushing an established senior quarterback for playing time in the SEC.
This time MSU head coach Dan Mullen has to make some hard choices about who will start, who will sit and how many snaps each quarterback will get in the game.
Chris Relf has struggled much of 2011 after having a solid junior campaign. He is ranked ninth in the SEC in total passing yards (860), seventh in completion percentage (58.1), but has five interceptions to four touchdown passes.
MSU quarterback Tyler Russell started the second half against UAB which lead to a 21-3 come from behind win for the Bulldogs. Russell completed 11 of 13 passes for 166 yards with three touchdowns and no interceptions.
Relf finished the game 6 of 10 for 46-passing yards.
The in-game battle will be between Mississippi State running back Vick Ballard and USC's running back Marcus Lattimore.
Ballard is fifth in the SEC in total rushing yards with 531. Lattimore leads the SEC with 779 but has 61 more carries on the season than Ballard.
Lattimore appears to be slowing down some. In his last three games he's had one 100-yard effort (102 yards vs. Kentucky). Mississippi State's linebackers have trouble stopping the run.
Ballard had his first 100-yard rushing game of the season against UAB.
Neither team has a signature win this year.
Both quarterback situations are sketchy at best, but USC has the better defense especially with the return of DE Melvin Ingram.
USC wins at Davis-Wade Stadium 35-21. 
No. 2 Alabama versus Mississippi
Ole Miss welcomes one of the top defenses in the nation to go against their offense—one of the worst in the nation.
Rebel fans are optimistic that junior quarterback Randall Mackey will be the key to ignite their offense. Mackey was penciled to be the starter for Ole Miss after spring practices, but Houston Nutt went with Zack Stoudt and Barry Brunetti to start the season.
Mackey completed eight passes for 214 yards and one touchdown in their last game against Fresno State. Mackey also had ten incomplete passes against the Bulldogs, a team allowing 392.5 yards per game.
Scat back Jeff Scot rushed for a career-high 138 yards against Fresno State.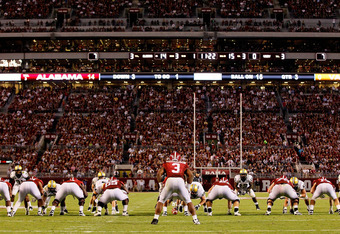 Kevin C. Cox/Getty Images
Alabama's offense:
19th best rushing attack in the nation averaging 217 yards per game with 18 touchdowns.
'Bama's total offense is second best in the SEC at 434.8 per game.
The Tide features the fourth best passing game in the SEC averaging 226.80 yards per game.
They score at a rate of 37.67 points per game—22nd best in the nation.
Alabama's defense:
Top scoring defense in the nation allowing seven points per game.
Third best total defense in the nation, 191.33 yards per game.
Best rushing defense in the nation by holding teams to 39.83 yards per game.
Fourth best pass defense in the nation limiting opponents to 151.50 yards per game.
Both teams have a common opponent in Vanderbilt.
Vanderbilt 30, Ole Miss 7. Alabama 34, Vanderbilt 0.
Linebacker C.J. Mosley returns from an elbow injury suffered against Arkansas. 
Life does not get better for Houston Nutt. Ole Miss losses another one 38-7.
Florida versus No. 24 Auburn
A reoccurring theme in the SEC is quarterback play or lack thereof. Auburn head coach Gene Chizik is sticking by his struggling junior quarterback Barrett Trotter, and Florida cannot keep a quarterback healthy enough to play.
Quarterbacks John Brantley and true freshman Jeff Driskel (Oviedo, Florida) both injured their ankles against Alabama. Florida head coach Will Muschamp made a game time decision to not start Driskel against LSU in favor for another true freshman quarterback, Jacoby Brissett (West Palm Beach, Florida).
The game will come down to who can stop the run. Florida has the fourth best rushing attack in the SEC (194 per game) and Auburn has the third best (204 per game).
Florida's rush defense is 32nd in the nation. Auburn's is 103rd allowing 201.83.
Auburn and Florida did not play each other last season.
Auburn has more stability at quarterback but Florida may have more raw talent under center.
Florida holds Dyer to 115 rushing yards and Chris Rainey finds the holes to keep the Gators on the field.
Jeff Demps was limited to two carries last week in Baton Rouge due to an ankle injury. His playing time will be a game-time decision.
Florida 21, Auburn 18.
Georgia versus Vanderbilt
First year head coach James Franklin has already passed expectations at Vanderbilt. He has eclipsed last year's win total and scored a SEC conference victory against Ole Miss. More importantly the Commodores have been competitive.
The final score in their past two games may not reflect the abilities of his team, at No. 12 South Carolina 3-21 and at No. 2 Alabama 0-34, but their defense is playing tough and they are young.
Franklin is laying groundwork for a strong Commodore team next season if they can find any offense.
Georgia has turned their season around after two straight home losses to fifth ranked Boise State and 12th ranked South Carolina. The Bulldogs are on a four game winning streak and tied with the Gamecocks for first place in the SEC East.
Georgia head coach Mark Richt started true freshman running back Isaiah Crowell after the South Carolina loss and the Bulldogs offense has responded.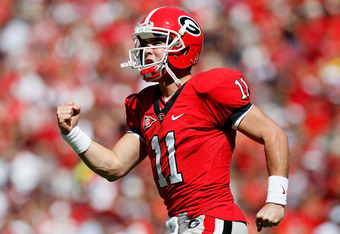 Kevin C. Cox/Getty Images
The Bulldogs have the fourth-ranked total offense in the SEC (2,435 yards) while averaging 405.80 yards per game. Crowell is fourth in the SEC in total rushing yards with 573 after seeing limited action in the first two games of the season.
Georgia's starting quarterback Aaron Murray now has a complement to his passing abilities. Murray is third in the SEC in total passing yards with 1,327, second in passing touchdowns (13) and fourth in quarterback rating (150.2). Murray's tendency to take a sack (SEC worst 13) and throw interceptions (six) has got to improve against the opportunistic Commodore defense.
The Commodores lead the SEC with 14 interceptions. Three of those picks have been returned for touchdowns.
Georgia has the sixth best defense in the nation.
Vanderbilt has the 117th worst offense in college football, 244.40 yards per game.
Vandy quarterback Larry Smith has missed time in the last two games due to injuries. Smith could have returned against Alabama last week, but Franklin played Jordan Rodgers the rest of the game.
Georgia gets a bye next week before playing Florida in Jacksonville. The Bulldogs will not get caught up in a trap game.
Georgia has enough offense to beat Vandy's determined group. Georgia wins 21-7.
No. 1 LSU versus Tennessee
Another SEC team, another starting quarterback injured.
Tennessee's Tyler Bray broke the thumb on his throwing hand last week against Georgia, according to ESPN. Now LSU will face their second straight game against a quarterback making their first start of the season.
Senior quarterback Matt Simms takes over for Bray. Simms was the starter last year before injuries and solid play by Bray in the final five games of 2010 lost him his starting job.
Simms threw for 1,460 yards and eight touchdowns last season against the hardest part of Tennessee's schedule: Oregon, Florida, LSU, Georgia, Alabama and South Carolina.
Simms almost pulled off an upset win against the Tigers last year in Baton Rouge. Simms was 12 for 23 for 121-yards passing with five sacks, no touchdowns and zero interceptions in last year's meeting.
Their performance last season has the Vols excited about their chances this week.
The difference in last year's Vols team and this year team is the running game. Tauren Poole has not clicked with the offensive line yet this season. Poole had 109 yards rushing against the Tigers in 2010 to pace UT's offense.
Poole left last week's game with an injured hamstring in the first quarter. His status for this week is a game time decision.
LSU has the fifth best defense in the nation.
Tennessee was held to negative 20 yards rushing against Georgia.
LSU escaped with a last second 16-14 win in 2010 against the Vols. Don't look for LSU to take Tennessee lightly this year, or ruin a chance to play for the BCS National Championship by looking ahead to Auburn.
LSU methodically breaks down Tennessee for a 48-3 win.