South Carolina Football: 5 Players Who Benefit from Connor Shaw at Quarterback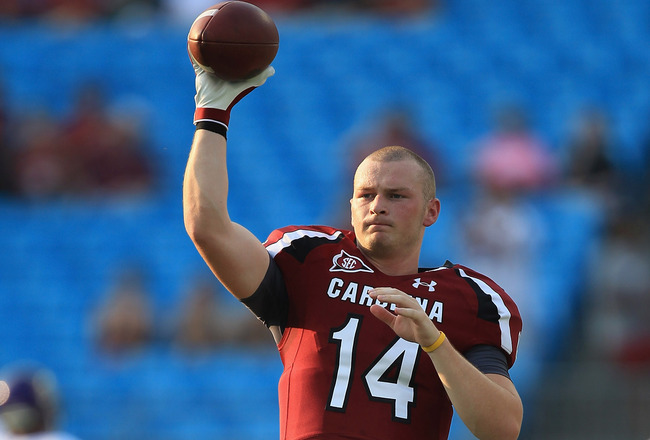 Streeter Lecka/Getty Images
Steve Spurrier made the long-anticipated switch at quarterback last week, handing the offensive reigns to Connor Shaw after Stephen Garcia had played himself out of contention. Shaw didn't disappoint in his first start in 2011, making the Head Ball Coach look like the Evil Genius from his days at the helm in Florida.
Shaw completed 26-of-39 passes for 311 yards with four touchdowns and zero interceptions, looking poised in the pocket and grew in confidence in his second start of the season.
The Gamecocks offense picked up under their new signal caller, posting a 51-point win over Kentucky and racking up a total of 639 yards of total offense on the day.
Shaw's output gives the Gamecocks hope for repeat performances in the future and these players are certainly happy to have him under center.
Here are five players that will benefit the most with Connor Shaw calling the shots.
WR Alshon Jeffery
Alshon Jeffery was the first person to catch the eye of his new starting quarterback against Kentucky.
It looks like the move paid off for both.
Jeffery had six catches in the first half against Kentucky with two touchdowns, and would finish with 95 yards receiving on the day.
Jeffery was targeted early on by Connor Shaw ,and he was heavily involved in the Gamecocks' first six drives of the first half.
You could tell that Kentucky was daring the Gamecocks to throw and Steve Spurrier wanted to get his quarterback in a comfort zone early. The best way to do that was making sure Jeffery got involved, and they did just that.
Shaw's accuracy should bode well for the star wide receiver going forward. Jeffery should continue to be a top target for Shaw.
TE Justice Cunningham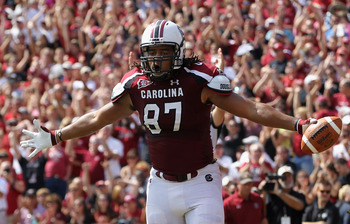 Streeter Lecka/Getty Images
South Carolina has a tight end?
A position that hasn't been utilized often this year by the Gamecocks got a big boost this past Saturday against Kentucky.
Justice Cunningham had a career day for the Gamecocks, posting five catches for 46 yards and one touchdown. Cunningham provides a nice target for Shaw, and should be considered his "safety net" in case the sophomore gets pressured in the pocket.
Shaw did a nice job on the check-down and found Cunningham over the middle a few times to give the Gamecocks some positive yardage. Cunningham showed off some nice hands for South Carolina and can add some value to this passing game if Shaw continues to get him involved.
Cunningham has been known as great blocker during his time at USC but teams will now have to prepare for him in the passing game.
This gives another option on offense for South Carolina and look for Cunningham to be more involved with Connor Shaw as the starter.
RB Marcus Lattimore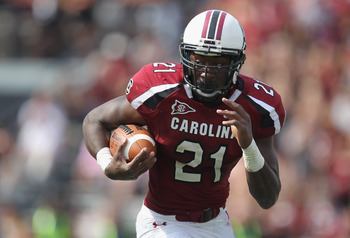 Streeter Lecka/Getty Images
Even the great Marcus Lattimore needs a quarterback to help take some of the pressure off of him.
Connor Shaw did a great job against Kentucky opening up the passing game for the Gamecocks that let Lattimore take over in the second half for the Gamecocks.
Kentucky dared the Gamecocks to throw the football and Connor Shaw made them pay. Lattimore had little running room in the first half against Kentucky as they stacked the box but, with Shaw, the Gamecocks moved the ball through the air that helped out the star running back in the second half.
Lattimore finished the day with 22 carries for 102 yards and also added four catches for 14 yards. The receiving yardage is not a high amount that you would expect but Lattimore has great hands and can be a valuable weapon catching the ball out of the backfield.
There were several opportunities for Lattimore over the last few weeks that Stephen Garcia just didn't make happen. Shaw did a much better job getting him the ball in space on the outside and expect that to continue as long as Shaw is the quarterback.
Marcus Lattimore has confidence in his new quarterback and Connor Shaw will want to feed his star player more and more as the season continues.
WR Nick Jones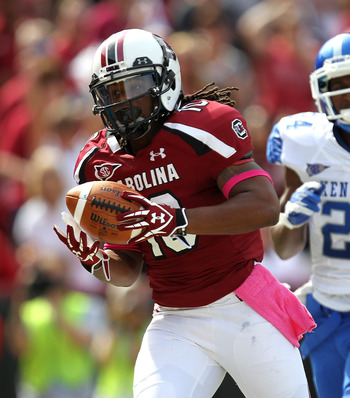 Streeter Lecka/Getty Images
Nick Jones is a guy that looked like he wouldn't be in the mix this year for South Carolina.
He's now a starter at wide receiver for the Gamecocks and he looks like he'll benefit from Connor Shaw being his quarterback.
Jones caught his first touchdown pass of his career against Kentucky on a 25-yard pass where broke towards the middle and was wide open in the end zone.
Shaw found his second option on this pass play as he looked to the outside first but then moved on to the middle where Jones had just planted his foot, made his cut, and was wide open in the middle of the end zone.
Connor Shaw looks like he can read the field and doesn't necessarily settle on his first option. This was an area that Stephen Garcia struggled at times. This can be a huge benefit for a player like Nick Jones. Jones is a player who just makes the tough catch and runs good routes.
He'll have plenty of opportunities and if Shaw can get other receivers involved like he did against Kentucky then Jones will certainly his chances at catching more touchdowns for the Gamecocks this year.
QB Stephen Garcia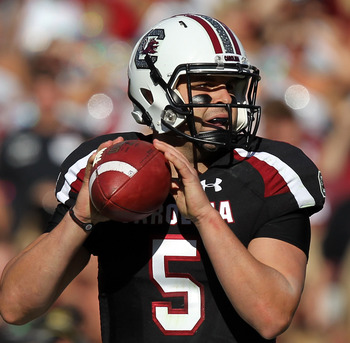 Streeter Lecka/Getty Images
Hear me out on this one.
It may sound strange but Stephen Garcia may just in fact benefit from Connor Shaw being the starter for the Gamecocks.
There was obviously something wrong with Stephen Garcia. There were no real injuries that we were aware of so it had to be something going on inside the head of the embattled fifth-year senior quarterback for South Carolina.
Garcia struggled in all aspects for the Gamecocks and was just ineffective as a quarterback in Steve Spurrier's offense. He has been through a lot during his stay in Columbia and certainly has some fans against him due to his inconsistent play.
Insert Connor Shaw and now all the pressure is off Garcia's shoulders.
Shaw now has his chance to run with it for South Carolina and this should give Stephen Garcia an opportunity to sit on the sidelines and regroup from his rough start.
Maybe this is exactly what Garcia needs. A little time on the sidelines could certainly do him some good. He can get back to being the quarterback we know and love and this should help him prepare to be ready in case Connor Shaw begins to falter or gets injured.
Connor Shaw had a great game against Kentucky and the hope is that will continue the rest of the year. However, you may need Stephen Garcia at some point down the road and this time away from the huddle could do him wonders.
Keep Reading

South Carolina Football: Like this team?