Cal Football: 10 Most Electrifying Golden Bears of the Past 10 Years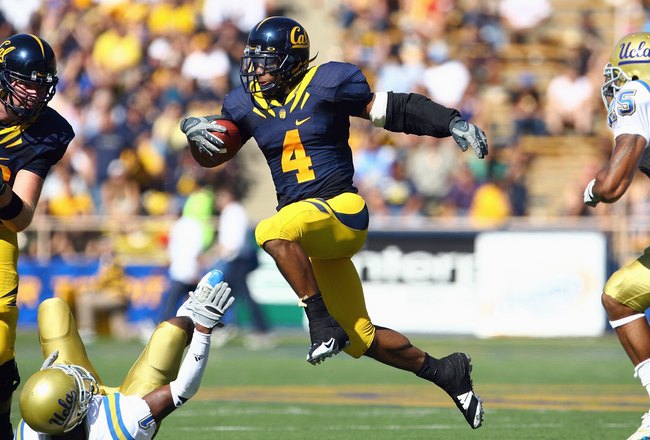 Jeff Gross/Getty Images
The Jeff Tedford era has been full of ups and downs. Big wins and bowl appearances have been constant themes—as well as big expectations and missed opportunities.
However, the biggest constant during the past decade of Cal football has been superstar players keeping the fans on the edges of their seats.
Looking back on the past 10 years of Cal football, there are far more than 10 players who have electrified crowds at Memorial Stadium and taken the life from crowds around the country. I compiled my list using the following criteria, in order of importance:
1. Watching them play (as a Berkeley native and resident)
2. Looking at their stats and impact on games
3. Their attitude/peronality at Cal and how the fanbase feels about it
Let's look at the most electrifying California Golden Bears of the past decade.
Honorable Mentions
Desmond Bishop
Lisa Blumenfeld/Getty Images
These guys didn't make the cut, but their exceptional skills and high energy will never be forgotten by the blue and gold faithful:
Nnamdi Asomugha, CB, 2000-02
All-around dominant defender. Put up 187 tackles, 19 TFL, eight picks, and three TDs.
Desmond Bishop, MLB, 2005-06
Third-team All-American in '06 with 126 tackles, 15 TFL, three sacks, three picks, and two forced fumbles. Led team in tackles twice.
LaVelle Hawkins, WR, 2005-07
Big target who grabbed 72 balls for 872 yards his senior season (out-doing DeSean Jackson) while returning kickoffs effectively.
Alex Mack, C, 2005-08
Dominant center who was instrumental in success of Marshawn Lynch and Jahvid Best. Three-time first-team All-Pac 10, named NCAA offensive lineman of the decade by Sporting News. If O-linemen were electrifying to watch, he'd be No. 1 on this list.
Brandon Mebane, DT, 2003-06
Relentless, strong interior lineman who finished his career with 109 tackles, 25.5 TFL, and 14.5 sacks. Two-time first-team All-Pac 10 and third-team All-American in '06.
10) Justin Forsett, HB, 2004-07
The first of four running backs on this list, each of whom first backed up and then later mentored a future NFL player. Like the others, Justin appeared to be an effective back-up initially, but unlike the others, very few people expected he would ever become a star, much less an NFL starter.
Backing up Marshawn Lynch in 2005, Forsett ended up just one rushing yard shy of 1,000, a remarkable feat when considering he carried the ball 132 times (that's a 7.6 YPC average). he following year, Lynch was healthier, but Forsett still managed to put up 626 yards on the ground as well as 116 through the air.
In his lone season as the feature back, Justin used his blazing speed and uncanny ability to hit the hole or bounce outside en route to 1,546 rushing yards and 15 TD's, numbers so remarkable that even his mentor (and NFL 12th overall pick) Lynch never matched.
9) Tyson Alualu, DL, 2006-09
It was tough to choose which pass rusher would make this list, but Alualu's explosiveness and four-year body of work make him the right choice. Whether on the edge or inside, Alualu used his quick burst and power to blow by lineman and then his closing speed and strength to finish plays like few others.
In his four years (three as a starter), Alualu made 195 tackles, 80 of which were solo, a gaudy number for a lineman playing in front of tackle machines like Mike Mohomad, Michael Kendricks and Zack Follett. During his junior and senior seasons, Tyson became one of the best interior pass-rushers in the country, finishing those two years with 13.5 sacks, 22.5 tackles for a loss, and 4 forced fumbles.
While he dominated out of the national spotlight, pro scouts took notice, and Alualu went 10th overal in the 2010 draft.
8) Syd'Quan Thompson, CB, 2006-09
Thompson was simply the complete package as a college corner. He played rock-solid shutdown man coverage that improved every year, tackled with authority, made electrifying picks, wreaked havoc on screens and pitches, and returned punts.
During his four year career at Cal, teams threw towards Syd'Quan less and less every year. Despite this, he put up an incredible statistical season during his junior campaign, finishing with 70 tackles, 7.5 for a loss, 2 sacks, 4 picks, and a punt return TD. He finished his college career with 258 tackles, an unbelievable number for a CB, 20 tackles for a loss, and 7 picks.
His ability to dominate all aspects of defensive play from the usually-constricting CB position is something even NFL stud Nnamdi Asomugha hadn't mastered during his Cal days.
7) J.J. Arrington, HB, 2003-04
Arrington carried the ball less than 400 times in his brief Golden Bear career, but what he did during his one full season as Cal's featured back has made him a college football legend.
In 2004, J.J. Arrington was given the ball 289 times. He rushed it 2018 yards. That's the second most rushing yards in Pac-10 history (behind only Marcus Allen), and the 10th most in NCAA history. Eight times that season, Arrington ran the ball for at least 170 yards.
Arrington was a more complete back than most people remember. Speedsters like Jahvid Best and Justin Forsett certainly bare resemblances with J.J, but it was Arrington's deceptive size and power that made him so completely impossible to bring down in 2004. A lot of college HB's put up stats, but Arrington broke defenses down and won football games.
6) DeSean Jackson, WR/PR, 2005-07

watch in HD, it's worth it.

Thinking back on DeSean's playing days at Cal is both wonderful and frustrating for a Golden Bears fan. While DeSean toyed with would-be tacklers for three years, he seemed to be playing for his NFL future more than his current team at the time.
Nevertheless, DeSean's production at Cal was outstanding. He led the nation as a sophomore with 18 yards per catch, putting up 1,060 receiving yards and nine TD's. Jackson had an equally dominating impact in the punt return game, where he brought back four punts for TD's and averaged 18.2 yards per return.
He was named an All-American, and went into his Junior year as seemingly the odds-on Heisman favorite. In two nationally-covered games (against Tennessee and Oregon), Jackson played two of the best games of his career. Throughout the rest of the season, his nagging injuries and lack of motivation slowed him down, although he still finished with 65 catches, 762 yards, and 8 total TD's.
DeSean predictably left Cal early for the NFL, where he used his exceptional speed, elusiveness, and pass catching ability to become arguably the game's most dazzling weapon. While more of a commitment to winning in college could have netted the Bears a Rose Bowl bid, DeSean took over the game when he wanted like no Cal WR ever has before.
5) Zack Follett, OLB, 2005-08

Wow.

Follett is the only linebacker on this list, but standing out is something he's used to. The OLB from Clovis, CA spent his four years at Cal terrorizing offensive lineman, running backs, and quarterbacks alike.
What made Follett so uniquely dominant was his equally authoritative way of shutting down the run and the pass. Follett's 245 career tackles are impressive, but the quality of these tackles is mind-boggling: 51, that's right, 51 of Follett's tackles at Cal were behind the line of scrimmage, including an NCAA-best 23 during his senior year. Follett also put up 23.5 sacks in his college career, and tied a Pac-10 record with 13 career forced fumbles (tied for 2nd in NCAA history).
Cal has been blessed with many ultra-talented LB's in the past decade, and some may have been more athletic than Zack. None, however, played with the same intelligence, motor, and heart as Follett.
4) Jahvid Best, HB, 2007-09

I know this one's long, but it may be the best highlight reel I've ever seen.

Best was more highly regarded coming out of high school than Cal's previous dominant HB's. However, that was more due to his track-star (literally) speed than his pure football ability. After three all-too short seasons as a Bear, Best transformed from a speedy tool into an elite all-purpose back.
Backing up Justin Forsett, Best put up 7.6 YPC as a freshman, while averaging 27 yards backing up LaVelle Hawkins as the team's kick returner. As a sophomore, Best took over. He led the Pac-10 with 1,580 rushing yards and 1,826 yards from scrimmage, and the NCAA with a baffling 8.1 yards per carry.
The following year, Best was a preseason Heisman favorite, and didn't disappoint early. Eight games in, he had already scored 16 touchdowns and amassed 1,080 yards from scrimmage. As Best scored that 16th touchdown, he suffered a serious concussion that ended his Cal career pre-maturely.
Best has multiple Cal records, including rushing for 311 yards in a game against Washington, scoring 5 TD's in a game against Minnesota, and compiling 2,247 all-purpose yards in a single season. Even though his college career was cut short, Jahvid busted through holes, broke linebacker's ankles, and blew by safeties more swiftly and electrifyingly than anyone in Cal history.
3) Daymeion Hughes, CB, 2003-06
During a decade that saw three different corners dominate for the Golden Bears, Daymeion Hughes stands out as the best of the best. Hughes used his exceptional speed to shutdown everything deep, and his agility, tackling prowess, and route-jumping made throwing under just as tough for opposing QB's.
During his final two years at Cal, Hughes made more of an impact than any other DB in the nation. His 134 tackles, 13 picks, 3 TD's and 36 pass deflections were unparalleled numbers. Eight of those picks and two of those TD's came in 2006, when Daymeion was an All-American and won the Lott Trophy as college football's best defensive player. His picks, pick-return yardage and TD's, and pass breakups all rank among the top three in Pac-10 history.
Many college corners get by on their athleticism and daringness. Hughes had both of these things in bunches, but he also brought an incredible work ethic and intellectual approach that allowed him to wreak havoc on the NCAA passing game like few others ever have and ever will.
2) Aaron Rodgers, QB, 2003-04

Cal Bear Alumni are now dominating the NFL Playoffs

Jeff Tedford is known for his ability to recruit and groom excellent college quarterbacks. Dilfer, Carr, Smith, Harrington, Boller. None can compare to Aaron Rodgers. His poise in the pocket, ability to allude sacks, and scary ability to put the ball in any spot anywhere on the field made him one of the greatest QB in Cal history.
During is two years as a starter at Cal, Rodgers led the Bears to a 19-5 record, including a Pac-10 title in 2004 (due to USC's violations). He completed 64% of his passes, threw for 5,469 yards, threw 43 TD's to only 13 INT's, ran for 336 yards and eight TD's. His high moment came in 2004, when against #1 USC, he threw 23 consecutive completions to tie an NCAA record, although Cal lost 23-17.
Rodgers went on to ride the bench in the NFL for three years behind Brett Favre. Three years after getting becoming a starter, he is now the best QB in the league. While many like to say he learned from Favre, anyone who watched Rodgers lead his team on touchdown drive after touchdown drive at Cal knows that he's always been special.
1) Marshawn Lynch, HB, 2004-06

When you have a song written about you, you're doing something right.

Marshawn Lynch was destined to take over the hearts of Cal football fans from a young age. After being a Prep All-American at Oakland Tech, Lynch came to Cal and endeared fans with his spirit and attitude, as well explosive running style that combined power, burst, and agility like no other Cal running back ever has.
Lynch became a fan favorite right away. As a freshman, he backed up the nation's top HB in J.J. Arrington, only to rush for 1.8 more YPC than the All-American (he averaged 8.8 for a total of 628 on 71 carries). Lynch also scored 10 TD's that year.
During his next two seasons, he was the driving force of one of the nation's top offenses, amassing 2,602 rushing yards and 25 total TD's.
While Arrington, Best, and Forsett all were blazing fast and left college defenders in the dust, Marshawn Lynch stands alone above those other HB's due to his ability to pond the ball inside, break tackles, fight for extra yardage, and wear defenses down. Lynch controlled games from the HB position.
And while Rodgers, Hughes, and Follett were also unstoppable all-around forces, Marshawn Lynch's spirit and swagger push him over the top. No Cal football player has ever fired up fans like Marshawn Lynch.
Keep Reading

Cal Bears Football: Like this team?