Wisconsin Badgers: 7 Reasons Why They Will Go Undefeated This Season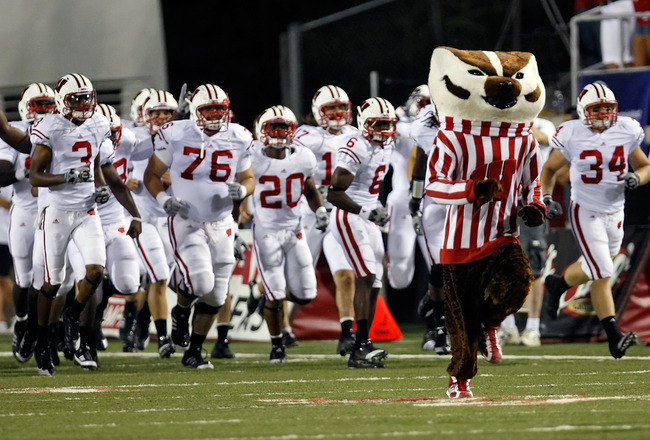 Ethan Miller/Getty Images
With the dream of a perfect season in the minds of all the players, the fourth ranked Wisconsin Badgers look to make this dream into a reality.
Not only do they have one of the best offenses in the nation. They have a possible Heisman Trophy candidate in the form of Russell Wilson. Montee Ball and Nick Toon are other Badger weapons who make them so difficult to stop.
On the defensive side the Badgers have the ninth ranked defense in the Nation. With the help of their coach, stadium toughness and remaining schedule, the Badgers have all the ingredients that is needed to create a BCS National Championship team.
Russell Wilson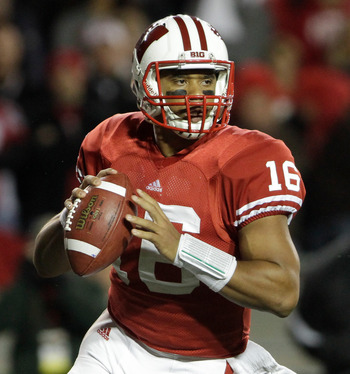 John Gress/Getty Images
Russell Wilson is arguably one of the best quarterbacks in the NCAA right now. Not only has he put up huge numbers for Wisconsin, but he has found himself in the race for the Heisman Trophy Award.
Wilson has a 74.8 completion percentage, which is the third highest in the NCAA. He has thrown for over 1,391 yards which ranks him 11 in the country. Wilson has thrown for 13 passing touchdowns for a spot at 12 in the country.
He is No. 1 in the country for passing yards per an attempt with 12.5. He also has two rushing touchdowns and 140 yards rushing while only throwing one interception.
Wilson is doing amazing things with this team. With him at the helm the Badgers could find themselves in the BCS National Championship, and Wilson could find himself hoisting the Heisman Trophy.
Montee Ball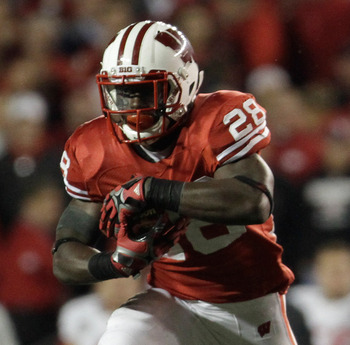 John Gress/Getty Images
The other major aspect of the Badger offense comes in the form of running back Montee Ball. Ball has been a major contributor to this offense.
Ball has carried the ball 93 times and rushed for 511 yards. That's over a 100 yards per game at 5.5 yards per carry. This lead to 13 touchdowns so far this season. Four of those touchdowns came against Nebraska–who has a solid defense.
Ball is also a receiving threat which makes him even more dangerous. Ball has caught six passes for 120 yards and one touchdown.
Nick Toon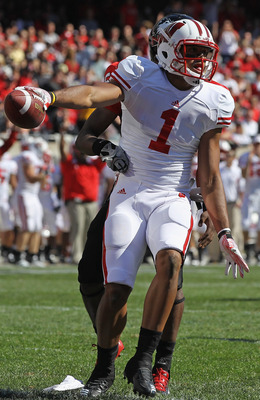 Jonathan Daniel/Getty Images
The Badgers biggest receiving threat comes from Nick Toon. Toon started the year off a bit slower then the Badgers would have liked, but he is now in full stride.
Toon has 447 yards off 25 catches which has lead to six touchdowns. He needs to keep up this production to keep defenses off-balance.
Toon is a great receiver, who is going to come in handy in the games down the road.
Badgers Defense
Jonathan Daniel/Getty Images
The Badger defense has done a great job of shutting down their opponents so far this season. They have been downright excellent which is why they have seen so much success.
The Badger defense is currently 28th in rush yards allowed only allowing a little over 100 yards per game and eigth in passing yards only allowing 161 yards per game. Overall they have the 10th best defense in the nation.
If key players such as Chris Borland, Beau Allen, David Gilbert, Mike Taylor and Antonio Fenelus continue to keep up the pressure, they will have no problem continuing to a undefeated season.
Coach Bielema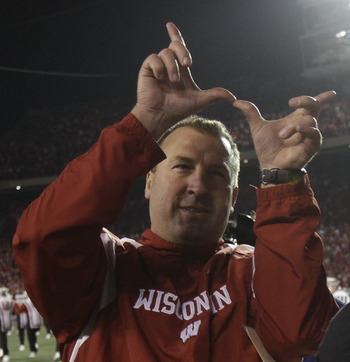 John Gress/Getty Images
Badger head coach Bret Bielema is one of the most underrated coaches in the Nation.
Not only did has he lead this Badger team to the Rose Bowl last year. This year he has lead the Badgers through an undefeated season so far.
Bielema is doing a great job of doing a lot with a team, who was under a lot of criticism at the start of the season.
Camp Randall
One of the biggest factors that helps the Badgers is their Stadium Camp Randall.
The intensity at this stadium is unreal as the crowd will do anything they can to help their team come out on top. This atmosphere makes it very difficult for opposing teams to run their offense as was seen in the Nebraska game.
The fact that it is an outdoor stadium, adds another factor that makes it difficult for players who are not used to the cold weather.
Remaining Schedule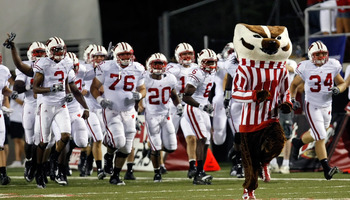 Ethan Miller/Getty Images
The biggest games that remain on the Badgers schedule are against Michigan St., Ohio State and No. 19 Illinois.
The Badgers are going to have to remain in their current form in order to beat these teams, who are all capable of dethroning the dreams of a perfect season for the Badgers.
If they can continue to play like they have been, they will have no problem with these teams.
Keep Reading

Wisconsin Badgers Football: Like this team?