Big Ten Football: Illinois vs Northwestern: Who Wins and Why
September 27, 2011
In the past, the annual rivalry game between Illinois and Northwestern may have been a snoozer to most people outside the state of Illinois (and unfortunately, some inside the state too).  The teams had been facing off near the end of the season, around Thanksgiving time, and usually each had losing records.  All that was at stake was the Sweet Sioux Tomahawk, which has since been replaced with the Land of Lincoln Trophy (pictured). 
It got so bad, that the only way to attract attention to the game, was for Northwestern to forfeit a home game so they could play it at Wrigley Field—that strategy didn't go so well.
Fast forward to 2011.  The two teams are hooking up for their inaugural Big-10/12 game.  Now, the teams are in different divisions.  This time, Illinois is undefeated and ranked #24.  Northwestern has only one loss themselves, and can still make a successful season out of Big10 play.  Oh, and perhaps the best quarterback in the league is returning for Northwestern.
Things got a little more interesting, no?
Let's start with QB Dan Persa and the Wildcats.  After receiving Heisman hype (mostly from his own school) in the offseason, the Wildcats' Persa would not be fully recovered from his torn Achilles by the start of the season.  In stepped Kain Colter, who, like Persa, showed some mobility, but was unable to put up large numbers through the air.
Persa should be an upgrade, but Head Coach Pat Fitzgerald is not making it public as to how much he will play; "How much and all those things are to be determined in how the week goes."  Officially, Persa and Colter are listed as co-starters (which is impossible, but whatever).
I say Persa should be an upgrade because this fact remains; he hasn't played in nearly twelve months. If he comes out and is as crisp and productive as he was against Iowa (the game in which he suffered his injury), then he is worthy of all the praise he has received. 
More realistically, however, he won't be.
The Wildcats could use a shot in the arm though. After looking impressive on the road against Boston College in the first week of the season, the Wildcats went through the motions against Eastern Illinois, and then were totally shut down against Army.  The Wildcats only managed 14 points, and held the ball for 19:41. 
They lost, despite giving up only six yards rushing to Army.
The Illini are 4-0 for the first time in sixty years, and there's still plenty of room on the bandwagon.  Proponents of theirs will state how they are 4-0, with the potential of being 6-0, and detractors won't care about them until they beat a big name from the Big10.  Illinois doesn't care about any of that though. All they care about is Northwestern.
Illinois has struggled against Northwestern under Coach Ron Zook, but they sure didn't last year, rushing for over 500 yards. 
Much of the offensive line from that game returns intact, but it doesn't seem to have gelled fully quite yet.  Despite this, the Illini are still averaging 242 yards per game on the ground, 14th best in the nation, and after reviewing an incident that occurred against WMU, Jeff Allen has been ruled eligible for this week's game.
The Illinois rushing game is getting stronger every week.  Last week, they rushed for 296 yards, thanks in large part to the emergence of Freshman Donovonn Young (12 carries for 100 yards).  If they can get half of that production from him, and still have threats from Jason Ford, Troy Pollard and Nathan Scheelhaase, the Illini can be one of the top rushing teams in the nation again.
That being said, the Illini are showing off that they aren't 100 percent one-dimensional.  Scheelhaase is completing 71% of his passes, and A.J. Jenkins has turned into a reliable receiver.  No huge plays for Jenkins last week, but he still caught six passes.  He's now averaging seven a game.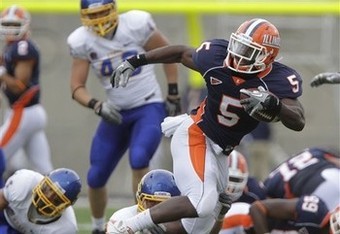 The defense is unheralded, but strong.  Last week they held WMU to 35 rushing yards on 21 carries.  Two weeks ago, they held an ASU team that put up 48 against USC to 14.  In the game, they forced three turnovers and six sacks.  Overall, the Illini are tied for ninth in the nation in sacks, and tied for 13th in interceptions.
The Pick:
Illinois has been more consistent this year, and they're playing at home.  Northwestern's rush defense may be improved, but it will face its toughest challenge yet when they travel to Champaign.  On the other side of the ball, the Illini defense has played great through four games, and a fresh Dan Persa may not be enough to keep the Wildcats in the game.  Look for Michael Buchanan and Whitney Mercilus to be in the face of Persa, or whomever is in the game for the Wildcats, all day.  If Northwestern totally shuts down Illinois' running game, and Persa is in mid-season form, then the Wildcats can pull an upset.  Otherwise....
Illinois  28     Northwestern 17