College Football Week 3; Impressed, Depressed: Sooners, Irish, Tigers Smiling
September 19, 2011
Ronald Martinez/Getty Images
What a wonderful day for college football. Oklahoma's victory over Florida State may have topped it all, but let's not forget Clemson upsetting Auburn in an old-fashioned shootout and Florida beating Tennessee in a game less comfortable than the scoreline suggested.
Then there was Notre Dame's victory over Michigan State, which was more of a testament to a much-maligned defense than anything else.
And last and certainly least, Penn State fans are furious about their team's inability not to be able to put more than 14 points on the board against Temple.
So, without further ado, here are my "impressed" and "depressed" selections for Week 3. Feel free to comment if you think I'm wrong!
IMPRESSED
Oklahoma/Florida State
 We did this last week for Notre Dame and Florida State, but both teams were absolutely tremendous in one of the best games of the day, played in front of a deafeningly noisy Doak Campbell Stadium.
Landry Jones's pass to Kenny Stills was a tremendous one right at the end, but special marks have to go to Clint Trickett, the 'Noles backup, who brought the team all the way back from 13-3 after E.J. Manuel got injured.
OU's defense was something special though. We'd be shocked if this team doesn't run the table this year.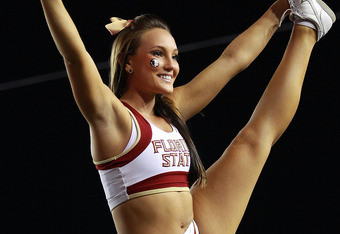 Ronald Martinez/Getty Images
Clemson
 How's that 17-game unbeaten run, Auburn? Clemson can knock off two straight ranked opponents at Death Valley if it deals with Florida State's visit next Saturday in what should be another fantastic ACC encounter.
LSU
LSU walked into Cowbell Central and in an ugly game came away with the victory. LSU's defense is absolutely for real—and might just be the best in the country (although, Alabama and Oklahoma might have something to say about this!). Special points go to Jarrett Lee, who continues to defy the VFA with his good play.
Texas
A road game at UCLA was meant to be tough for the Longhorns. Sixty minutes later, with a score of 49-20, it was fairly obvious it wasn't. Is Case McCoy the quarterback of the future for the Longhorns? Who knows. But right now, the locals are happy.  
Notre Dame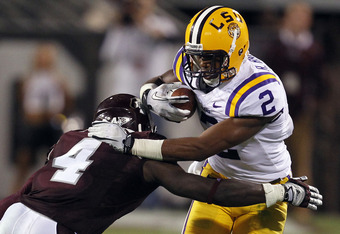 Butch Dill/Getty Images
Notre Dame's 31-13 beatdown of Michigan State showed us a couple of things: The Irish actually have a defense and the Irish can actually beat Michigan State at home. We're continually impressed with Tommy Rees as the Irish quarterback. The turnovers HAVE to stop, though (the Irish committed three more last year).
Navy
South Carolina simply could not deal with Navy's triple option until right at the end of the game. And although Navy could not deal with Marcus Lattimore (who should be a Heisman candidate this year), the Midshipmen put up one of the performances of the day in a 24-21 loss.
It was just sad that the offensive line had to face a freak like Jadevon Clowney, who did an "Aaron Murray" on Navy QB Chris Polk right and the end of the game and forced pressure after throwing off two people trying to stop him. 
Florida
If you hadn't talked up Chris Rainey before this game, you should have after. He brutalized a proud Tennessee defense for 233 total yards, which included 100 yards receiving AND rushing. Oh, and he blocked a punt too. This kid's Speedy Superman.
Florida's pass defense is going to have to learn against better sides not to give away so many interference calls (six) and to grab would-be interceptions (they dropped five), but right now, this serves as notice.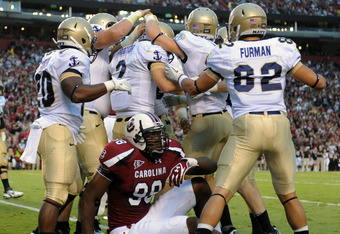 Al Messerschmidt/Getty Images
Illinois
The Illini aren't such a joke anymore and Arizona State waltzing into Champaign as a ranked team was not taken as one. They harrassed Sun Devils QB Brock Ostweiler all day, sacking him six times and causing two interceptions. On the other side of the ball, A.J. Jenkins was the hero, grabbing the winning touchdown. 
West Virginia
Many tipped the Mountaineers to lose this one at Maryland—until it emerged that three key Maryland wideouts were suspended. The Mountaineers won 37-31 in the end in a very fun encounter. 
Iowa State
Three games, three heart-wrenching comeback victories—two of them against teams who went to pretty good bowls last year. We're not going to start yelling about ISU for a national title or anything, but this was a fun news story (or at least will be until they are battered at home by Texas).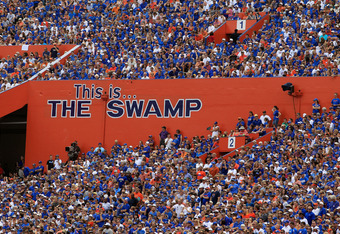 Sam Greenwood/Getty Images
DEPRESSED
Ohio State/Miami
This game was awful. It really was. It wasn't quite as awful as Penn State's 6-2 loss at home to Iowa a few years ago, but it was close.
Miami QB Jacory Harris was bad. Ohio State QBs Joe Bauserman and Braxton Miller were even worse. Both QBs missed receivers on open looks on multiple occasions. One bright spot was Miami running back Lamar Miller, who ran for 184 yards, but this game wasn't one for the DVR.
Penn State
Once again, there's a lot of love for Penn State's defense, but offense and special teams are dreadful at the moment and things need to change. We at the VFA would like to apologize for not writing more about this on an every-day basis, but there's not a lot more you can moan about. Some people are screaming for change throughout the organization, but Joe Paterno's earned the right to stay. 
Tennessee
It's not the loss at Florida that will hurt Tennessee, it's the torn ACL injury to wideout Justin Hunter that will really thump the Vols. Tyler Bray needs a little more help from his offensive line, by the way.
Auburn
Well, that defense had to get found out at some point, didn't it?
Boston College
A loss at home to Duke isn't going to win any favors with the student body. Commonwealth is burning right now.